The Editor's Note
Hello,
I would like to start this week's edition off by sharing some exciting news from the human resources Employee Learning and Engagement (ELE) team. Last week our assistant director of ELE, Krista Vaught, presented at the CUPA-HR 2021 conference. Krista is a board member for the Tennessee chapter of CUPA-HR where she currently serves as the Communications/Marketing Coordinator. Additionally, another ELE team member, Chance Ryon, has been elected to the board of ATD Nashville (Association for Talent Development), where he serves as Vice President of Conferences. Please join us in congratulating both Krista and Chance for their accomplishments!
As usual, you can find upcoming ELE and other events in designated sections below. Be sure to sign up soon, as there may be limitations on space and registration for some events.
Enjoy!
---
Weekly Work Gem
"There is so much fear and hate. We must negate it with active, courageous love." – Alexandra Ocasio-Cortez
---
Employee Learning and Engagement Events 
CLIFTONSTRENGTHS FOR EMPLOYEES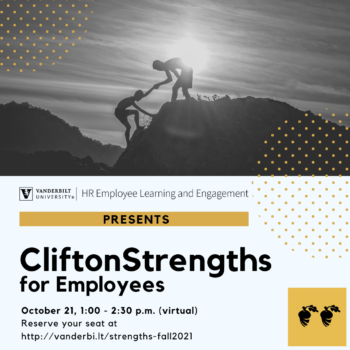 Date: Thursday, October 21, 2021   |   Time: 1pm – 2:30pm CST
WHAT IS EMPLOYEE ENGAGEMENT AND WHY DOES IT MATTER?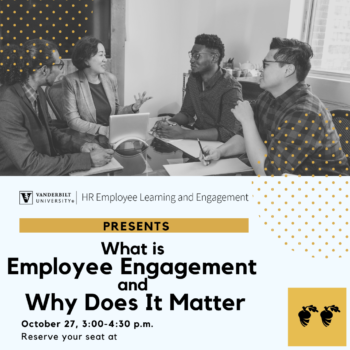 Date: Wednesday, October 27, 2021   |   Time: 3pm – 4:30pm CST
**Registration coming soon**
THE 4 STAGES OF PSYCHOLOGICAL SAFETY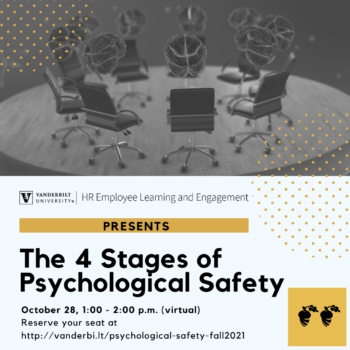 Date: Thursday, October 28, 2021   |   Time: 1pm – 2pm CST
****To learn more about upcoming workshops, please visit our website. 
---
The Hybrid Hub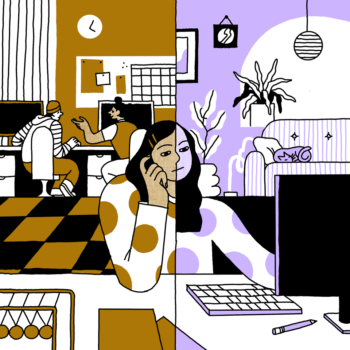 VU Hybrid Work Resources:
Vanderbilt University's Hybrid and Remote Work Policy for Staff
Vanderbilt University's Hybrid and Remote Work Toolkit
Additional Resources:
*NEW* American Psychological Association | The Future of Work: 5 Questions for Tsedal Neeley
How To Successfully Make A Hybrid Work Setup Work For You And Your Boss: Life Kit
Reimaging Higher Education for the Age of Flexible Work
HBR: Managing Introverts and Extroverts in the Hybrid Workplace
Deloitte's Return to Campus: Perspectives from Higher Education Leaders
---
Campus Partner Opportunities
The Margaret Cuninggim Women's Center Work-Life Workshops for Fall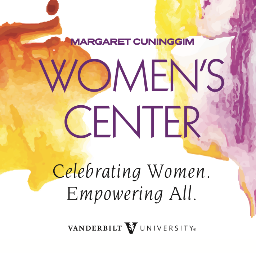 Gaslighting in the Workplace, Heather Kamper, LCSW, EAP Clinical Counselor and Coordinator of the VUMC SHARE Center
Date: Thursday, November 4th   |   Time: 12pm
DEADLINE: FRIDAY, OCTOBER 15th – Complete and Submit Your TEDxVanderbiltUniversity Speaker Application Today!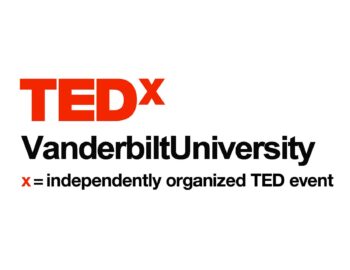 Vanderbilt Human Resource's Employee Learning and Engagement team is excited to announce that speaker applications are now open for TEDxVanderbiltUniversity 2022. Applications are due on October 15, 2021. The TEDxVanderbiltUniversity event will be hosted on April 10, 2022. More details about the event will be announced at a later date.  
What is TEDx?  
In the spirit of ideas worth spreading, TED has created a program called TEDx. TEDx is a program of local, self-organized events that bring people together to share a TED-like experience. Our event is called TEDxVanderbiltUniversity, where x = independently organized TED event. 
At our TEDxVanderbiltUniversity event, TED Talks video and live speakers will combine to spark deep discussion and connection in a small group. The TED Conference provides general guidance for the TEDx program, but individual TEDx events, including ours, are self-organized. 
This will be Vanderbilt's 7th Annual TEDx event. Application eligibility includes current Vanderbilt University students (including graduate and professional students), Vanderbilt University faculty, staff, postdocs, and alumni. Interested speakers may apply at: https://vanderbilt.infoready4.com/#competitionDetail/1846093.  
More information, including a speaker guide and answers to frequently asked questions, can be found at   tedxvanderbiltuniversity.com. Questions should be directed to Employee Learning and Engagement (ele@vanderbilt.edu).  
---
Did You Know…?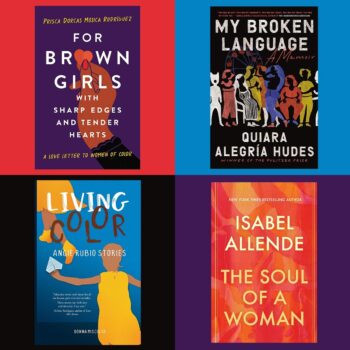 If you love reading, take a moment to explore The 20 Best Books by Latinx Authors You'll Want to Read Right Now from Reader's Digest. 
---
Additional Learning Resources
FEATURED PODCAST
The Way We Work from TED  | Want to Truly Succeed? Lift Others While You Climb.
Listen in less than 10 minutes!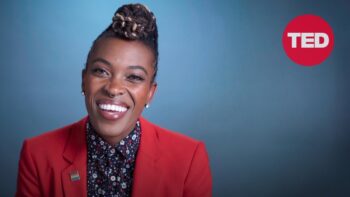 It's up to all of us to create a more inclusive and diverse workplace. No matter where you are in your career journey, it's essential that you help others grow, even as you are growing yourself, says ACLU Chief Equity Officer Amber Hikes. She lays out three ways we can help each other succeed — and empower and advance those who historically have been left behind.
The Way We Work 
The Way We Work is an original video series where leaders and thinkers offer practical wisdom and insight into how we can adapt and thrive amid changing workplace conventions.
SUGGESTED READING
How to Create Psychological Safety in a Hybrid Work World
(Eugene Dilan, PsyD, Forbes)
How Do You Bond A Team Together When They've Never Actually Met?
(Ted Bauer, NeuroLeadership Blog)
Hack Your Brain for Better Problem Solving
(Kevin Dickinson, BIG Think)
RECOMMENDED LEARNING
Achieve Your Learning Goals– Tap Into Skillsoft Books and Videos!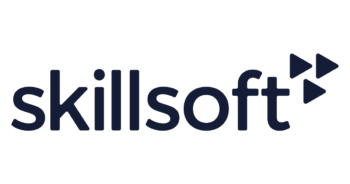 Skillsoft Books and Videos offers you access to a library of more than 40,000 audiobooks, videos, live events, and related content. You can locate this wealthy resource under Learning Item Number OLC930045 in Oracle, or simply visit Oracle Learning to enroll.
NOTE: You must use Mozilla Firefox to access the library. 
---
Communicate & Share Your Ideas
Got content suggestions? We'd love to hear from you. Email us your questions, thoughts, suggestions or requests for the newsletter or workshops and trainings at ele@vanderbilt.edu. Continue to encourage your teams and colleagues to opt-in to Rooted in Learning. Also, please note that a Vanderbilt email address is required to subscribe.
Happy Learning!
The Employee Learning and Engagement Team