The Editor's Note
Hello,
Happy Monday! I hope you have been enjoying the nice weather recently. It seems like late September gives us just the right amount of sunshine with a little breeze here and there to relieve us of summer's humidity. As Hispanic Heritage Month continues I will share a few fun facts you may or may not already know. Be sure to visit https://www.hispanicheritagemonth.gov/ for a wealth of resources and learning.
Additionally, I've added upcoming Employee Learning and Engagement (ELE) events below. Be sure to register soon, as some event dates will close a few days prior to the event taking place. Stay tuned for additional dates.
Enjoy!
---
Weekly Work Gem
"The most valuable possession you can own is an open heart. The most powerful weapon you can be is an instrument of peace." – Carlos Santana
---
Employee Learning and Engagement Events 
FIERCE. FOUNDATIONS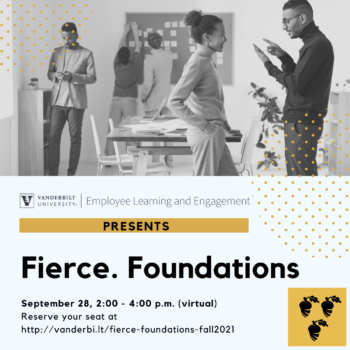 Date: Tuesday, September 28, 2021   |   Time: 2pm – 4pm CST
CREATING PRESENTATIONS THAT STICK: ENGAGING YOUR AUDIENCE (PART 2)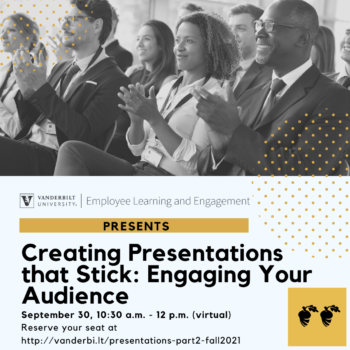 Date: Thursday, September 30, 2021   |   Time: 10:30am – 12pm CST
DEALING WITH CHANGE AT WORK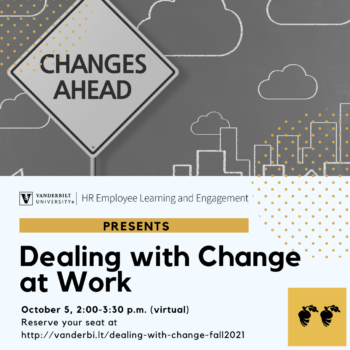 Date: Tuesday, October 5, 2021   |   Time: 2pm – 3:30pm CST
DESIGN THINKING, UPSKILLING, AND EXPERIMENTING FOR CAREER GROWTH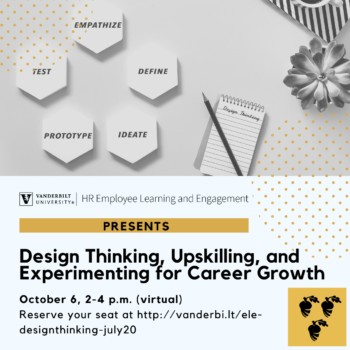 Date: Wednesday, October 6, 2021   |   Time: 2pm – 4pm CST
LEVERAGING YOUR EQ AT WORK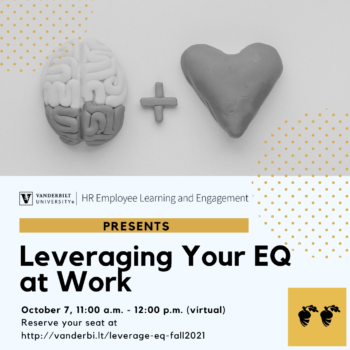 Date: Thursday, October 7, 2021   |   Time: 11am – 12pm CST
****To learn more about upcoming workshops, please visit our website. 
---
Employee Appreciation
Staff award nominations now open; Fall Staff Assembly to be held November 2nd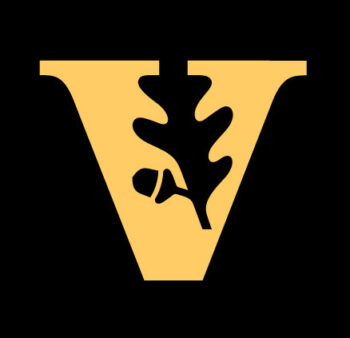 The Fall Staff Assembly and staff awards are part of the semiannual effort to celebrate staff excellence and recognize the many contributions of university staff to Vanderbilt's mission.
Award nominations, which are submitted online, are open through Thursday, September 30th. Please visit the staff awards website for nomination guidelines and award amounts. The Staff Awards Review Committee reviews all applications and makes a recommendation to senior administration.
The Fall Staff Assembly is scheduled for Tuesday, November 2nd, from 4-5 pm CST and will feature comments from the chancellor and the University Staff Advisory Council. More details about the event will be announced at a later date.
For more information about the spring awards, the full nomination criteria or to submit nominations, visit vanderbi.lt/2021staffawards.
Nomination forms can be found at https://vanderbilt.infoready4.com/#university-opportunities. Questions should be directed to Employee Learning and Engagement via email at ele@vanderbilt.edu.
---
The Hybrid Hub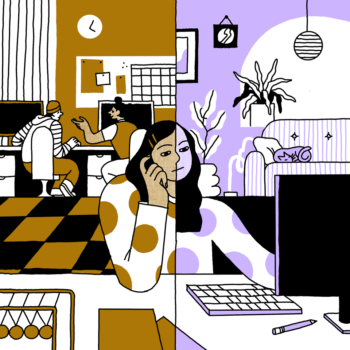 Upcoming hybrid work event: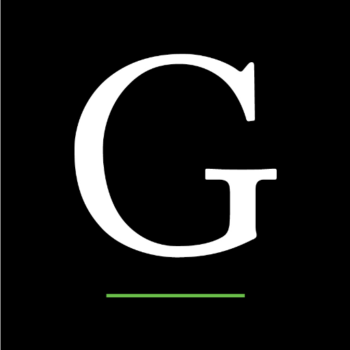 Join Gallup experts Ben Wigert and Kristin Barry as they explore Gallup's latest hybrid work findings and share why going back to work in the office has to be worth it.
Date: Thursday, October 7th   |   Time: 11:30am – 12pm CST
Virtual Employee Engagement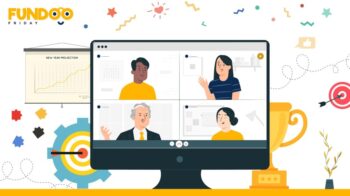 Looking for ways to keep your employees engaged in the virtual workplace? Check out these suggestions from FUNDOO F R I D A Y!
VU Hybrid Work Resources:
Vanderbilt University's Hybrid and Remote Work Policy for Staff
Vanderbilt University's Hybrid and Remote Work Toolkit
Additional Resources:
*NEW* How To Successfully Make A Hybrid Work Setup Work For You And Your Boss: Life Kit
Reimaging Higher Education for the Age of Flexible Work
HBR: Managing Introverts and Extroverts in the Hybrid Workplace
Deloitte's Return to Campus: Perspectives from Higher Education Leaders
---
Campus Partner Opportunities
The Margaret Cuninggim Women's Center Work-Life Workshops for Fall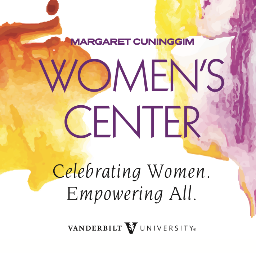 Imposter Syndrome: Feeling Like a Fraud | Stacey Satchell, Senior Academic Life Coach, The Graduate School
Date: Tuesday, October 5th   |   Time: 12pm
Gaslighting in the Workplace, Heather Kamper, LCSW, EAP Clinical Counselor and Coordinator of the VUMC SHARE Center
Date: Thursday, November 4th   |   Time: 12pm
TEDxVanderbiltUniversity Speaker Applications Now Open; Event Scheduled to Take Place April 10, 2022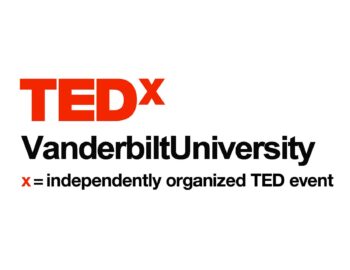 Vanderbilt Human Resource's Employee Learning and Engagement team is excited to announce that speaker applications are now open for TEDxVanderbiltUniversity 2022. Applications are due on October 15, 2021. The TEDxVanderbiltUniversity event will be hosted on April 10, 2022. More details about the event will be announced at a later date.  
What is TEDx?  
In the spirit of ideas worth spreading, TED has created a program called TEDx. TEDx is a program of local, self-organized events that bring people together to share a TED-like experience. Our event is called TEDxVanderbiltUniversity, where x = independently organized TED event. 
At our TEDxVanderbiltUniversity event, TED Talks video and live speakers will combine to spark deep discussion and connection in a small group. The TED Conference provides general guidance for the TEDx program, but individual TEDx events, including ours, are self-organized. 
This will be Vanderbilt's 7th Annual TEDx event. Application eligibility includes current Vanderbilt University students (including graduate and professional students), Vanderbilt University faculty, staff, postdocs, and alumni. Interested speakers may apply at: https://vanderbilt.infoready4.com/#competitionDetail/1846093.  
More information, including a speaker guide and answers to frequently asked questions, can be found at   tedxvanderbiltuniversity.com. Questions should be directed to Employee Learning and Engagement (ele@vanderbilt.edu).  
---
Did You Know…?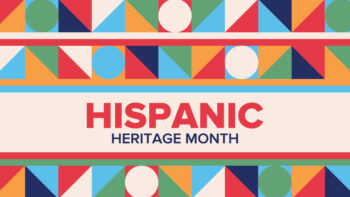 According to The Pew Research Center, between 2010 and 2020 the U.S. Hispanic population grew from 50.5 million to 62.1 million. The population growth during that period was a whopping 51%! Learn more key facts about this growing population here.
---
Virtual & Community Events 
The NeuroLeadership Institute Presents: Your Brain at Work LIVE – Manage the Movement: The Science of Keeping Teams Connected During Chaos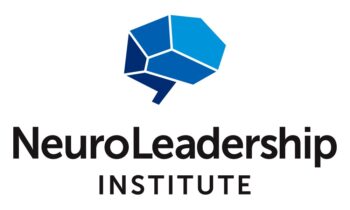 This webinar will examine:
How leaders can maintain workplace culture
How to keep teams connected now and for years to come
Date: Friday, October 1, 2021   |   Time: 11am – 12pm CST
---
Additional Learning Resources
FEATURED TALK
TED  | Got a meeting? Take a walk.
Listen in less than FIVE minutes!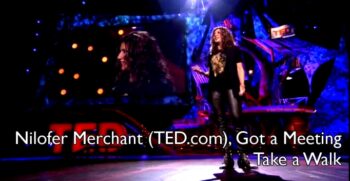 In a short video, Nilofer Merchant shares a meeting tip that can take you a long way when it comes to making the most of the meeting. Got a 1-on-1 coming up? Deviate from your norm and turn it into a walk and talk!
SUGGESTED READING
Microaggressions at work: Recognizing & overcoming our biases
(Kelly Luc, Culture Amp)
Key Steps You Should Take After A Midcareer Move
(Cynthia Wu, Inside Higher Ed)
Burnout Isn't Just Exhaustion. Here's How to Deal With It: Life Kit
(Andee Tagle, NPR)
RECOMMENDED LEARNING
Achieve Your Learning Goals– Tap Into Skillsoft Books and Videos!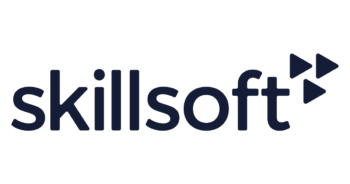 Skillsoft Books and Videos offers you access to a library of more than 40,000 audiobooks, videos, live events, and related content. You can locate this wealthy resource under Learning Item Number OLC930045 in Oracle, or simply visit Oracle Learning to enroll.
NOTE: You must use Mozilla Firefox to access the library. 
---
Communicate & Share Your Ideas
Got content suggestions? We'd love to hear from you. Email us your questions, thoughts, suggestions or requests for the newsletter or workshops and trainings at ele@vanderbilt.edu. Continue to encourage your teams and colleagues to opt-in to Rooted in Learning. Also, please note that a Vanderbilt email address is required to subscribe.
Happy Learning!
The Employee Learning & Engagement Team