The Editor's Note
Hello,
It probably comes as no surprise that we are already at the end of another month in 2021. As we bring the month of May to a close, we will also observe Memorial Day in the coming days in remembrance of those who lost their lives while serving our country. If you would like to learn more about the history of Memorial Day, click here.
On another note, summer is right around the corner so please be sure to check out new ELE workshops that have been added to the list below. We also encourage you to join us for events coming up this week before we head into summer.
Enjoy!
---
Monday Inspiration
"The cure for burnout is not self-care; it is all of us caring for each other. We can't do it alone. We need each other." — Amelia Nagoski
---
Employee Learning & Engagement Events
DON'T MISS THIS WEEK'S VIRTUAL THOUGHT LEADER SERIES WITH GUEST SPEAKER, ELLEN NODINE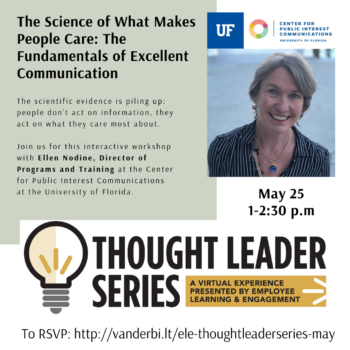 Join the Employee Learning & Engagement team for our Virtual Thought Leader Speaker Series! The upcoming session hosts Ellen Nodine, Director of Programs and Training at the Center for Public Interest Communications at the University of Florida.
JOIN US FOR THIS MONTH'S POD TALKS @ VANDY!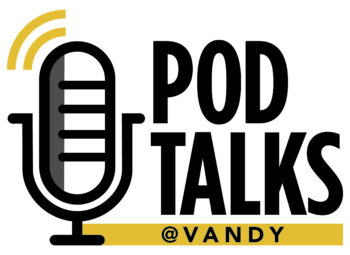 Mark your calendar for May 26th, 1:30pm – 2:30pm CST, for our discussion from the featured podcast, How to Rest As Hard As You Work. Co-authors of the book, Time Off, John Fitch and Max Frenzel, challenge conventional thinking about work and leisure, introducing key concepts like rest ethic to really get listeners rethinking their perception of time off. Sign up today and you might be the lucky winner of a giveaway!
To participate, please listen to the designated podcast episode and reserve your seat. Podcasts will rotate, to offer opportunity for community members to engage with different topics, hosts, and ideas.
MARK YOUR CALENDARS AND REGISTER AHEAD FOR UPCOMING SUMMER WORKSHOPS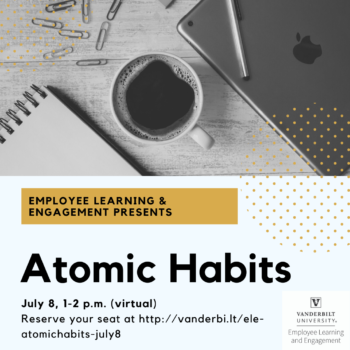 If you're ready to trade in old or ineffective habits for newer, more productive ones, then this workshop was designed with you in mind. Based on the book, Atomic Habits, by James Clear, join us on July 8th, 1pm – 2pm CST for this habit-focused workshop. Come ready to learn and leave ready to develop and practice new habits!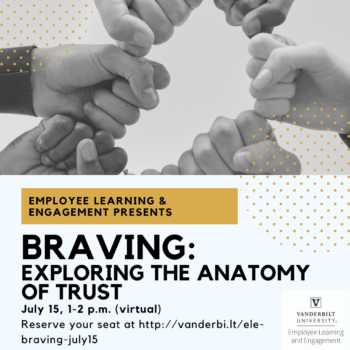 If you're familiar with Brene Brown's work on the anatomy of trust, then don't miss this workshop. We will highlight trust as the foundation to building and maintaining healthy workplace relationships. Register today for this July 15th event.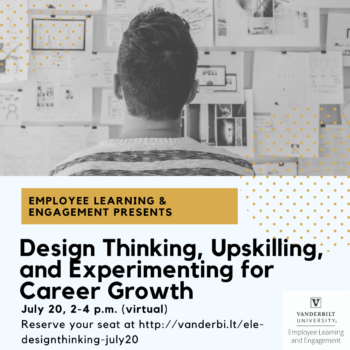 Interested in career growth? In this workshop you will explore design thinking, upskilling, and experimenting and the value they bring as professional tools. Sign up for this event, scheduled for July 20th, 2pm – 4pm CST.
****To register and learn more about upcoming workshops, please visit our website here. You can also view what's on the horizon and register for future events.****
---
Employee Appreciation
Vanderbilt's First Spring Staff Assembly Celebrates Employees' 'Ingenuity, Dedication, and Collaboration'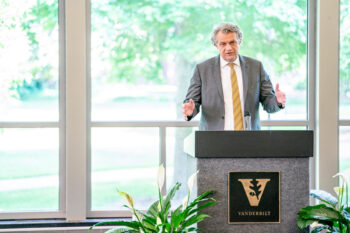 Last week Chancellor Diermeier held Vanderbilt University's first Spring Staff Assembly. Please see below for a list of award recipients and join us in celebrating each of them.
Staff Award Recipients are as follows:
Early Impact Award
The new Early Impact Award recognizes staff members who have worked at Vanderbilt for a minimum of one year and less than five years and who have exhibited excellent performance that shows promise of future growth. The winners receive a prize of $2,500 and an engraved award. Vanderbilt honored two individuals with this award:
Bill Burgess, assistive technology specialist, Student Access
William G. Hansen, administrative assistant III, Health Sciences Education
Mentorship Excellence Award
The new Mentorship Excellence Award goes to a full-time staff member who serves as a role model by inspiring colleagues and promoting professional development. The winner receives a prize of $2,500 and an engraved award. The university honored one individual with this award:
Ally Sullivan, executive director of Business Operations, Facilities
One Vanderbilt Excellence Award
The new One Vanderbilt Excellence Award recognizes staff teams, departments and/or groups that have demonstrated collaborative excellence on behalf of the university community. Selected team members each receive $1,000 and an engraved award. Two teams were selected to receive the One Vanderbilt Award:
Housekeeping Services/Plant Operations:
Marina Bazdarevic
Helga Eubanks
Ericka M. Foster
Ricky Hughes
Aaron Longhurst
Lattica L. Mitchell
Beatrice R. Nolan
Chris Reddon
Katesha S. Roland
Leo Sguera
Mamand I. Taabur
Hobert E. Woods
Residential Experience:
Courtney Berry
Daniel Coradazzi
Evyn Cosgrove
Nadine De La Rosa
Olivia Farley
Michael Jones
Leslie Lemus
Lauren Moon
R.C. Stabile
Lauren Tillman
Kerrie Turney
Jorge Wellmann
Diversity Leadership Award
Churchwell presented two Diversity Leadership Awards. This award recognizes staff members who have exhibited an outstanding commitment to equity, diversity and inclusion and have demonstrated exemplary contributions to developing a culturally diverse and welcoming university community. This year's two recipients received $2,500 and an engraved Galileo Award:
Midori Lockett, chief impact officer for Government and Community Relations
Antonio Robinson, project manager, Information Technology
Commodore Award
Chancellor Diermeier concluded the assembly by presenting Vanderbilt's flagship award of overall excellence—the Commodore Award. This honor is given to staff members who have made significant contributions to Vanderbilt's pursuit of excellence in education, research and community service. Winners receive an award of $5,000 and an engraved crystal bowl. The Commodore Award was given to two staff members:
Valeria Y. Cobb, assistant teacher at the Susan Gray School
Randall P. Tarkington, senior director of Residential Experience in the Office of Housing and Residential Experience
Congratulations to each of you! If you missed the Spring Staff Assembly, you can view the recording here.
NACE Recognizes and Awards Vanderbilt's Career Services with  Outstanding Achievement Award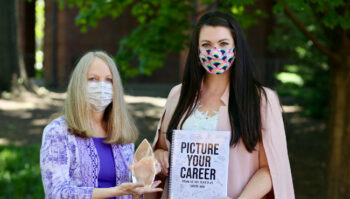 The Career Center's Katharine Brooks and Grace Foy (VLE/Vanderbilt Leadership Enrichment member) have received the NACE/Chevron Award from the National Association of Colleges and Employers. The award recognizes outstanding achievement in innovative programs in the career services field throughout the United States. Congratulations to both of you!
---
Campus Partner Opportunities
The Vanderbilt University Alumni Association Presents: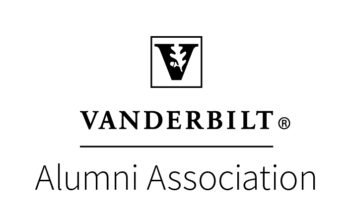 How the Brain Remembers
The School of Medicine Basic Sciences hosts New York Times best selling author and neuroscientist, Lisa Genova.
May 26th: 11am – 12pm CST – Learn more and register here
Upcoming 'Disrupting Everyday Bias' Sessions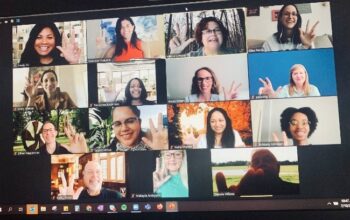 Register for upcoming sessions via Oracle Learning here.
May 27th: 10am – 12pm CST
July 26th: 1pm – 3pm CST
'The Business of VU' Now Accepting Applications for Fall 2021 Cohort

Interested in learning about the business operations of Vanderbilt University? The Business of VU program is now accepting applications for its fifth cohort. The application deadline is June 7th. Diverse perspectives from students, faculty, and staff are highly welcomed and encouraged. By late July notification of acceptance in the cohort will be announced to 35 participants for this engaging experience. Be sure to visit the Financial Operations and Planning website to learn more and apply.
Developmental Learning with the Vanderbilt Child and Family Center's Owl Program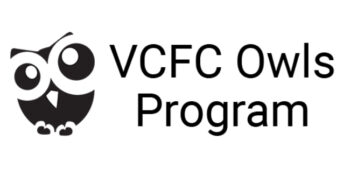 If you're looking for a way to enhance your work-life balance while providing a developmental learning opportunity for your kindergartner, consider the Owls Program! With a focus on 21st Century learning skills, the program emphasizes creativity, communication, collaboration, and critical thinking.
The program is open to children turning five years of age on August 15th and school begins on Monday, August 9, 2021. VCFC accepts rolling applications from employees of VU, VUMC, and families in the community (three more enrollment spots are available). To learn more, visit the VCFC Owls Program website.
---
Did You Know…?
 
Did you know that self-betrayal is a thing? The Oxford dictionary defines it as "the intentional or inadvertent revelation of the truth about one's actions or thoughts." The graphic above provides an overview of what self-betrayal looks like in action. It can also serve as a guide to building awareness and eliminating behaviors that foster self-betrayal.
---
Virtual & Community Events
A Shadow of its Former Glory – A Guide to Lunar Eclipses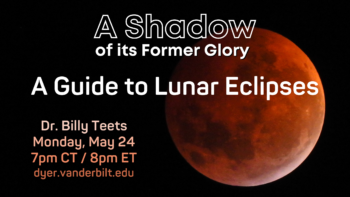 North America has two lunar eclipses coming up this year. Learn the science behind the spectacle.
Twice a year, denizens of Earth are afforded the opportunity to witness a lunar eclipse, an event in which our only natural satellite glides through the shadow of our planet.  About two hours before sunrise in Nashville on May 26th, the Moon's orbit will bring it within the shadows of our planet as the Sun, Earth, and Moon begin to align in syzygy.
Locations along the west coast will get the best view from the continent while those lucky viewers in locations like Hawaii and New Zealand will have the opportunity to see the entire eclipse from start to finish. Nashville isn't in an ideal location this time around, but we will be in a much better spot later this year to see the next lunar eclipse during the early morning hours of November 19th.
So why is it that we only see an eclipse every now and then, why does the Moon appear red, and do all lunar eclipses look alike?  Join us on YouTube Monday, May 24th, as Dr. Billy Teets answers these questions and more during the May virtual Meet the Astronomer lecture "A Shadow of Its Former Glory – A Guide to Lunar Eclipses."  Starting at 7PM CT, this talk is geared to the general public, ages 10 to adult, and a live Q&A session will follow the presentation.  And if you enjoy this talk and want to soak more from past Meet the Astronomer evenings, be sure to check out Dyer Observatory's YouTube playlist!
LINK TO EVENT: https://www.youtube.com/playlist?list=PL-267yMbw6kOCcVEhGtlE7Rn2eEaJ2oZ_
---
Additional Learning Resources
FEATURED PODCAST
How Perfectionism Fails Us | TED Talks
Pick the "Perfect" One for You, or enjoy all four!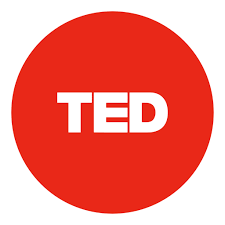 Struggling with perfectionism? Consider these four aspects of the concept: it's connection to mental illness, fear of failure, improvement and progress, and near wins. Take a moment to listen to these TED Talk speakers who share insights that can help you better manage and conquer your challenges with perfectionism.
SUGGESTED READING
5 Steps to Stop Being a People Pleaser
(Ellen Hendriksen, PhD, Psychology Today)
The Secret to Finding Lasting Career Satisfaction
(Blaire Briody, Standford Graduate School of Business)
"Cultural Fit" Hasn't Been Working. What About "Cultural-Add?"
(David Rock, Forbes Contributor)
RECOMMENDED BOOKLIST
12 New Leadership Books to Read for Summer
This summer reading list from organizational psychologist, Adam Grant, covers such topics as: leadership and change, fear and courage, commitment and meaning, judgement and decision-making, and communication and conflict.
---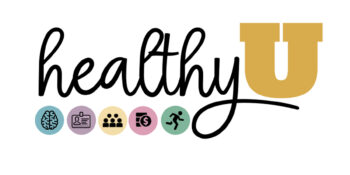 For a healthy dose of information, resources, inspiration, or even delicious recipes, opt-in to the HealthyU distribution list at wellbeing@vanderbilt.edu.
View the most recent edition here!
---
Communicate & Share Your Ideas
Got content suggestions? We'd love to hear from you. Email us your questions, thoughts, suggestions or requests for the newsletter or workshops and trainings at ele@vanderbilt.edu. Continue to encourage your teams and colleagues to opt-in to Rooted in Learning. Also, please note that a Vanderbilt email address is required to subscribe.
Happy Learning!
The Employee Learning & Engagement Team