The Editor's Note
Hello,
As I reflect on last week's opportunities for learning, I can't help but think of our inaugural Virtual Thought Leader Series event. What a treat! Guest speaker, Dr. Kevin McDonald, Vice President of Diversity, Equity, Inclusion, and Community Partnerships at the University of Virginia, was hosted by Yasmine Mukahal, Vanderbilt's Assistant Director of HR Diversity Engagement and Outreach, in a conversational session that focused on many facets of diversity, equity and inclusion work. This week our team (Employee Learning & Engagement) has a couple of events coming up and we hope to see you there. We'll host our second Pod Talks @ Vandy event on Tuesday, April 27th, followed by a workshop centered on psychological safety on Thursday, April 29th. There's still space to join us if you haven't already registered.
For more on learning opportunities from our team, be sure to check out the ELE Events section below for a description of each event.
As always, enjoy!
---
Monday Inspiration
"How can you be a source of kindness for someone today? We probably can't fix their problems. But we CAN remind them that they matter. We CAN show appreciation for the things they do everyday…" —  Johnny C. Taylor, SHRM President & CEO
---
Employee Learning & Engagement Events
JOIN US FOR POD TALKS @ VANDY!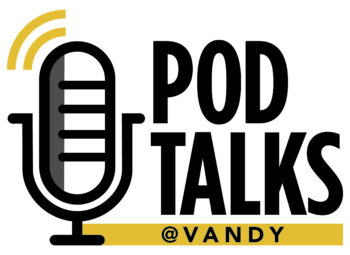 Tomorrow on April 27th from 2-3 pm CST our discussion will center around topics from the featured podcast, The Accidental Creative: How to Captivate (with Vanessa Van Edwards). We won't be presenting –this will be heavily focused on fostering conversations.
To participate, please listen to the designated podcast episode and reserve your seat. Podcasts will rotate, to offer opportunity for community members to engage with different topics, hosts, and ideas.
THE 4 STAGES OF PSYCHOLOGICAL SAFETY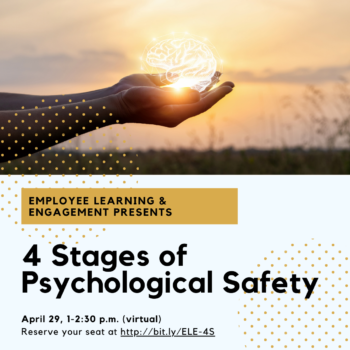 Thursday, April 29th, 1pm – 2:30pm CST
Whether you lead a team or you're a team member, this workshop is for you. Join us to learn about the four stages of psychological safety, based on Dr. Timothy Clark's book, The 4 Stages of Psychological Safety: Defining the Path to Inclusion and Innovation. This framework highlights the human need to thrive in a social context by having safety to be included, to learn, to contribute and to challenge the status quo.
THE 5 LANGUAGES OF APPRECIATION IN THE WORKPLACE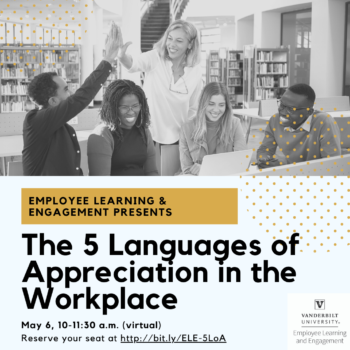 Thursday, May 6th, 10am – 11:30am CST
If improving employee morale and engagement, fostering a positive work environment, and demonstrating employee appreciation are top priority for you, then don't miss this workshop!
LEVERAGING YOUR EQ AT WORK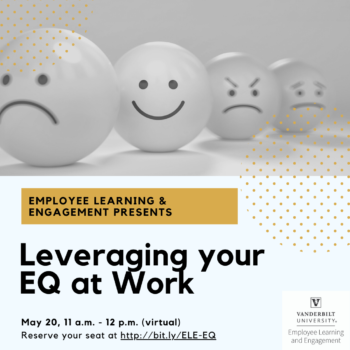 Thursday, May 20th, 11am – 12pm CST
Improving your emotional quotient (EQ) can work to your benefit, whether at home or in the workplace. Attend this workshop and learn to detect the emotional current in everyday situations and how to navigate them successfully.
DON'T MISS OUR VIRTUAL THOUGHT LEADER SERIES WITH GUEST SPEAKER, ELLEN NODINE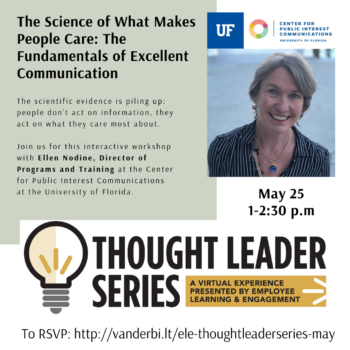 Join the Employee Learning & Engagement team in celebrating Diversity Awareness Month via our Virtual Thought Leader Speaker Series! The upcoming session hosts Ellen Nodine, Director of Programs and Training at the Center for Public Interest Communications at the University of Florida.
****To register and learn more about upcoming workshops, please visit our website here. You can also view what's on the horizon and register for future events.****
---
Campus Partner Opportunities
Upcoming 'Disrupting Everyday Bias' Sessions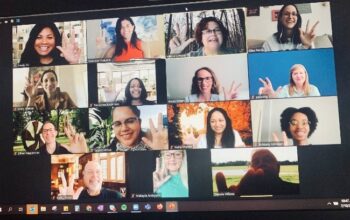 Register for upcoming sessions via Oracle Learning here.
May 27th: 10am – 12pm CST
July 26th: 1pm – 3pm CST
---
Did You Know…?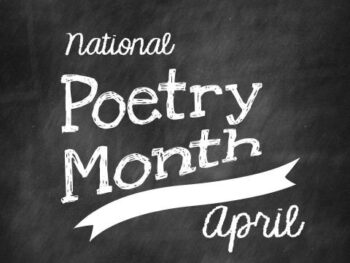 It's National Poetry Month and this year marks the 25th anniversary of celebrating poets and poetry! The Academy of American Poets launched the literary celebration to highlight the importance of poetry in our culture. Poets and their poetry serve as a voice that communicates the happenings and sentiments of the people, often painting a clear picture of moments in time that can live on through the written and spoken word. Please check out a community share from our colleague, Yasmine Mukahal, in the "Additional Learning Resources" section below. The feature is a compilation of community poems shared by NPR resident poet, Kwame Alexander, titled Today I Am A Witness to Change.
---
Virtual & Community Events
Cable Presents: "Winning the Game: Women in Sports Leadership" with Vanderbilt's Candice Storey Lee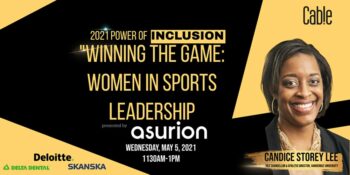 Mark your calendar for the 2021 Power of Inclusion (POI) Awards, Wednesday, May 5th, 11:30am – 1pm CST. Candice Storey Lee currently serves as vice chancellor for athletics and university affairs and athletic director here at Vanderbilt. She makes history as Vanderbilt's first female athletic director and the first African American woman to lead an SEC athletics program. Learn more about the POI awards and register here.
The Summit: Advancing Inclusion & Diversity in the Workplace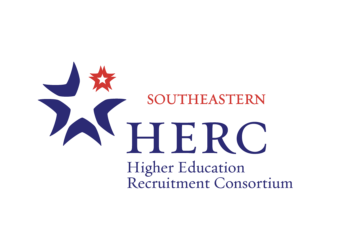 Are you ready to explore the benefits of diversity and inclusion for building campus community as well as the role they play in leadership, recruitment and retention? Then mark your calendars! The Summit will take place on Wednesday, May 19th, 8:30am – 4:00pm CST. To learn more and register for this event, click here.
Project Safe to Offer An Array of Programming for Sexual Assault Awareness Month (SAAM)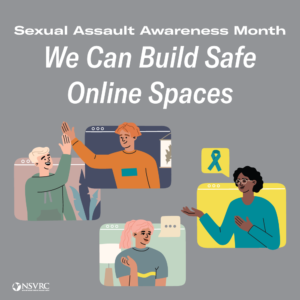 Project Safe will be offering educational programs and resources throughout the month that include an 8-session Empowerment Self-Defense course, campus sexual assault resources and so much more. This year's SAAM theme is "Creating Safe Online Spaces." To learn more about upcoming events and register, please visit their website.
---
Additional Learning Resources
FEATURED LISTEN
NPR – 'Today I Am A Witness to Change' | A Crowdsourced Poem Against Anti-Asian Hate
Enjoy in less than 10 minutes!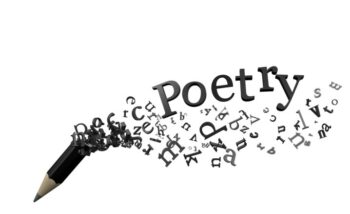 SUGGESTED READING
Which of these 6 time traps is eating up all your time?
(Ashley Whilans, ideas.ted.com)
Why You Should Take a Mental Health Day
(Anonymous Contributor, Business News Daily)
5 Strategies for Salvaging An Unproductive Day
(Art Markman, FastCompany)
RECOMMENDED EXPERIENCE 
Vanderbilt's Innovation Center, The Wond'ry, Presents A Day of Wond'ry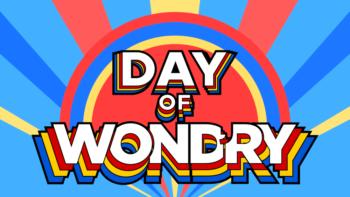 Join the Wond'ry for a "Day of Wond'ry" on May 12, 2021 from 4pm – 6pm CST in celebration of the great innovators who work hard and bring forth awe-inspiring projects and creations.
This year's fair will take place in Gather.town, a connection platform combining video conferencing with a 2D world to walk around in.
Register here for this fun-filled experience.
RECOMMENDED LEARNING
The Tennessee Diversity Consortium Hosts Inaugural DEI Forum (Virtual)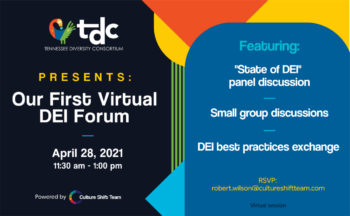 Join the Tennessee Diversity Consortium on April 28th from 11:30am – 1pm CST for the first in a regular series of Virtual DEI forums offering TDC members the opportunity to:  
Network in small cohorts by industry or organization type
Identify and share common challenges, obstacles and best practices around DEI 
Share resources and tools needed to accelerate DEI efforts 
Map out the near and long term future of DEI across similar organizations or industries 
The TDC was formed as an informal network for DEI practitioners to share model practices for diversity, equity, and inclusion. The global pandemic has elevated the challenge of equity across a wide variety of organizations, industries and geographies. There is no better time for diversity practitioners and leaders tasked with driving DEI to build stronger networks and better equip one another to achieve our DEI missions. Register today!
---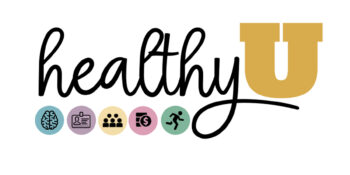 For a healthy dose of information, resources, inspiration, or even delicious recipes, opt-in to the HealthyU distribution list at wellbeing@vanderbilt.edu.
View the most recent edition here!
---
Communicate & Share Your Ideas
Got content suggestions? We'd love to hear from you. Email us your questions, thoughts, suggestions or requests for the newsletter or workshops and trainings at ele@vanderbilt.edu. Continue to encourage your teams and colleagues to opt-in to Rooted in Learning. Also, please note that a Vanderbilt email address is required to subscribe.
Happy Learning!
The Employee Learning & Engagement Team