September 2020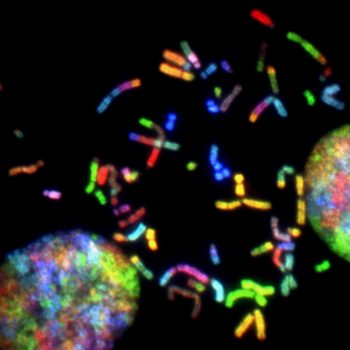 The Program in Cancer Biology has formed a committee for Diversity, Equity, and Inclusion. We are committed to ensuring that all of our students in the Program in Cancer Biology feel supported, and included while working towards their scientific careers. The committee, which includes faculty, graduate students and postdocs, is dedicated to supporting historically marginalized groups, in addition to unlearning the systems that have contributed to this marginalization. These systems include (but are not limited to): racism and white supremacy, xenophobia, classism, sexism, ableism, and heterosexism. We also aim to create new infrastructure for which minority identities are uplifted and their voices are heard. With your help, we will improve on the issues of diversity, inclusivity, and equity of all persons. Please contact Jin Chen, Ph.D., if you would like to join this committee, or for additional information about ongoing activities visit Vanderbilt Equity, Diversity and Inclusion Website
---
Faculty Spotlight: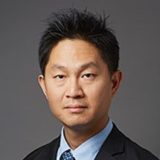 Tae Kon Kim, M.D., Ph.D. ,  Assistant Professor of Medicine and Pathology, Microbiology and Immunology at Vanderbilt University Medical Center. Dr. Kim received his M.D. from Seoul National University (Seoul, South Korea) and a Ph.D. in immunology at the University of Texas, MD Anderson Cancer Center. He completed his residency in medicine at University of Miami and his fellowship training in hematology/oncology at Yale University. After completing his clinical training, Dr. Kim received research training in tumor immunology/co-inhibitory molecule biology with the Lieping Chen lab (Yale University), where PD-L1 was first identified (Nat Med 1999). Dr. Kim has investigated the role of VISTA (PD-1H) on immune evasion in myeloid leukemia using syngeneic leukemia mouse models and humanized leukemia mouse models. He found that AML surface VISTA inhibits T cells, leading to immune evasion (ASH 2016, FOCIS 2019). After Dr. Kim joined the Vanderbilt University Medical Center, his research was extended to (1) How AML surface VISTA negatively regulates macrophages and neutrophils; (2) How VISTA on macrophages and neutrophils induces immune evasion in AML; (3) How VISTA maintains immune tolerance in myelodysplastic syndrome; (4) How VISTA regulates graft-versus-host disease, a complication in allogeneic stem cell transplantation. Dr. Kim's research is supported by the American Society of Hematology, the Evans MDS Foundation, the Conquer Cancer Foundation, and the American Cancer Society. He is also the 2020 Forbeck Scholar on graft-versus-host disease. Dr. Kim's goal is to translate his findings into future clinical trials to help patients who suffer from leukemia.
Trainee Spotlight: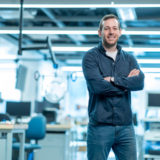 Zach M Sandusky, BS, is a Ph.D. candidate from the Program in Cancer Biology. (Lannigan Lab).  His research is focused on signaling pathways involved in normal development of the mammary gland, with the goal of identifying novel targets in breast cancer. Specifically, in his dissertation research he demonstrated that estrogen signaling in the mammary gland is controlled by the ERK1/2 – RSK2 pathway. This research in normal physiology has important implications for dysregulated estrogen signaling in breast cancer. Zach is  also involved in the rationale drug development of novel RSK inhibitors. This research has developed promising inhibitors that demonstrate preclinical activity in various pathologies including breast cancer, cardiovascular disease, and infectious biology. Following his thesis defense, he will  continue his research on estrogen signaling in breast cancer as a postdoctoral fellow in the laboratory of Myles Brown, MD at the Dana Farber Cancer Institute.  Follow Zach's Twitter, @Tweet_ZMS, where he will  share his experience in biomedical research as well as interesting new breast cancer research.
Staff Spotlight: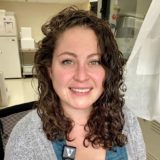 Elizabeth Huddleston, BS, recently joined the Vanderbilt Ingram Cancer Center as a research assistant with Dr. Kimberly Dahlman in the Innovative Translational Research (ITR) lab. Elizabeth is a Mississippi State University graduate, having earned a B.Sc. in Microbiology. Her background is largely in infectious disease research, specifically tick-borne illnesses. After a brief stint in fermentation science, Elizabeth was part of the Research and Development team for a molecular diagnostic lab, where she focused on testing and panel development for Lyme disease and other vector borne diseases. In the ITR, she is part of a core team that conducts correlative research for cancer clinical trials. Elizabeth is collaborating with other core labs to bring new technology to the VICC and is excited to be a part of the VUMC family. Elizabeth lives in Nashville with her partner and two rescued pit bulls. She is a board member for Tatu Animal Rescue in the Mississippi Delta, where her family lives.
---
Announcements/Awards

Verra Ngwa, BS, Graduate Student. 2020 Minority Scholar in Cancer Research Awards from the AACR. "My long-term career goal is to be an independent researcher at an academic institution or pharmaceutical/biotech industry in the field of cancer biology. I plan to achieve this goal by first completing my PhD training, which is my short-term goal. After my post-doctoral training, as an independent investigator, I hope to perform cutting-edge research, mentoring other individuals especially those from underrepresented groups like myself, to pursue careers in biomedical research."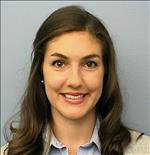 Caroline Nebhan, M.D., Ph.D., was awarded an NRSA post-doctoral fellowship (F32) for project in the laboratory of Ann Richmond, entitled "Investigating concurrent Ras-pathway inhibition to optimize response to anti-PD-1 therapy in NRAS-mutant melanoma."

Demond Williams, BS, (Fingleton lab) received a NIH Award for his project "Investigating Metabolic Pathways of IL-4 that Promote Metastasis in Breast Cancer." My research will provide some answers for two of our primary questions: 1.) What are the metabolic changes mediated by IL4R and how do they contribute to metastatic progression in breast cancer. 2.) What are the epigenetic changes induced by IL4R signaling in breast cancer and how can they contribute to metastatic progression? These results will further elucidate the mechanisms that IL4 and related cytokines exploit in order to contribute to disease progression, and bolster evidence for IL4R as a novel therapeutic target in metastatic breast cancer. In addition, by understanding the downstream signaling consequences of IL4R activation in breast cancer, we can identify other novel avenues for therapy that potentially can be developed to act synergistically with IL4R.

Ariana Von Lersner, BS, is a 5th year graduate student  (Alissa Weaver's and Andries Zijlstra's lab) who received an Ruth L. Kirschstein National Research Service Award Individual Predoctoral Fellowship to Promote Diversity in Health-Related Research (F31) for her project entitled, "ALCAM-mediated cell adhesion and extracellular vesicle biogenesis in bladder cancer". The proposed research will describe a link between cell adhesion and extracellular vesicle biogenesis and provide critical information for monitoring disease progression.
---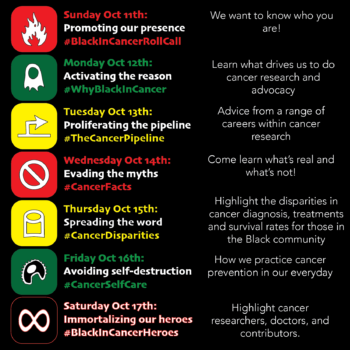 Seminars October 11th-17th, 2020.
Follow #BlackinCancerWeek on twitter
for the upcoming zoom meeting  information.
---
Welcome to our New Graduate Students and Faculty in the Program in Cancer Biology!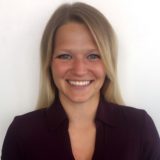 Riley Bergman, BS (Park Lab)
Thank you so much for the warm welcome! I'm an MSTP student and because of COVID we're on a little bit of a strange, delayed timeline. I'm currently studying for my medical school board exams and looking forward to joining the Park lab at Vanderbilt in October!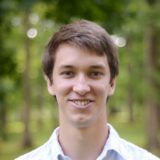 Matt Loberg, BS (Weiss Lab)
Has joined the MSTP trainee program and is  interested in personalized cancer therapy and Tumor Immunology. When not in the lab, Matt enjoys almost any sport! Some of my favorites are basketball, frisbee, golf, and quidditch.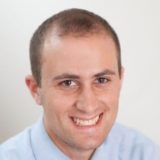 Alexander Bick, M.D., Ph.D., Assistant Professor of Medicine in the Division of Genetic Medicine at the Vanderbilt University Medical Center has joined the Program in Cancer Biology. Dr. Bick is the recent  recipient of the 2020 Burroughs Wellcome Fund (BWF) Career Award for Medical Scientists.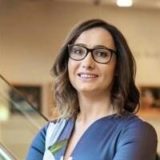 Andreana N Holowatyj, Ph.D., MSCI, Molecular Cancer Epidemiology. Division of Epidemiology. Dr. Holowatyj and her colleagues conducted the first study of appendiceal cancer patterns and survival by race/ethnicity among patients younger than 50 in the U.S. Reporting in the journal Gastroenterology, they found poorer disease outcomes among non-Hispanic Blacks compared with non-Hispanic whites, and among men compared with women. However, they observed no differences in survival between young Hispanics and non-Hispanic whites with appendiceal cancer.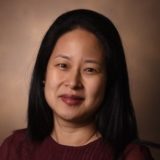 Youngmin Anna. Lee, M.D., Ph.D., Assistant Professor of Surgery, Vanderbilt Digestive Disease Research Center. The Vanderbilt Digestive Disease Research Center is supported by NIH Grant DK058404.
We invite you to learn more about the Vanderbilt Digestive Disease Research Center,
Visit VDDRC website.
---
VICC Fall Seminar Series:
"Mitochondrial DNA: The Oft-forgotten Genome That Regulates Cancer Metastasis."  Danny R Welch, Ph.D., Hall Family Professorship in Molecular Medicine, Professor of Cancer Biology, Professor of Pathology, Laboratory Medicine, and Internal Medicine. Associate Director for Education and Career Development. The University of Kansas Cancer Center. Join via zoom: September 24, 2020, 12 PM-1 PM
Vanderbilt-Ingram Cancer Center Chic Awareness-Free Virtual Event. "Ovarian Cancer Research During COVID-19."Ronald Alvarez, M.D., MBA, VICC  and Marci Houff, Founder Chic Awareness.
Register here September 24, 2020, 6 PM-7 PM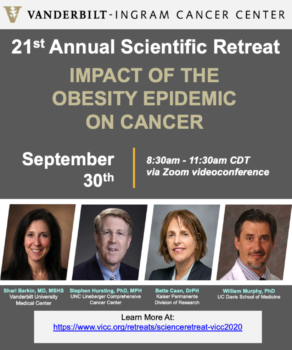 ---
RECENT PUBLICATIONS OF INTEREST:
PBRM1 loss defines a nonimmunogenic tumor phenotype associated with checkpoint inhibitor resistance in renal carcinoma
Liu XD, Kong W, Peterson CB, McGrail DJ, Hoang A, Zhang X, Lam T, Pilie PG, Zhu H, Beckermann KE, Haake SM, Isgandrova S, Martinez-Moczygemba M, Sahni N, Tannir NM, Lin SY, Rathmell WK, Jonasch. Nat Commun. 2020 May 1;11(1):2135.
Fine-Needle Aspiration-Based Patient-Derived Cancer Organoids
Vilgelm AE, Bergdorf K, Wolf M, Bharti V, Shattuck-Brandt R, Blevins A, Jones C, Phifer C, Lee M, Lowe C, Hongo R, Boyd K, Netterville J, Rohde S, Idrees K, Bauer JA, Westover D, Reinfeld B, Baregamian N, Richmond A, Rathmell WK, Lee E, McDonald OG, Weiss VL.
iScience. 2020 Aug 21;23(8):101408.
Co-Clinical Imaging Resource Program (CIRP): Bridging the Translational Divide to Advance Precision Medicine
Shoghi KI, Badea CT, Blocker SJ, Chenevert TL, Laforest R, Lewis MT, Luker GD, Manning HC, Marcus DS, Mowery YM, Pickup S, Richmond A, Ross BD, Vilgelm AE, Yankeelov TE, Zhou R.
Tomography. 2020 Sep;6(3):273-287
Instrument gauge and type in uveal melanoma fine needle biopsy: implications for diagnostic yield and molecular prognostication
Klofas LK, Bogan CM, Coogan A, Schultenover SJ, Weiss VL, Daniels AB.Am J Ophthalmol. 2020 Aug 17:S0002-9394(20)30440-2.
CD28 costimulation drives tumor-infiltrating T cell glycolysis to promote inflammation Beckermann KE, Hongo R, Ye X, Young K, Carbonell K, Healey DCC, Siska PJ, Barone S, Roe CE, Smith CC, Vincent BG, Mason FM, Irish JM, Rathmell WK, Rathmell JC. JCI Insight. 2020 Aug 20;5(16):138729.
CD4 T cells differentially express cellular machinery for serotonin signaling, synthesis, and metabolism
Wu H, Herr D, MacIver NJ, Rathmell JC, Gerriets VA.
Int Immunopharmacol. 2020 Aug 28;88:106922
Vitamin D deficiency as a predictor of poor prognosis in patients with acute respiratory failure due to COVID-19
Carpagnano GE, Di Lecce V, Quaranta VN, Zito A, Buonamico E, Capozza E, Palumbo A, Di Gioia G, Valerio VN, Resta O.
J Endocrinol Invest. 2020 Aug 9:1-7.

Succinate Produced by Intestinal Microbes Promotes Specification of Tuft Cells to Suppress Ileal Inflammation
Banerjee A, Herring CA, Chen B, Kim H, Simmons AJ, Southard-Smith AN, Allaman MM, White JR, Macedonia MC, Mckinley ET, Ramirez Solano MA, Scoville EA, Liu Q, Wilson KT, Coffey RJ, Washington MK, Goettel JA, Lau
Gastroenterology. 2020 Aug 20:S0016-5085(20)35068-X.

Inactivation of HIF-prolyl 4-hydroxylases 1, 2 and 3 in NG2-expressing cells induces HIF2-mediated neurovascular expansion independent of erythropoietin
Urrutia AA, Guan N, Mesa-Ciller C, Afzal A, Davidoff O, Haase VH.
Acta Physiol (Oxf). 2020 Aug 26.
Selective inhibition of mTORC1 in tumor vessels increases antitumor immunity. Wang S, Raybuck A, Shiuan E, Cho SH, Wang Q, Brantley-Sieders DM, Edwards D, Allaman MM, Nathan J, Wilson KT, DeNardo D, Zhang S, Cook R, Boothby M, Chen J. JCI Insight. 2020 Aug 6;5(15):139237.
Changes in peripheral and local tumor immunity after neoadjuvant chemotherapy reshape clinical outcomes in patients with breast cancer
Axelrod ML, Nixon MJ, Gonzalez-Ericsson PI, Bergman RE, Pilkinton MA, McDonnell WJ, Sanchez V, Opalenik S, Loi S, Zhou J, Mackay S, Rexer BN, Abramson VG, Jansen VM, Mallal SA, Donaldson J, Tolaney SM, Krop I, Garrido-Castro AC, Marotti JD, Shee K, Miller TW, Sanders M, Mayer IA, Salgado R, Balko JM.
Clin Cancer Res. 2020 Aug 21:clincanres.3685.2019
LATS Dance: Molecular Choreography Between a Chronic Human Pathogen and Its Host
Suarez G, Peek RM Jr.
Cell Mol Gastroenterol Hepatol. 2020;9(2):335-336.
CONGRATULATION ON THE RECENT GRANT FUNDING:
Jin Chen, M.D., Ph.D. Professor of Medicine, Division of Rheumatology & Immunology, Professor of Cancer Biology, Professor of Cell & Developmental Biology. Dr. Chen has received $434,887 in T32 funding from the NIH for the project " MICROENVIRONMENTAL INFLUENCES IN CANCER."
Robert J. Coffey, M.D. Professor of Medicine, Division of Gastroenterology, Hepatology, & Nutrition, Ingram Professor of Cancer Research, Professor of Cell and Developmental Biology. Dr Coffey has received a P01 grant in the amount of $367,236 for research in the area of "Role of WNT-EGFR crosstalk by EVS and Exomeres in normal colon and colon cancer."
Ethan Lee, M.D. Ph.D, Professor, Cell and Developmental Biology
Professor, Pharmacology. Received  R35 funding from the NIH in the amount of $590,631 for research in the area of "Mechanism of WNT signal transduction."

CONFERENCES OF INTEREST:
13th AACR Virtual conference on "The Science of Cancer Health Disparities in Racial/Ethnics Minorities and the Medically Under served."
October 2-5, 2020. Register here
FOCIS 2020 Annual Meeting
Virtual Meeting
October 28-31, 2020. Register here
The 17th International congress of the Society for Melanoma Research
Virtual meeting October 28th and 29th, 2020.Register here
2021 Cell Dynamics Symposium
The Department of Cell and Developmental Biology at Vanderbilt University will host its third Cell Dynamics Symposium on May 20th & May 21st, 2021 on the Vanderbilt  Central Campus. More info!
WEBSITES OF INTEREST:
Vanderbilt Center for Immunobiology (VCI)
The VCI was founded to foster basic science research and education on the immune system across Vanderbilt University and Vanderbilt University Medical Center.  With approximately 60 associated faculty across various departments, the VCI encompasses all of immunology and interacts closely with the Vanderbilt Institute for Infection, Immunology, and Inflammation (VI4), the Vanderbilt Ingram Cancer Center (VICC), and other centers and institutes to foster and grow a community for immunologists.
ASPIRE Module: Practical Strategies in Strong Writing, Fall 2020
ICARE- Inherited Cancer Registry working to end the cycle of inherited cancer through research, education and engagement.
The Clearity Foundation strives to improve the survival and quality of life of women with ovarian cancer. Together, we will revolutionize the ovarian cancer experience and bring hope to women and their families.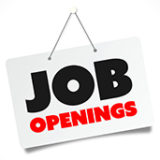 Genomics Counselor-Patient Educator
The Reinhart-King Lab is seeking new postdoctoral associates to work on funded projects related to the role of the tumor microenvironment in metastasis. If interested, please contact Dr. Reinhart-King: Cynthia.reinhart-king@vanderbilt.edu

Cancer Biology Science Hour Schedule.
Wednesdays from 4pm-5pm via ZOOM. Please Contact Lisa McCawley or Lorie.franklin@Vanderbilt.Edu  if you do not receive the email invitation.
September 30
"The USP46 complex potentiates Wnt signaling by blocking Wnt receptor."  Victoria Ng, Graduate Student, Lee Lab.
"Gli2 Inhibition Bypasses EGFR Blockade Resistance in Bone Destructive Oral Cancer." Kristin A Kwakwa, Graduate Student, Rhoades Lab. 

Join Zoom Meeting https://vanderbilt.zoom.us/j/98274344576?pwd=NDJDRDJpZFFXZm1jeDk5aVlzdzZJZz09
Meeting ID: 982 7434 4576
Password: cancer
October 7
Shawna K. McLetchie Graduate Student, Boothby Laboratory
Jeffrey C. Rathmell, Ph.D., Professor of Pathology, Microbiology, Immunology, Molecular Physiology & Biophysics. Cornelius Vanderbilt Chair in Immunobiology. Director, Vanderbilt Center for Immunobiology
October 14
Margaret Axelrod MSTP, Balko Laboratory
Deanna Edwards, PhD, Research Instructor of Medicine
(Rheumatology & Immunology)
October 21
Rachel Brown MSTP, Williams Laboratory
Shan Wang, Ph.D. Research Instructor of Medicine
(Rheumatology & Immunology)
October 28
Bradley Reinfeld MSTP, Rathmell Laboratory
Andreana N. Holowatyj, PhD, MS Assistant Professor of Medicine and Cancer Biology
November 4
Erik Beadle, M.S. Graduate Student, Rhoades Lab
R. Daniel Beauchamp, M.D, FACS. J.C. Foshee Distinguished Professor of Surgery (Surgical Oncology) Professor of Cell and Developmental Biology
---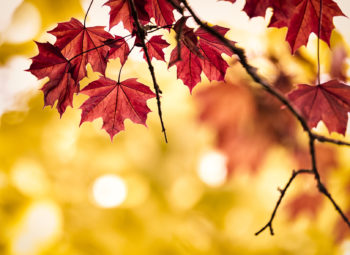 VICC Internal and External Funding Opportunities 
Apply now for the Ford Foundation Fellowships
The fellowship will provide one year of support for individuals working to complete a dissertation leading to a PhD and who demonstrate superior academic achievement, are committed to a career in teaching and research at the university level, show promise of future achievement as scholars and teachers, and are well prepared to use diversity as a resource for enriching the education of all students. Application deadline is mid-December, 2020.
Cancer Research Institute (CRI)
CRI Irvington Postdoctoral Fellowship Program in Basic and Tumor Immunology. Additional Details Due Date: October 1, 2020
National Cancer Institute (NCI)
Notice of Special Interest (NOSI):  Dissemination and Implementation Science for Cancer Prevention and Control in Low Resource Environments
Additional Details Due Date: October 5, 2020 through May 8, 2022
American Association for Cancer Research (AACR); Astra Zeneca
Stimulating Therapeutic Advances Through Research Training (START) Grants. Additional Details Due Date: October 6, 2020
Livestrong Foundation
Livestrong Solution Grants
Additional Details Due Date: October 16, 2020

Vanderbilt-Emory-Cornell-Duke (VECD) Consortium
2021-2022 VECD Fogarty Global Health Fellowships
Additional Details Due Date: November 2, 2020
Glioblastoma Therapeutics Network
Intent to Publish Funding Opportunity
Additional Details Due Date: November 15, 2020
Pancreatic Cancer Action Network (PanCAN)
2021 Career Development Awards
Additional Details Due Date: November 20, 2020
---
Hispanic Heritage Month 2020
Register here
October and November sessions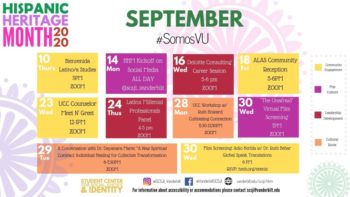 ---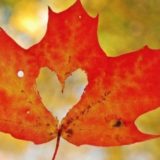 Have a suggestion for a Cancer Biology newsletter item? Do you have an announcement or an upcoming event you want to share with the Cancer Biology community? E-mail: kerry.w.vazquez@vanderbilt.edu
Newsletter header photo credit to Dr. Anna Vilgelm, "DNA Comets". Photo and articles credit to VU and VUMC. The Chromosome picture photo credit to Unsplash-NCI. Photo credit cancer with / to unsplash -NCI, Maple heart leaf and fall foliage picture photo credit to pinterest.
Vanderbilt University is committed to principles of equal opportunity and affirmative action.
Vanderbilt®, Vanderbilt University®, V Oak Leaf Design®, Star V Design® and Anchor Down® are trademarks of The Vanderbilt University. ©2023 Vanderbilt University. All rights reserved.