Attendance for this event was up 10% from last year as the Symposium participants have followed the work of the key note speaker Scarlett Lin Gomez PhD, MPH, from the University of California, San Francisco Helen Diller Family Comprehensive Cancer Center. Everyone enjoyed a scientific boost from her lecture,  "Addressing Social Determinants of Health in Cancer Health Disparities Research." 
Oscar Miller PhD, Department of Sociology, Tennessee State University presented information on "Developing and Sustaining Effective Community Engagement."  Christine Lovly MD, PhD,   Vanderbilt-Ingram Cancer Center gave an informational lecture on "Precision Medicine in the care of patients with Lung Cancer".  Amos Sakwe PhD, and Josiah Ochieng PhD, from the Department of Biochemistry and Cancer Biology at Meharry Medical College discussed the "Heterogeneity of Triple Negative Breast Cancer and Responses to Tyrosine Kinase Inhibitors" and the "Role of futuin-A (ahsg) in Tumor Progression."  
Best Overall Poster Prize in Honor of Steven N Wolff, MD:
Jamie Shing PhD candidate (Hull lab) VUMC
Graduate Student Poster Winners: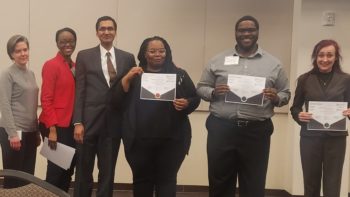 R to L: Wendy Wilburn BS TSU-1st place.
Logan Northcutt PhD candidate (Rafat Lab)  VU- 1st place.
Dominque Parker PhD candidate (Yull lab)  VU – 2nd place.
Symposium organizers,  Venkataswarup Tiriveedhi PhD (TSU), Sonya Reid MBBS (VUMC)  and Melinda Aldrich PhD, MPH (VU)
Postdoctoral Research Associates Poster winners: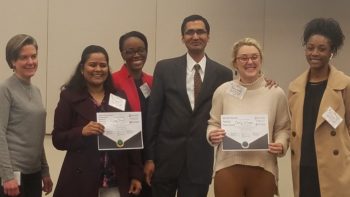 R to L: Toran Kirkland, TSU undergraduate trainee.
Carly Bess Williams-Scalise PhD, (Richmond lab) VU – 1st place.
Thanigaivelan Kanagasabi PhD, MMC( not pictured) 2nd place.
Vijaya Bharti MD, PhD (Vilgelm Lab) VU – 3rd place.
---
VANDERBILT UNIVERSITY AND MEDICAL CENTER FACULTY AND THE RESEARCH BEING PERFORMED IN THE LABS: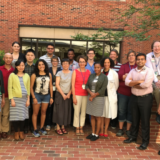 Pierre Massion MD, and his hardworking team at Vanderbilt University Medical Center. Please take a moment to learn about their research and understand Dr. Massion's work in the area of Detection of Early KLung Cancer Among Military Personnel (DECAMP) Read more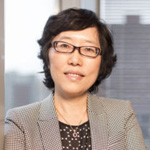 Dr Xiao-Ou Shu MD, PhD
Men with breast cancer are more likely to die than their female counterparts, across all stages of disease, with the disparity persisting even when clinical characteristics, such as cancer types, treatment and access to care are considered, according to a study by Vanderbilt researchers published in JAMA Oncology.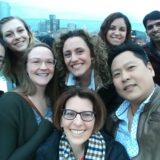 Alissa Weaver MD, PhD,  and her hardworking lab team and many collaborators on their new grant that provides ~$9 million over 5 years to enable investigations into the packaging of extracellular RNA into vesicles. Read more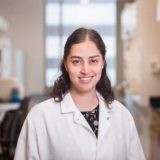 Marjan Rafat PhD, Assistant Professor of Chemical and Biomolecular Engineering, has been awarded a Young Investigator Grant by the Breast Cancer Alliance. The two-year, $125,000 award will allow Dr Rafat and her research group to investigate how radiation influences tumor and immune cell recruitment in triple negative breast cancer. The project involves developing a 3D tissue model in which researchers can control and visualize cell behavior after radiation damage. Read more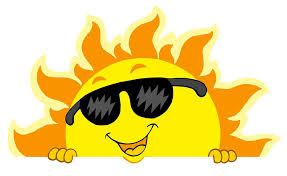 INNOVATIVE EDUCATION PROGRAMS AT VICC
James R Goldenring MD, PhD Supporting Careers in Research for Interventional Physicians and Surgeons Physician-Scientist.
Institutional Award (SCRIPS). Vanderbilt has received a five-year, $2.5-million Physician Scientist Institutional Award from the Burroughs Welcome Fund to help bolster the dwindling number of active physician-scientists in the United States. Read More
Martha Dudek MS, LCGC
Co-Leaders: Nancy Cox PhD and Tuya Pal, MD
Masters of Genetic Counseling Program. Read More
Kimryn Rathmell MD, PhD Oncology Nurse Practitioner Training Program
Focused upon facilitating successful transitions to practice and enabling nurse practitioners to immerse themselves in specialty practice settings, Vanderbilt University Medical Center's Nurse Practitioner (NP) Fellowship program provides post-graduate clinical and educational experiences.
Read More
Chris Williams MD, PhD and Patrick Hu MD Medical Scientist Training Program (MSTP) Physician Scientist Training Program (PSTP) Harrison Society . Read More
CURRENT CAREERS GRADUATES OF CANCER BIOLOGY PURSUE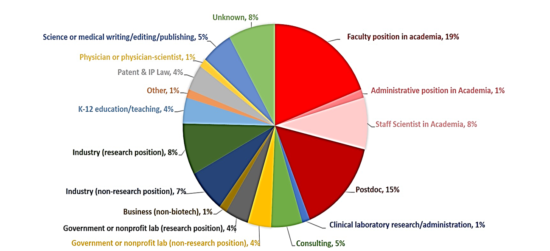 FACULTY AWARDS HONOR TEACHING, RESEARCH, AND CLINICAL EXCELLENCE! 
Kimberly Dahlman PhD, Associate Professor of Medicine, Recipient of the Excellence in Teaching award. The DENIS M. O'DAY AWARD for Team-Implemented Curriculum Reform.
David Cortez PhD, Ingram Professor of Cancer Research and Professor of Biochemistry, Recipient of the Outstanding Contributions to Research award. The STANLEY COHEN AWARD for Research Bridging Diverse Disciplines, such as Chemistry or Physics, to Solve Biology's Most Important Fundamental Questions.  
William Tansey PhD, Ingram Professor of Cancer Research and Professor of Cell & Developmental Biology and Biochemistry, Outstanding Contribution to Research award.  The JOHN H. EXTON AWARD for Research Leading to Innovative Biological Concepts.   
Leora Horn MD, MSc, Ingram Associate Professor of Cancer Research and Associate Professor of Medicinereceived The GRANT W. LIDDLE AWARD for Outstanding Contributions to Clinical Research: 
VICC FUNDING OPPORTUNITIES:
Vanderbilt-Ingram Cancer Center regularly solicits applications for pilot funding to support basic, translational, clinical or collaborative cancer research. Pilot funds allow investigators to collect preliminary data to support an application for independent research support through extramural, peer-reviewed funding. Over the past five years, the Cancer Center awarded $4.1 million to fund 98 pilot projects. This investment led to the acquisition of more than $41 million in extramurally funded grants – a 985 percent return on investment.
Calls for proposals are distributed throughout the year by email, online, and in campus publications. Award amounts and submission deadlines vary. All pilot project awards are funded for one-year periods. Read More
VICC GI SPORE funding opportunities for additional information
inquire here
American Cancer Society Institutional Research Grant Funding opportunities  inquire here
National Comprehensive Cancer Network Funding opportunities
inquire here
---
KNOW YOUR CORES: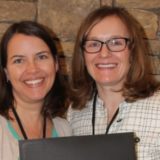 Innovative Transnational Research Shared Resource, Where the cancer clinic meets the laboratory….
The Innovative Transnational Research Shared Resource (ITR) at the Vanderbilt-Ingram Cancer Center partners with oncologists, and laboratory and non-laboratory researchers, to guide, manage, and facilitate pre-clinical and clinical trial laboratory discoveries. Our goal is to advance the translation of research into improved anti-cancer therapies.
Custom projects accepted! Our broad experience in cancer clinical trials, genomics, biochemistry, and cell biology allows us to pursue your unique research project. We leverage ITR resources, other Vanderbilt Shared Resources, other academic institutions, and/or companies to achieve your goals. Please contact Kimberly Dahlman PhD or Jamye O'Neal  MS to discuss your project at  615-936-0410. Read more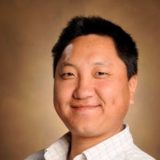 Flow Cytometry Shared Resource
We enjoy state-of-the-art digital instrumentation maintained at the highest standards we can attain. This quality control allows researchers to sort cells at high efficiency and purity under the proper conditions or to run analytical experiments with as many as 17 different fluorochromes simultaneously. We are dedicated to providing the best service and training possible to ensure the best results attainable for our research scientists and physicians. Please investigate the pages of this website to address your scheduling needs and questions relating to flow cytometry research, methods and fees. Please feel free to contact David K. Flaherty BS, Managing Director, with any questions you may have. david.k.flaherty@vumc.org or 615-343-8323 (Laboratory)
Read more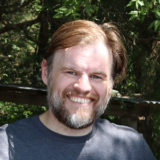 Creative Data Solutions
(CDS) is a fee-for-service shared resource that provides bioinformatics and informatics research services to the Vanderbilt community. From fixed-workflow services to deeper collaborative engagements, its vision is to help with discovery, publishing, and funding. Bioinformatics expertise includes bulk and single-cell RNA-Seq, ChIP-Seq, variant identification and analysis, data visualization, and algorithm development. Informatics services include web and API programming, software engineering, and database development. Please visit the CDS website or contact the core director, Jean-Philippe  Cartailler PhD.
Read more
---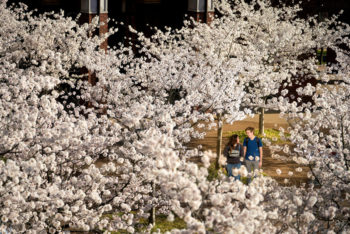 Have a suggestion for a Cancer Biology newsletter item? Do you have an announcement or an upcoming event you want to share with the Cancer Biology community? E-mail: kerry.w.vazquez@vanderbilt.edu
Newsletter header photo credit to Dr Anna Vilgelm, "DNA Comets". Campus color spring photo credit to Joe Howell. Community members working together to rebuild after the Tornado photo credit to Mark Zaleski from the Tennessean. Linda Sealy photo credit John Russell/VU. Painted Rocks photo credit to Reed Omary. Photo credit and articles credit to VU and VUMC.