Dear Vanderbilt community & friends:
It's that time of year again when campus becomes abuzz with the energy of our returning students and the start of classes.
Last month Vanderbilt leadership showcased the West End neighborhood to industry leaders from the Society for College and University Planning. The work highlighted the university's commitment to accessibility, sustainability and other FutureVU principles, many of which are taking shape as work progresses along West End Avenue.
A significant part of this progress is linked to the ongoing mobility and transportation efforts to better serve the campus community. As you will see in our updates listed throughout this newsletter, ensuring we stay steadfast in our commitment to an inclusive campus is essential.
We wish our students, faculty and staff a successful academic year!
For more information, please visit the West End Neighborhood webpage.
Sincerely,
The West End Neighborhood Team
---
Design Updates
The design team continues to collaborate with students and community members to enhance designs throughout the neighborhood.
Traveling from Alumni Lawn to West End neighborhood currently includes many obstacles to pedestrians and a limited number of accessible paths. Updating the neighborhood design to address these issues is key to ensuring the university is enhancing accessibility as part of the FutureVU vision and in accordance with the recommendations from the Advisory Accessibility Task Force. Diversity, inclusion and accessibility are a priority in campus planning.
The proposed paths outlined below display routes that will be accessible in the future.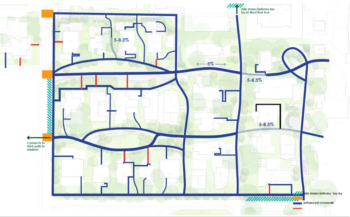 Click the image to view a larger map.
---
Mobility & Transportation
Mobility Updates
The university continues to develop a comprehensive mobility and transportation strategy that will improve accessibility on campus and provide additional transportation options. It also continues to explore additional bikeshare options and providing our community with sustainable and vehicle-alternative transportation methods. Further updates will be shared at the start of the fall semester.
Parking Adjustments for 2018-19
Upcoming
Parking Services will offer a ½ year student "F" permit for those who would like to bring a car to campus during fall 2018 and leave it home spring semester 2019. Online parking registration is open to all eligible 2018-2019 Vanderbilt University students. Prior to permit registration, please consider the necessity of bringing your car to campus. The university understands there are circumstances where students need to have access to transportation (i.e. internships, student teaching), and is committed to ensuring students can get to these important activities.
To aid students during this time, Parking Services will continue to make five floors of the 25th Avenue Garage available to F permit holders. A Vandy Vans stop was installed at this location and will continue to support increased student traffic in the area.
Parking in the West End neighborhood area will be reduced further after final exams in December 2018 as construction continues. Sections of roads may be closed for periods of time as utility efforts continue that will impact parking availability.
The alleys and parking lots behind all fraternity and sorority houses will be closed permanently at the end of the fall semester as the area transforms to become more pedestrian and bike friendly.
If you have questions regarding the upcoming parking changes, please contact VUPS Parking Services at (615) 322-2554.