Other Opportunities
There are several other opportunities available for undergraduate students interested in summer programs.  These include:
REUs (Research Experience for Undergraduates)
The Research Experiences for Undergraduates (REU) program supports active research participation by undergraduate students in any of the areas of research funded by the National Science Foundation. REU projects involve students in meaningful ways in ongoing research programs or in research projects specifically designed for the REU program. This solicitation features two mechanisms for support of student research: (1) REU Sites  are based on independent proposals to initiate and conduct projects that engage a number of students in research. REU Sites may be based in a single discipline or academic department or may offer interdisciplinary or multi-department research opportunities with a coherent intellectual theme. Proposals with an international dimension are welcome. (2)  REU Supplements  may be included as a component of proposals for new or renewal NSF grants or cooperative agreements or may be requested for ongoing NSF-funded research projects.
For more information, visit http://www.nsf.gov/crssprgm/reu/reu_search.jsp
Working on Public Lands

GeoCorps
GeoCorps America is a program of the Geological Society of America , in partnership with the U.S. Forest Service, the Bureau of Land Management, and the National Park Service.
The program offers  paid  short-term geoscience positions in some of the most beautiful natural areas in the world. Read the experiences of those who have participated in the past.
GeoCorps project areas include geology, hydrology, paleontology, mapping and GIS, minerals, soils, glaciology, geo-hazards, karst, education, interpretation, and more.
For more info, visit https://www.geosociety.org/GSA/Education_Careers/Field_Experiences/sip/GSA/fieldexp/sip/home.aspx
Student Conservation Association
The SCA offers several conservation-based opportunities.  Visit their page at http://www.thesca.org/
Pathways to Science offers a large database of paid and unpaid research positions and internships for undergraduates.  If any of the other opportunities are not what you are looking for, be sure to check out http://www.pathwaystoscience.org!
The Mosaics program has opportunities for internships. Check them out here: https://www.nps.gov/subjects/youthprograms/mosaics-interns.htm
Please click here to view our Google Doc of regularly updated programs, jobs, internships and more.
See what these students did!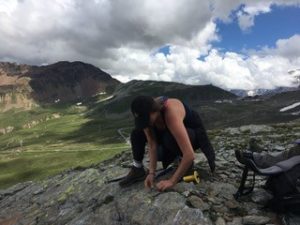 "In August of 2019, I travelled to the Northern Alps of Italy with Professor Dan Morgan to collect rock samples with the goal of learning more about deglaciation in the area.  I spent one week hiking in some of the most beautiful mountains I have ever seen, working with students and professors from a local Italian university, and learning about glacial geology. This research trip was easily the most formative experience in my academic career, as it completely changed my perspective on geology and my plans for the future. Learning in such a hands on way, with a professor that was an expert in the field and eager to answer all my questions, opened my eyes to how fascinating geology is. I was then able to continue to work with the samples back at Vanderbilt, giving me both field and lab experience" Maya Sandel, class of 2021.
Jake Schenthal, class of 2021, was awarded an Alberstadt-Reesman-Stearns Field Studies Award by the EES department to study human-environmental interactions in the Middle East. "I learned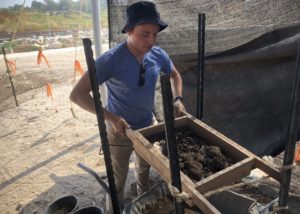 tremendously about how human societies interact with the surrounding ecosystem in both the Mediterranean and the surrounding valleys. I am immensely grateful to the Vanderbilt Earth and Environmental Science department for developing my intellectual skills within environmental science and geology, in which I was able to apply abroad"- Schenthal.