Upcoming events
9/11 Commemoration
Diverse 'Dores Day 2021

WHAT IS DIVERSE 'DORES DAY?
Diverse 'Dores Day is open to all Vanderbilt students, staff, post-doctoral fellows, and faculty. It is an annual event that provides an opportunity to build and find community. This event encourages people to learn more about various support centers, identity-related resources, and spaces on campus. Traditionally, Diverse 'Dores Day is centered on themes that promote pride in the diverse identities of people across campus, as well as accepting and raising awareness about our cultural differences.
DIVERSE 'DORES DAY 2021
Join us for this year's two-day event! Come to Alumni Lawn on September 9th to enjoy food trucks, music, games, t-shirts, prizes, and an all-around good time in the community with us. Be sure to get your passport stamped by each table to take and present to the centers in exchange for more giveaways and a tour on September 10th.
COVID-19 Webinar: Racial and Ethnic Health Disparities in Nashville: An Update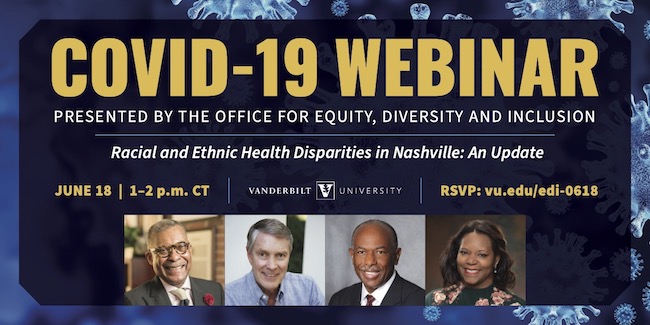 Local health experts will explore health disparities and inequities in the Nashville community and how these issues can be addressed during a virtual event on Friday, June 18, from 1 to 2 p.m. CT.  Hosted by Vanderbilt, "Racial and Ethnic Health Disparities in Nashville: An Update" is free and open to the public. 
Register to attend the webinar>> 
A follow-up to a similar discussion focused on COVID-19 a year ago, the webinar will address pertinent issues affectingthe most vulnerable members of the Nashville community. An expert panel of community health leaders will offer ideas and solutions from a public health, public policy and broad medical perspective. 
Racial and Ethnic Health Disparities in Nashville: An Update 
June 18, 1 p.m. CT 
Panelists: 
Dr. André L. Churchwell, Levi Watkins Chair,

v

ice

c

hancellor for

e

quity,

d

iversity and

i

nclusion

and ch

ief

d

iversity

o

fficer

,

professor of medicine

(cardiology), professor of radiology and radiological services and professor of biomedical engineering

at

Vanderbilt University

 

Sen. Dr. Bill Frist, founder and chairman of

NashvilleHealth

 

Dr. James E.K. Hildreth,

president and chief executive officer

, Meharry Medical College

 

Dr. Consuelo H. Wilkins,

vice president for health equity and professor of medicine,

Vanderbilt University Medical Center