Upcoming events
Financial Wellness Week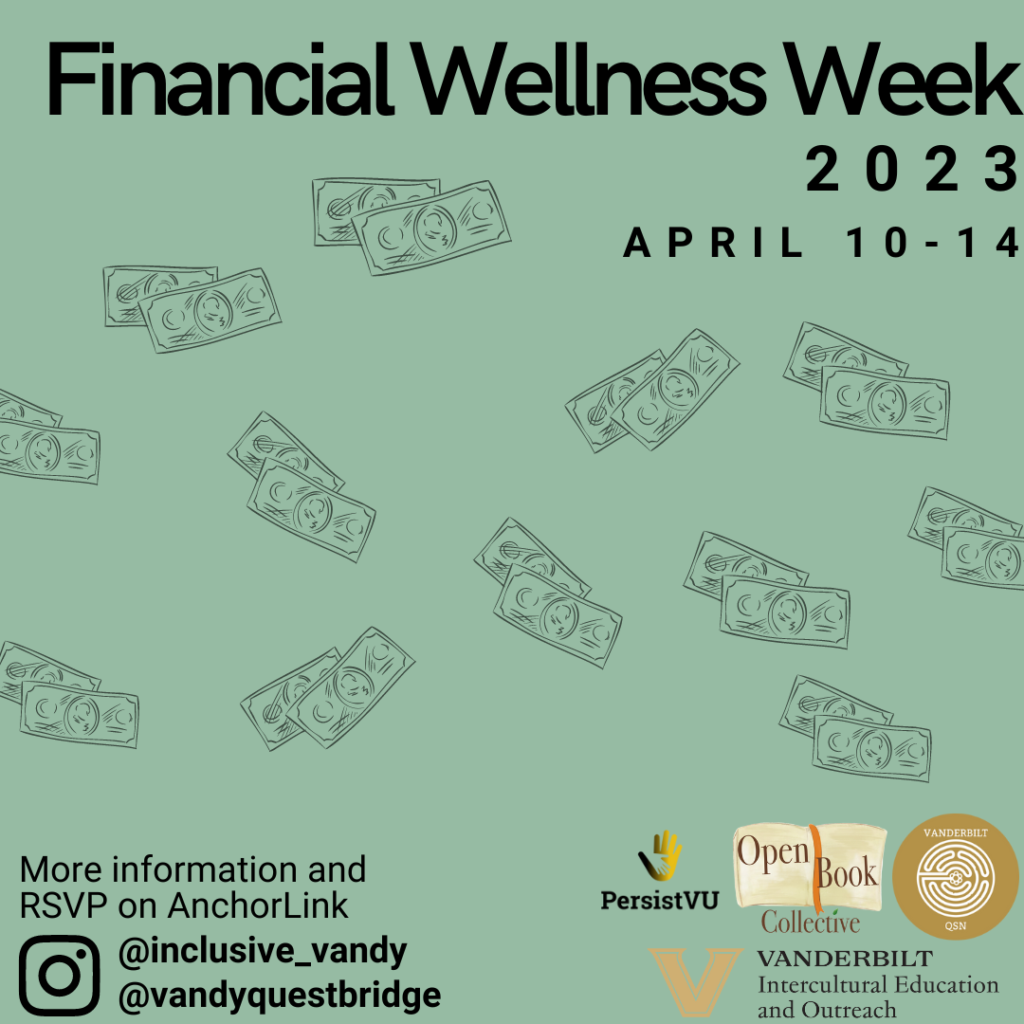 Join Vanderbilt QuestBridge, PersistVU, and the Open Book Collective for a week of events that aim to uplift and broaden the Vanderbilt community's understanding of the ways in which people and students from low- and lower-income backgrounds experience and navigate systemic and social barriers, will feature a week of events April 10-14. The programming will include a faculty panel, virtual workshops and games, and discussions on financial literacy and wellness.
Low-Income Faculty Panel
Monday, April 10
6-7pm
Featheringill 298
Join us as we learn about the personal and professional journeys of our selected faculty panelists, Professor Brittany Chase of Musicology and Dr. Gilman Whitman of African American and Diaspora Studies. They will engage panelists with anecdotes of their lives as they navigated academia to pursue higher education.
Tuesday, April 11
5:30-6:30pm
Ben & Jerry's
Join the Open Book Collective for free ice cream and open conversation on financial literacy for first-generation and low-income students at Vanderbilt. This is an opportunity for students to talk about money, share advice on filling out the FAFSA, brainstorm ideas for putting new students in touch with resources, and more!
Virtual Lunch & Learn: Straddling Class in the Academy (Faculty/Staff/Post-Docs Only)
Friday, April 14
12-1pm
Register here: https://vanderbilt.zoom.us/meeting/register/tJMpceCorj0jE9yCipZVP_RfmuRNeXmJGX19
This virtual workshop invites faculty, staff, and post-docs to engage in discussion based on Straddling Class in the Academy: 26 Stories of Students, Administrators, and Faculty from Poor and Working-Class Backgrounds and Their Compelling Lessons for Higher Education Policy and Practice by becky martinez and Sonja Ardoin. This workshop discusses the nuances of social class, the intersections with educational access, and how to be a better ally/support for colleagues and students at Vanderbilt.
The workshop will be on Friday, April 14th from 12-1pm CDT on Zoom. For those who RSVP to attend, a calendar invite will be sent with the Zoom link. Two free copies of the text will be raffled off to those who register and attend.
FGLI Game Night
Friday, April 14
5-6pm
Buttrick 202
Join us for a relaxing, fun evening playing various games with other students who identify as first-generation and/or low-income! Games will be provided but feel free to bring your own to include! Dinner from Chick-fil-A. 
Black and Jewish Allyship: A Personal Story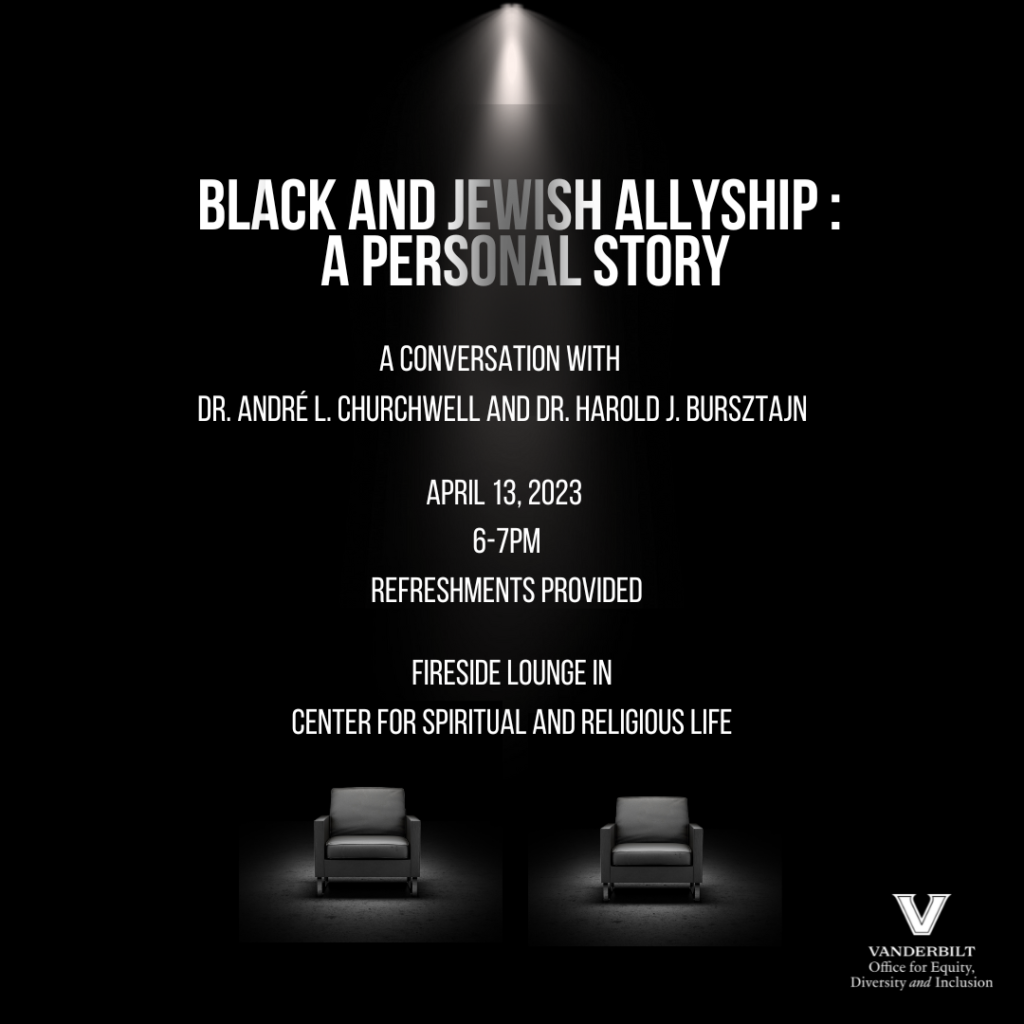 Join Dr. Andre L. Churchwell and Dr. Harold J. Bursztajn for a talk on Black and Jewish Allyship: A Personal Story. The talk will take place on April 13 from 6-7pm in the Fireside Lounge at the Center for Spiritual and Religious Life. The programming will include refreshments!
Vandy Nights @ the Frist
Vanderbilt-exclusive tours of Jeffrey Gibson's The Body Electric
Dates: February 16, March 16, and April 20
6-7:30pm at the Frist Art Museum
Visit https://anchorlink.vanderbilt.edu/event/8820284 for more information.
EDI Graduate Recognition Celebration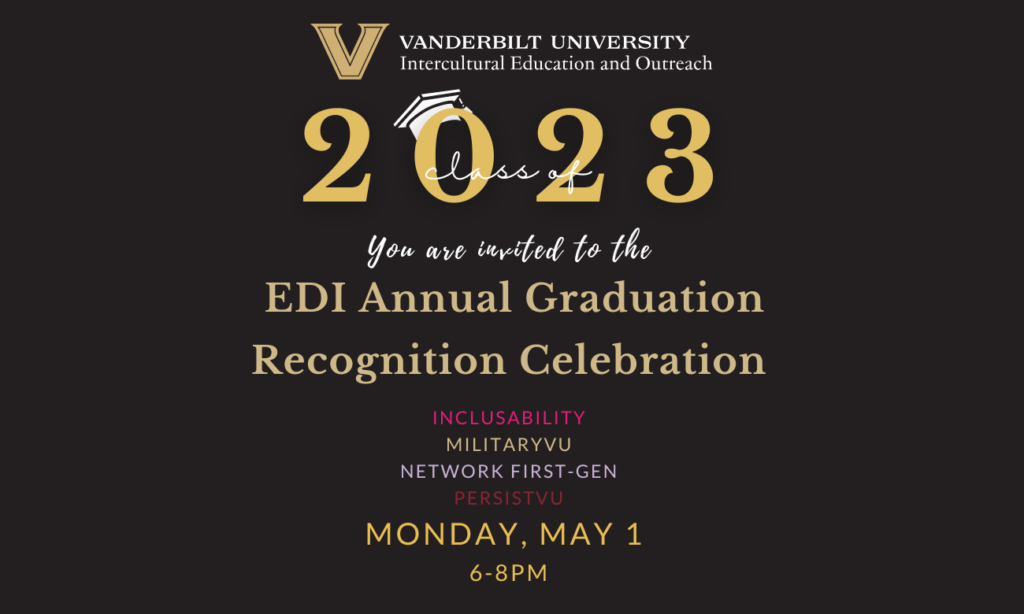 Monday, May 1st
6-8pm
Click on the image to learn more. If the hyperlink does not work, copy and paste this URL: https://anchorlink.vanderbilt.edu/event/8890660
VUGlobalCitizens Graduate Recognition Ceremony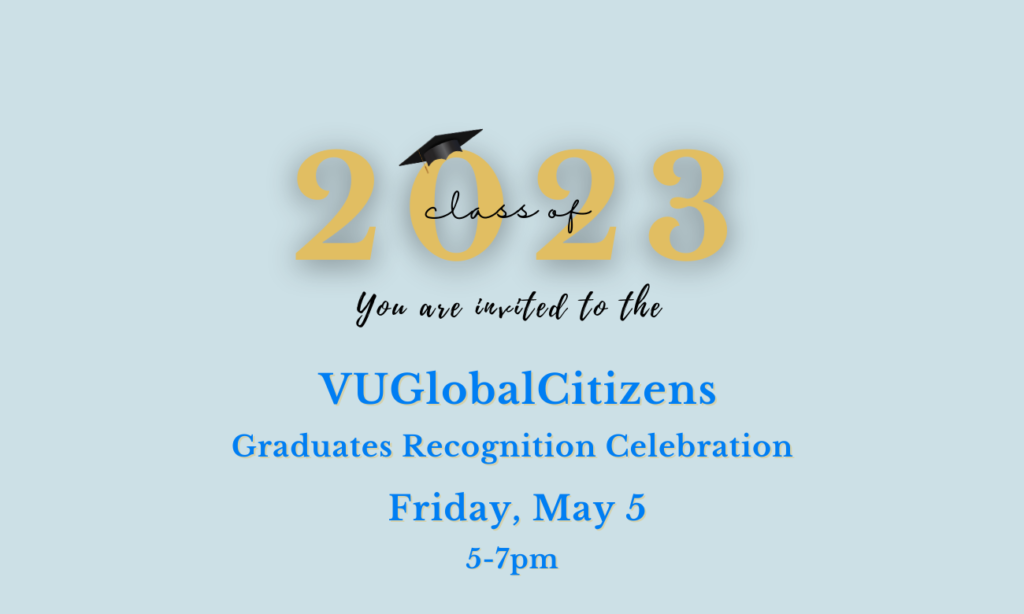 Friday, May 5th
5-7pm
Click on the image to learn more. If the hyperlink does not work, copy and paste this URL: https://anchorlink.vanderbilt.edu/event/8874677