"Summer for America" by Serena Deutch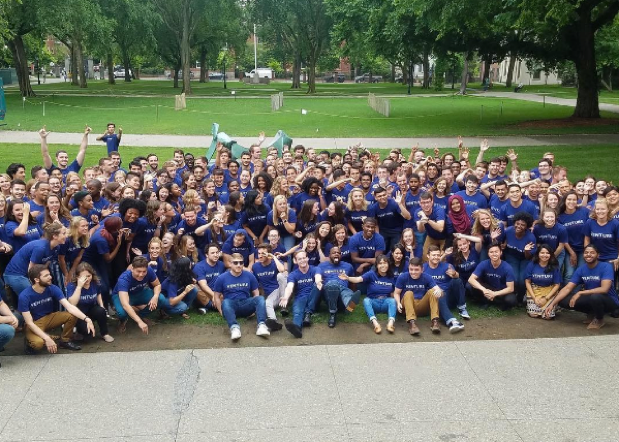 "Summer for America" – Serena Deutch
Thanks to the Curb Scholars program, I embarked on a summer internship that is as fun as it is difficult to explain (so bear with me). I am spending ten weeks working at Venture for America. According to their website, "Venture for America is a fellowship program empowering recent college graduates to launch their careers as entrepreneurs and revitalize American cities. After five weeks of training, VFA Fellows spend two years working for a startup in a U.S. city with an emerging startup ecosystem." While I might decide to apply for the Fellowship next year, for now I am spending the summer as an intern (though the VFA team refers to us as the #InternsforAmerica). That means I spent the first few weeks of my summer in New York City, learning about all areas of the organization. I attended VFA's annual fundraiser called Summer Celebration in June, where I had the chance to mingle with Daymond John from the TV show Shark Tank, along with fascinating entrepreneurs and community members. I spent the next few weeks preparing for Training Camp, a five-week program at Brown University in Providence, Rhode Island that I would help run. Training Camp aims to transform these recent college graduates into problem-solving, strategic-thinking startup employees that will soon start jobs in 18 cities across the country.
The #InternsforAmerica mastered the photo booth at VFA's annual Summer Celebration fundraiser
Venture for America has a similar mission to the Curb Center. On the first day of Training Camp in a lecture hall at Brown University, a local art curator spoke to the group of Fellows and said, "I know you're interested in transforming cities through creative entrepreneurship." As soon as he included the word "creative," VFA suddenly seemed much more relatable to me. It is a program where creativity can be used along with business to improve communities, and this mission resonated with me. While my intern duties are mostly focused on managing all the A/V equipment and coordinating logistics, I also get to sit in on many of the training sessions. I joined the 182 Fellows in learning mindfulness techniques in the face of transition, sat through intensive workshops in Excel and SquareSpace, and heard countless stories from inspiring entrepreneurs.
The Class of 2017 Venture for America Fellows
One thing I love about this summer is that every day is different. Far from a desk job, we regularly have team-Fellow social events, where we get to do yoga and go to movie screenings. My days start early and often end late, but in between I could be doing anything from planning Venture Games, a field-day style activity, to interacting with the Fellows in team-building environments. One highlight for me has been getting to meet the cohort of Fellows who will be moving to Nashville in a few short weeks to begin working at startups spread across the city. Of course, I've been advising them on all the best restaurants and coffee shops to visit in Nashville.
In Providence, RI waiting for 4th of July fireworks
This internship has continuously challenged me and kept me on my toes. I have had to manage my own time and self-direct a lot of small tasks. As I continue in the summer, I hope to strengthen relationships with the Fellows and begin working on my summer Capstone project. Thanks to Curb for making this summer of creative learning a reality!