Curb Scholars Meeting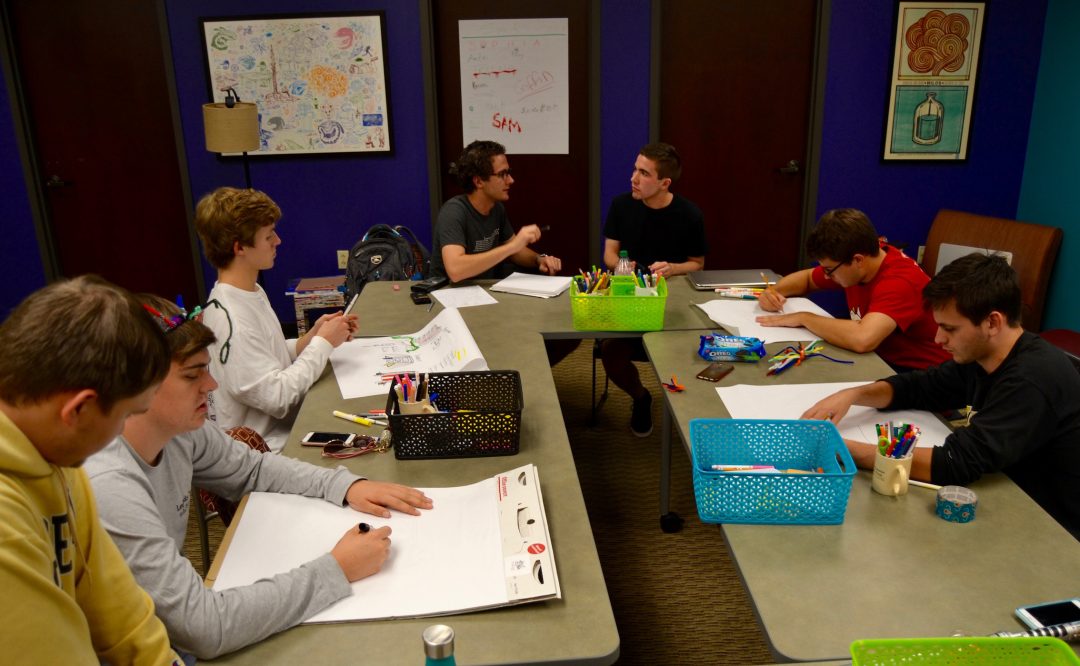 Happy Halloween! The Curb Scholars met on Monday, October 31st to address issues of project safety, discuss implementation challenges, and complete prototypes of the doors for their Creative Doors Project, which will be debuting at the end of the semester. (There were several costumes in attendance—a Legos Princess Leia, and a Scholar with a pipe cleaner crown.) The Scholars brainstormed problems that the Doors would likely need to withstand. These fell into three categories:
Weather (rain, snow, heat/cold)
Human Error (vandalism, climbing)
Wear & Tear (hinge, rust, staying closed, uprooting from ground)
The Curb Scholars browsed images for free standing door frames, and came up with several ideas. These included suspending the door from a tree, building a triangle frame as seen in theater, using ropes to anchor the door, and staking the door to the ground using metal hoops along three sides of the door. The Curb Scholars fell into two camps—those who privileged aesthetics (integrating support into the theme of the door), and those who wanted to pursue a more practical and functional route.
Before breaking off into groups to discuss frame plans for individual doors, Curb Scholar Jonathan took the lead for prompting the group to decide the general requirements all six doors must have. Curb Scholars decided on the following:
Must last 2 months
Must withstand rain, snow, wind
Durability (hinge, paint, supports)
Minimum failure points
Proximity to cameras
Can't be moved or tipped
Must fit into Plant Ops vehicle
Weight constraint can be carried by 3 people or less
Budget: $200/door
After breaking off into groups and making mock door supports with play dough, pen and paper, and popsicle sticks, the Curb Scholars reconvened to discuss their aesthetic and practical ideas. Every group mentioned the triangle frame, so it was decided that the Curb Scholars will prototype the triangle frame door (and perhaps the suspended door) at the Wond'ry in two weeks' time. Curb Scholar Riley made an important point at the end: each door leader must scout out their location and determine whether or not the sprinklers will affect their door.