Curb Scholars 2017 Fall Retreat
A new year has arrived, and to kick it off the Curb Scholars came together for the opening retreat.  It was week filled with exploring, writing, hiking, improvising, and, most importantly, getting to know one another.
On Tuesday, the new Scholars honed their improv skills with Heather Lefkowitz, wrote poems and creative bios with Minton Sparks, then set off for a date at the Escape Game.  (They escaped.)
On Wednesday, the Scholars explored campus, then were joined by Jon Royal for a workshop in ensemble building.  Later that night, new and returning Scholars met at the house of Jay Clayton for dinner and conversation.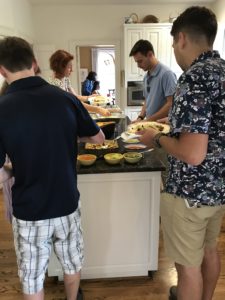 The summer sun made itself known on Thursday, but the Scholars paid it no mind.  They loaded into vans and headed to the Old School, a farm and restaurant that provides employment for individuals of all abilities.  The Scholars took a tour of the farm, got a lesson in pottery, harvested produce with farmer Ben, and received a cooking demo from head chef Kirstie Bidwell.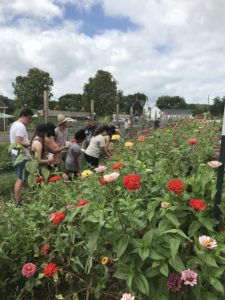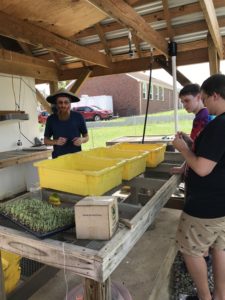 For the final day of the retreat, the Scholars went for a Hike and Write with Mark Haslam, the Curb Creative Writing Fellow.  After, the Scholars visited Marathon Village, a combined retail-and-maker space, then returned to the Curb for reflection, and a reception!