Preview: Americana Fest 2019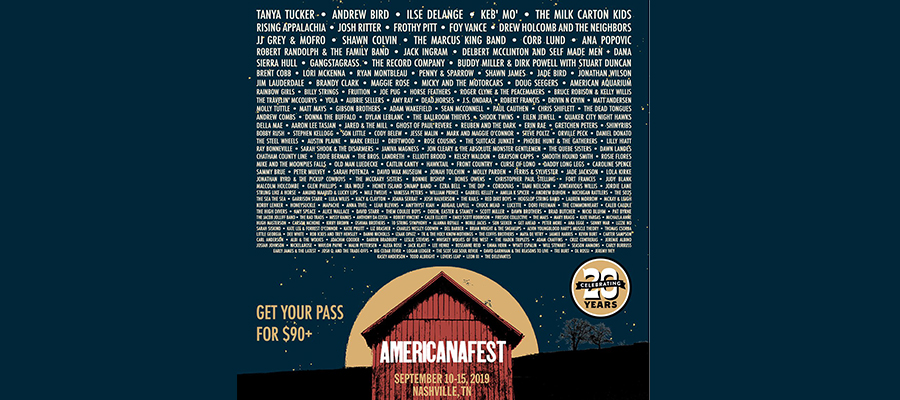 Next week, from Tuesday, September 10 through Sunday September 15, the streets and venues of Music City will host some of the finest folk, blues, and roots acts in the world. Just like any other week in Nashville—but this is even better, because it's Americana Fest (and the festival's 20th anniversary to boot). Along with big names like Keb'Mo', The Milk Carton Kids, and Tanya Tucker, there is a wealth of local Nashville musicians and up-and-coming touring acts playing over the five days. Out of that surfeit of riches, Curb Center Creative Writing Fellow and resident musician John Shakespear has handpicked a few shows he's especially excited about:
Tuesday, September 10: Americana Fest Night One at Mercy Lounge/The High Watt, 7 pm
Besides the fact that it includes several of my favorite younger songwriters in the U.S., this bill is stacked with hometown heroes, including Erin Rae, whose timeless voice and stage presence stuns every time; Joe Pug, one of the few "next Bob Dylans" who really sounds like Bob (but also like himself); indie songstress Ira Wolf; Ilse DeLange of Nashville TV fame; and veteran country songwriter Jack Ingram. I'll be racing up and down the stairs between The Mercy Lounge and The High Watt, where acts will be alternating all night.
Wednesday, September 11: Andrew Bird and Josh Ritter at The Station Inn, 9 pm
I can hardly believe that Andrew Bird and Josh Ritter will be sharing the same tiny, legendary stage at The Station Inn on Wednesday night. I've seen both songwriters fill venues three or four times the size, easily, so this opportunity to see them in such an intimate setting seems almost unreal. But I should probably get used to such wild luck—this is Nashville, after all.
Thursday, September 12: Rainbow Girls, Maya de Vitry, Molly Tuttle, Yola, and TBA at City Winery, 7:30 pm
City Winery has a full schedule every night of the festival, but I'm particularly drawn to Thursday's stunning all-female lineup, which features two of Nashville's own—folk guitar heroine Molly Tuttle and former Stray Birds frontwoman Maya de Vitry—as well as U.K.-based roots rocker Yola and Californian trio Rainbow Girls. Plus, there's the mystery of that TBA slot—anything could happen!
Saturday, September 14: Honeysuckle at Little Harpeth Brewing, 7 pm
Honeysuckle is one of my favorite acts from my hometown, Boston, so I was thrilled to see that they're making their way down to Tennessee this year. If you haven't yet gotten acquainted with their cozy brand of progressive folk—perfect three-part harmony, memorable songs, and tasteful virtuosity and innovation—their Audiotree session is a good place to start.
For the full lineup & details, head over to http://americanamusic.org.
Posted on September 5
Written by John Shakespear