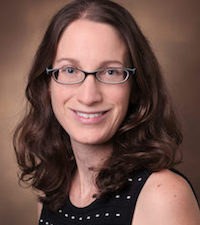 Miriam Lense
Fellow
Miriam Lense joined the Curb Center as a fellow in 2016. She is a Research Instructor in Otolaryngology at Vanderbilt, a Co-Investigator of the Program for Music, Mind, and Society at Vanderbilt, and a member of the Vanderbilt Kennedy Center. Dr. Lense leads the Music, Social Engagement, and Development (M-SED) workgroup at the Vanderbilt Music Cognition Lab.
Lense is a clinical scientist with research and clinical expertise working with infants, children, and adults with or at risk for developmental disabilities with a particular emphasis on autism spectrum disorder and Williams syndrome. Her research explores social, cognitive, and affective processes through the frameworks of auditory neuroscience/music cognition and stress biology. This research, which includes exploration of potential mechanisms and community-engagement and intervention approaches, aims to maximize opportunities for health, wellness, and community experiences. Themes of her current research include: the rhythm of social interaction; relationships between musical interactions, social development and emotional well-being; modulation of emotion and arousal levels via musical experiences; and social connection and community building through music in diverse populations. Methods used in this work include EEG, eye-tracking, acoustic analysis, cortisol, behavioral coding, direct assessments, and qualitative interviews. She is the creator of Serenade, an inclusive parent-child music program that uses parent training, peer interaction, and musical play to promote social engagement, positive behavior, and emotional well-being in families of children with and without autism.
She earned her BA from Harvard in 2005 and her PhD in Clinical Psychology from Vanderbilt in 2014. She completed her clinical internship and postdoc at the Marcus Autism Center at Emory University School of Medicine.