Inside an Artist's Life in the Ryman Lofts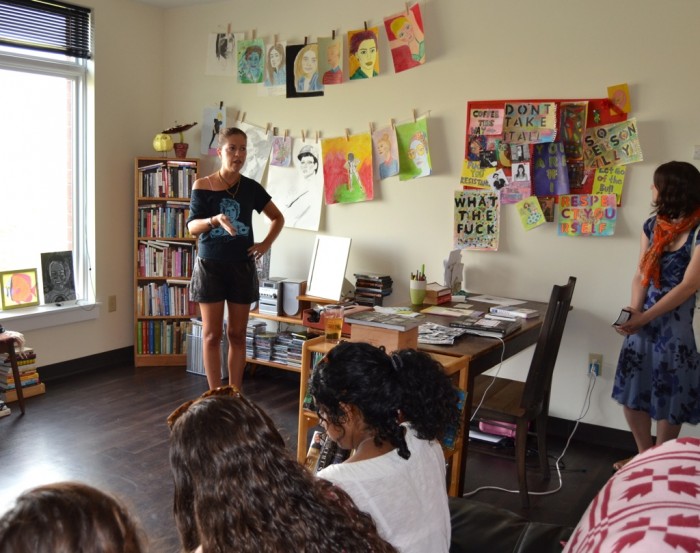 Guest post from Lily Hansen author of Word of Mouth: Nashville Conversations, and resident of Ryman Lofts, Nashville's first affordable apartment residence for artists.  Lily coordinated our visit to Ryman Lofts (you'll hear more about that in our next post!), and her book Word of Mouth will serve as the inspiration for many of our visits this year.
***
by Lily Hansen
Today I signed my third lease at the Ryman Artist Lofts in downtown Nashville. If you haven't heard, Music City is beyond boom status. We are competing with Chicago, my hometown, for who can jack up their rent prices faster. It seems as though a new structure emerges from the ground every other day.
Just as I was initialing my paperwork this morning, my property manager's telephone rang. Debbie is the gatekeeper who breaks people's hearts on an hourly basis by telling them that we are on a five-year wait list. Now I know why the masses are clamoring to get into our 60-unit community.
Two years ago, I received a phone call noting I was "one of the chosen ones." That afternoon I broke my lease and called a guy named Gator to help move my clothes, bookcases and bed. After walking through my studio apartment, I realized this would be the college experience that I never had.
As I would soon find out, our adult dormitory came complete with house parties, potlucks and plenty of beer-infused brainstorming sessions. Like an episode of "Glee," cute boys and girls constantly strut around the campus. We are sort of a modern-day incubator for innovative creative types. It isn't unusual to catch a glass blower, live event painter and jewelry maker in one conversation.
The creative energy is tangible within our building—you can touch it, grab it and take it home for a little burst of energy later. At any point of day you can hear a songwriter's round, opera singing, or a photographer directing his or her subject. Much like art school, it is both slightly intimidating and highly stimulating to the senses. Being around so much talent makes me want to be on my A-game.
Yet I'd be lying if I said everything was all sunshine and roses. We are an emotional bunch and explicit when it comes to our feelings. During winter one can sense a whiff of SAD in the air. In the spring, our creative energy is vibrantly renewed.
A fun fact: There is very little drama, which surprises everyone I tell. Even a reality TV show told the residents that we were too boring for our own segment.
Not only is there a mutual gratitude for having the cheapest rent in the city, but also for this adopted family we've been granted. Personally, as an only child I feel as though I've found the siblings I always yearned for. They understand the repercussions of taking the path less traveled: being down to our last dime and defending ourselves from the disapproving looks of others.
I credit my Ryman family for the success of my newly released coffee table book, Word of Mouth: Nashville Conversations. When I was ready to throw in the towel, my floor mate cornered me on the patio one morning. As tears streamed down my face, she slammed her fist on the table. Her reaction shook some sense into me. "Get a publisher, Lily, because you are more than worthy of one!" Something about her words reverberated in my eardrums. A few months later, my neighbors and I clinked wine glasses to celebrate my first contract. Her encouragement was the ammunition I needed at that moment.
How we make money as artists is a constant topic of conversation amongst the Ryman residents. If you haven't tried it, it's unbelievably difficult to survive solely on your craft. While selling your words and wares may appear romantic, it can also be maddening at times. Rather than self-promote, we insecure artists, who tend to overcomplicate everything, will pawn our furniture to pay the electric bill.
"Sometimes I can't believe that I have chosen this life," one neighbor admitted to me a few weeks back. She couldn't leave her apartment for fear that her car would break down. I could feel her pain of knowing there was no safety net.
Social media has confused our perceptions of one another. In spite of my book gaining tons of traction, I also am losing sleep over where my grocery money will come from. I am told to project an image of success yet am still barely skating by.
As soon as you get over one hurdle another one appears right in front of you. Perhaps the universe is testing the Ryman residents.
This building, in my eyes, isn't solely about having a cheap place to live but being immersed in a community that understands the emotional space you are living in. While we may all come from different backgrounds, we are all striving for the same thing—to make a living doing what we love, which there is truly no blueprint for. As my mentor, John Walker, cofounder and producer of Music City Roots, said to me over lunch last week, "If there was a go-to guide, everyone in the world would be making millions from their hobby." His logic snapped me right back to reality.
I will forever be grateful to wake up every day in the Lily Pad. Upstairs, downstairs and across the hall are 60 other residents with whom I have formed a bond over the last two years. Hopefully we become a blueprint for how Nashville, as well as other cities, can maintain, and protect their creative communities.