Faculty & Staff Catalyst Awards
On a rolling basis The Curb Center offers Faculty & Staff Creative Catalyst Awards,  providing members from these groups with an opportunity to implement original ideas which use creativity as a force for innovation and community engagement while challenging conventional thinking and fostering unique partnerships between all participants.  We encourage proposals for projects that:
apply creative problem-solving to issues impacting the Vanderbilt community and beyond;
foster arts and scholarship-based community engagement programs, projects and events;
facilitate connections across disciplinary, social, and institutional boundaries; and
build the capacity of students, faculty, and staff to formulate and implement innovative solutions to intractable problems
Faculty and Staff Catalyst Creativity projects can receive up to $2,000 with the possibility for more funding if the project encourages interdisciplinary connections. In addition to funding, award recipients have access to the Curb Center workspace and studios, project management, mentoring, network groups, and material resources to support successful project outcomes.  Different levels of funding are awarded based on applicant's title (undergraduate, graduate, staff or faculty) and the scope of project.
WHAT TYPES OF PROJECTS DO WE FUND?
The integration of art and science in the classroom and laboratory
Using movement and wellness to reflect on community and individual well-being
Supporting original art, music, theater and dance pieces from faculty, students, and staff
Examining the impact of gentrification on our community and creative economies
HOW TO APPLY
Interested catalysts from all levels should submit proposals of 500 words maximum or an equivalent 3-minute video or slideshow which address the following:
How does the project engage participants in a creative experience?
What are the challenges and constraints involved?
How is the project interdisciplinary and collaborative?
How will you/participants document and reflect on your experiences?
What other resources might you need to accomplish your goals?
Detailed Budget (separate from the 500 word description)
Deliverables timeline and completion date (separate from the 500 word description)
All materials should be combined into one PDF document and sent to rachel.h.thompson@vanderbilt.edu with "Faculty & Staff Creativity Grant Application" in the subject line.
AWARD PROCESS
Grants proposals are reviewed by Curb's Leadership Team on a rolling basis. After the group makes its award decision the applicant is advised of the award decision. This process can take up to 3 weeks after the Creativity Grant application is received.
If you have any questions about the Creativity Grant or its application process contact Program Manager Rachel Thompson (via phone or email) for more information.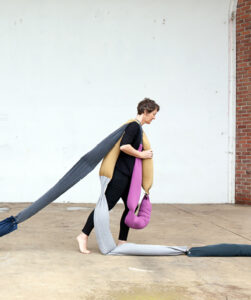 'This Holding"
2020 Faculty Creative Catalyst Award
Jana Harper