Curb News
Film "Lumiere douce, Lumiere brilliante" (Soft light, Brilliant light), written and produced by Wilna J. Taylor (Assistant Director of the Curb Center) and directed by Pearl Gluck has been selected to be included in the Miami Independent Film Festival and the Bayou Film Festival.
---
Associate Director of the Curb Center, Alexandre Frenette, was featured on VU News for his article that investigates how differences in age and experience had led to office tensions specifically in creative industries. Read the story here.
---
Vanderbilt Athletics has partnered with The Abstract Athlete, their project meshes the worlds of art and athletics through art exhibitions, workshops and other avenues. Ron Johnson, CEO and Co-Founder of The Abstract Athlete and Assistant Professor, Painting and Printmaking Department at Virginia Commonwealth University joined by Abstract Athlete Artists Richard Sullivan (former professional baseball player with the Braves) and Percy King (former NFL player with Kansas City Chiefs) provided a workshop to engage student athletes in exploring creative practices, employing many of the skills they have develop as athletes to enrich their student experiences.  They will also work in collaboration with the Curb Center and Wond'ry to provide immersive artistic opportunities, mentorship and other resources for our student athletes.  The work the students produce will be presented in an exhibition which will include a selection of other athletes and veterans who also work with The Abstract Athlete.  The exhibition will take place at a Vanderbilt Men's Basketball game.
---
On Tuesday, October 1, Vanderbilt's office of Community Relations held its Food for Thought conversation program at the Frist Museum. The talk focused on the Frist's exhibition Murals of North Nashville Now.  A panel engaged the audience in discussion about the work and challenges of presenting art in public spaces, and preserving a changing community's stories through visual arts.  The panel included several artists from the Norf Collective, Frist Curator, Katie Delmez, TSU History Professor, Dr. Learotha Williams Jr. and The Curb Center's Assistant Director, Wilna Taylor. You can watch the panel here.
---
Wilna Taylor, assistant director of the Curb Center for Art, Enterprise and Public Policy, and Barton Christmas, Curb Scholar will perform in A Short History of Anger, a staged reading centered on the devastating and lasting impact of state-sponsored ethnic cleansing and forced migration. The performance, which is free and open to the public, will be on Sept 14. at 8 p.m. at the Blair School of Music in the Steve and Judy Turner Recital Hall. You can find more information on this event here.
---
Curb Scholar Ben Scheer jumps imagination-first into big projects, and he's not afraid of a lot of trial and error. The Vanderbilt human and organizational development and economics double major has worked on dozens of entrepreneurial endeavors ranging from coding to music to virtual reality to photography, with his biggest focus being on connecting with people and solving problems. Read the article here.
---
Congratulations to Associate Director Alex Frenette, along with Nathan D. Martin and Steven J. Tepper from Arizona State University on the publication of their latest paper "Oscillate wildly: The Under-acknowledged Prevalence, Predictors, and Outcomes of Multi-disciplinary Arts Practice". The paper appears in the current issue of the journal Cultural Trends. Frenette's work has recently been featured on the National Endowment for the Arts' blog with a thoughtful piece on his recent Cultural Trends article and the NEA report Frenette co-authored with Tim Dowd. Read the article here.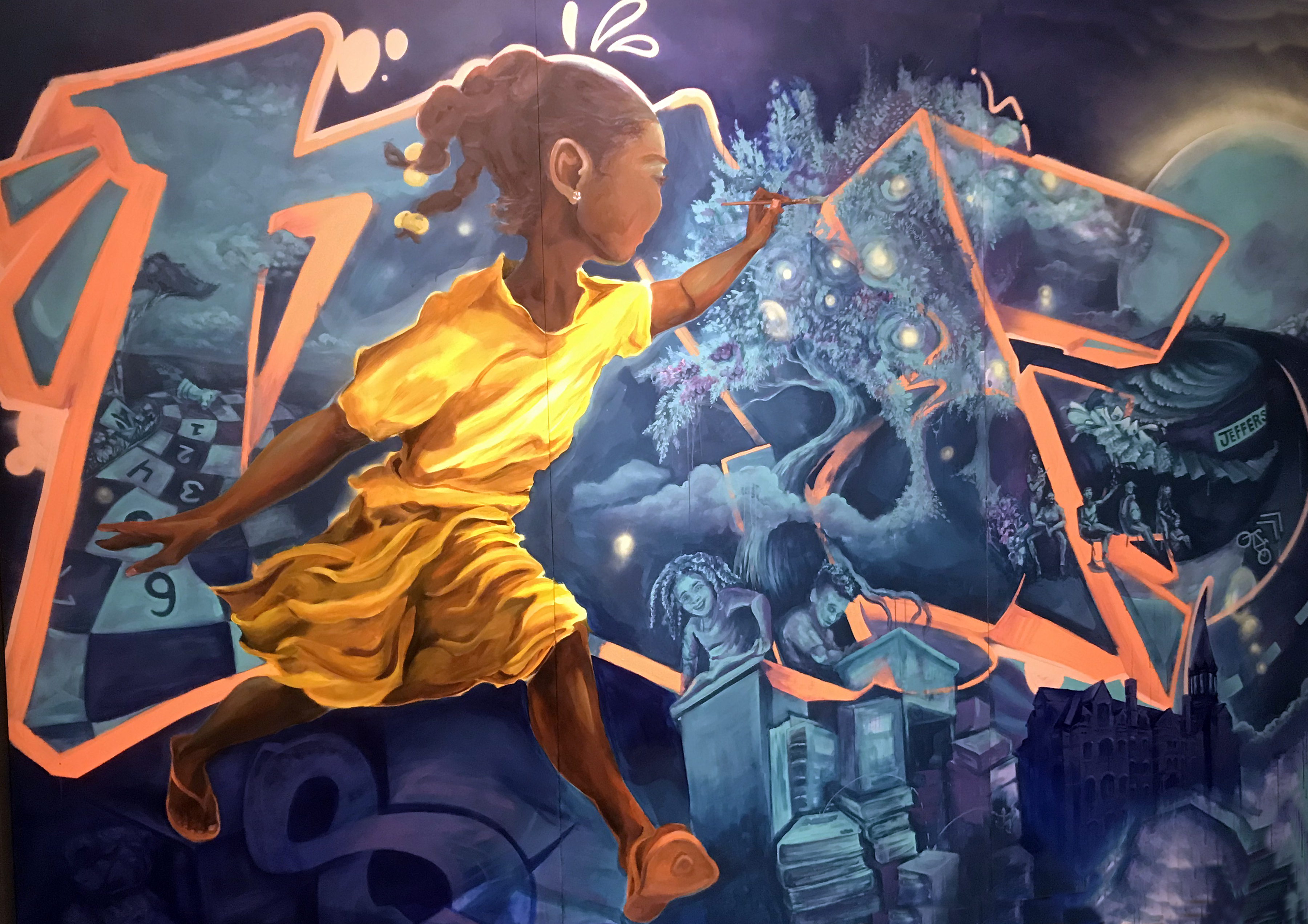 Norf Art Collective. Forever, 2019.
"Untitled" by Wendi Powers