An ArtLifting Summer Internship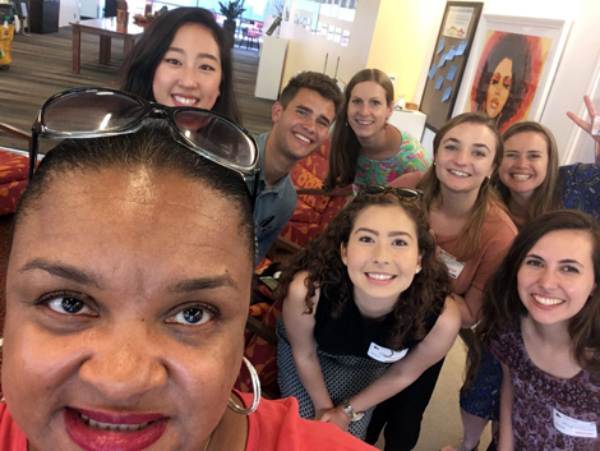 This summer I had a social enterprise internship in Boston with an organization called ArtLifting. I want to first and foremost say that I am having an awesome experience, one that is full of new learning, challenges, and friendships, and I would not have been able to have had this experience without the support of Curb.  Thank you.
My path to interning with this unique and socially impactful startup started extremely serendipitously. Last summer, I gave Vanderbilt admissions tours on Fridays, and during one of my tours I touched on a summer  internship with Safe Haven Family Shelter. After the tour, one of the "Tour Moms" stopped me, thanked me for a great day, and then told me that she was a financial advisor for a company in Boston she thought would be right up my alley. When she mentioned ArtLifting, I vaguely remembered reading about the group in the New York Times; only after I got home that day with her business card in hand and did a google-search for "ArtLifting" did I realize how cool of a company this was and how much their mission spoke to me. Within 2 weeks, the "Tour Mom" had connected me with ArtLifting's CEO, Liz Powers, and following a brief phone interview where I rambled on about my King of Pops side job, they offered me a summer internship.
I got to Boston June 18th of this summer; I had spent the first month in Ecuador and then a week at home with my family. Now that I'm in Boston, I wish I had more time! I'm living in an apartment on Park Drive, across the street from Clemente Park, a community park rife with pickup soccer, basketball games, and adult softball league games. My place is 3 blocks (no exaggeration) from Fenway Park, home of the Red Sox and one of baseball's holiest grounds. I have been running in the neighborhoods surrounding the area, and the mix of gardens, lively streets, and Boston-brick houses is always a welcoming site.
I want to provide some context about ArtLifting; I have been doing client pitches, so for the full run-down, feel free to reach out to schedule a call (I can send over a google calendar appointment, I am getting really good at that). ArtLifting is a social enterprise that empowers artists experiencing homelessness or living with a disability. It got its start when its founder, Liz Powers, was a student at Harvard. She would help facilitate art groups at local homeless shelters, and was amazed by the talent of the artists. She also observed that their art, which was often museum or gallery-caliber, was often disregarded in closets or sold at blanket sales on the street for a small fractions of the piece's full worth. Seeing this circumstance, Liz and her brother Scott started ArtLifting as a way to give these artists an opportunity to have their work celebrated and valued as it should be, while providing the artists with recurring income.
When I talk with clients about ArtLifting (and honestly when I talk with anyone about ArtLifting), I always describe the company as offering a "Win-Win" situation: for companies that are looking to purchase art, the art that we offer is stellar and we have enough styles that whatever story they wish to tell with the art, whether it shows their values, a core brand/color scheme, or the CEO's obsession with tomatoes, we will have pieces to represent it.  With the investment, the company therefore installs art that can redefine a space, while supporting an artist experiencing homelessness or living with a disability. Their employees, their executives, can look at the art, appreciate its beauty, and also know and take pride in the knowledge that they supported an artist living with a difficult life experience. For me, I never feel like I am selling art; merely, I'm connecting with potential partners to try to brainstorm how we can make this amazing, mutually beneficial transaction happen.
It has not been a completely smooth time in Boston. ArtLifting challenges me everyday, and sometimes I have been overwhelmed and I've failed; for example, I was put in charge of updating a spreadsheet for the team with all our business metrics, and despite my best efforts, I got the numbers very wrong and the subsequent meeting about our progress was a mess! I also bought a train pass for the month of July ahead of time, feeling proud of myself for being prepared, only to lose it. Lastly, because of my lack of culinary skills and my unwillingness to grocery shop at normal intervals, I would say that 4/7 of my dinners are centered around scrambled eggs.
Overall though, it has been a very enriching experience and one I am so glad to have the opportunity to experience. I am hoping to continue to learn as much as I can about ArtLifting and social enterprise in general, because I see social enterprise as a unique combination of business and prosocial aims that has the potential to impact and help alleviate many issues. I also want to continue to enjoy and value the city of Boston, its culture and its facets, since it is a beautiful and historically deep environment. Lastly, I want to take many of the inspirations I am learning from ArtLifting, about the intersection of business and service, about harnessing the creativity of often-stigmatized groups, about recognizing my own avenues for creative expression and pursuit, and bring them back to the Curb Center for my senior year.
Thank you for reading and thank you to the Curb team for making this experience possible and for helping to highlight my experience to others.