Frequently Asked Questions
Questions about the Application
THE APPLICATION DEADLINE FOR FALL 2021 ADMISSION IS December 15, 2020. You must complete your application by the designated day.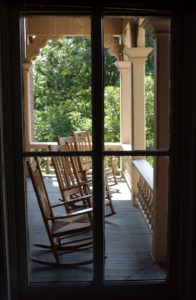 Is there an application fee?
Yes. The Graduate School application fee is $95.00. For more information, see the application guidelines.
If I have a technical question regarding my online application, whom do I contact?
For technical questions regarding your online application please email apply@vanderbilt.edu.
I applied to the Vanderbilt MFA program last year. Do I need to submit another application?
Yes—all applicants must fill out a new application. When you are ready to begin your application, click here.
I was wait listed for admission to the MFA program last year. I want to reapply this year. Should I resubmit the same materials?
You may submit the same transcripts and letters of recommendation, but we encourage you to send a fresh writing sample so the faculty can see how your writing is developing.
My undergraduate grades (GPA) are not as high as I'd like them to be. How much emphasis is placed on my GPA?
The most important component of your application is your Writing Sample. Your GPA is a confirmation of your ability to handle the academic subjects.
Are there any requirements for those who write letters of recommendation for applicants to the MFA Program?
While there are no set requirements for those who endorse applicants, typically letters of recommendation come from creative writing professors and academics in writing-related disciplines who can speak to an applicant's ability and potential in the genre in which that person is applying and/or aptitude for graduate study in a rigorous writing program.  Less frequently, recommendations are provided by endorsers with professional connections to applicants, including former and current employers or supervisors, editors, and mentors.
If my letters of recommendation arrive at Vanderbilt after the deadline, will my application still be considered?
We understand that sometimes the delivery of your supporting documentation (letters of recommendation) is delayed. If we have not received certain of your supporting materials and we need to see them, we will contact you so you can make sure the materials are sent.
What are the length requirements for the writing sample?
If your primary interest is fiction, then please provide a fiction writing sample, double spaced, of no more than 25 pages—short story or novel excerpt acceptable. If your primary interest is poetry, please provide a poetry sample of up to 15 pages.
When will I hear if I am accepted?
We try to notify those who are accepted by mid-February, or no later than mid-March.
Are there any tips for the creative statement portion of the application?
Check out The Aha! Moment, an interview with Director of Creative Writing Kate Daniels.
Questions about the GRE and TOEFL
Is the GRE test required?
The GRE test is not required.
Test of English as a Foreign Language (TOEFL)
Applicants whose native language is not English and who have not received a degree at an English-speaking university must submit scores on the TOEFL. International students should have a TOEFL score of not less than 570 on the paper-based test, computer-based TOEFL score of 230, or an Internet-based TOEFL score of 88. Since four to six weeks are usually required for scores to reach the University, you should take the test no later than November 19, in order for the score to arrive by January 15. You may send inquiries and your requests for applications to TOEFL, P.O. Box 6151, Princeton, New Jersey, 08541-6151.
Questions about Genre
May I take classes outside my genre (fiction or poetry)?
Yes, MFA students enroll in workshops outside their genre, with the consent of the instructor.
How do I apply if I am applying for both fiction and poetry?
If you are applying for both fiction and poetry, our application system allows you to submit a second application for your additional genre. On the main page, where you log in, click on the link, "Start New Application," to complete a second application. Be sure to indicate in your Personal Statement that you would like to be considered for both fiction and poetry. All other components of the application remain the same.
Do you have a Creative Non-Fiction specialization?
No. At this time, Vanderbilt's areas of specialization are fiction and poetry. We typically offer graduate-level Creative Non-Fiction workshops, which students may take if they are interested in doing so and the instructor agrees.
Do you consider applications in genre-fiction (science fiction, fantasy, mystery writing, children's literature, and the like)?
No, we do not.
Questions about Interviews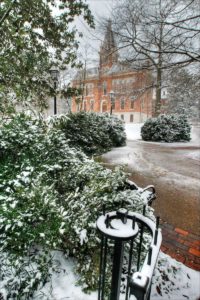 May I meet with a faculty member to discuss the MFA program?

Due to the large volume of applications we receive, we are unable to arrange individual meetings with faculty members in advance of your acceptance into the program. Our website is filled with information about the MFA program; if you have a question that is not addressed on our website, please feel free to email us at creativewriting@vanderbilt.edu. We invite you to campus and arrange meetings with faculty once you have been accepted.
May I talk to one of the current MFA students?
As noted above, we invite all candidates accepted into the Vanderbilt MFA program to campus in the spring so they can meet MFA students and faculty. We do not arrange meetings before then; our MFA students have a heavy workload of writing, attending classes, studying, and teaching, and we do not want to burden them with additional obligations before then. To protect their time, we urge current students to forward all requests for information about the program to creativewriting@vanderbilt.edu and advise potential candidates to send questions directly to that email address, rather than reaching out to MFA students. The campus visit provides ample opportunity to talk with students and faculty alike about what it's like to attend the MFA Program in Creative Writing at Vanderbilt.