COVID-19 Health and Safety Protocols
To protect the health and safety of members of the Vanderbilt community, it is imperative that all attendees of Commencement ceremonies adhere to the university's campus safety protocols at all times while on campus.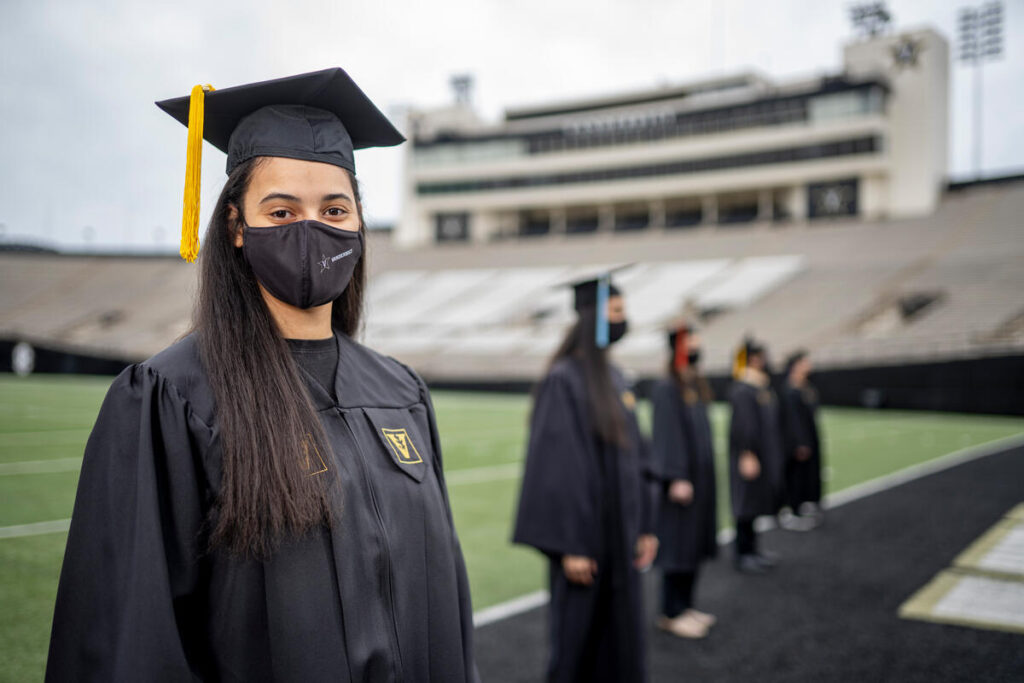 All attendees also must do their part to comply with health and safety protocols leading up to the event. The Commencement ceremonies are only possible with your strict adherence to mask wearing, physical distancing and avoiding gatherings.
Class of 2020 graduates and guests of both Commencement ceremonies must review the university's Campus Visitors Acknowledgment before arriving on campus. Campus buildings will be closed to the Class of 2020 and to the guests of all ceremonies to help prevent the spread of COVID-19.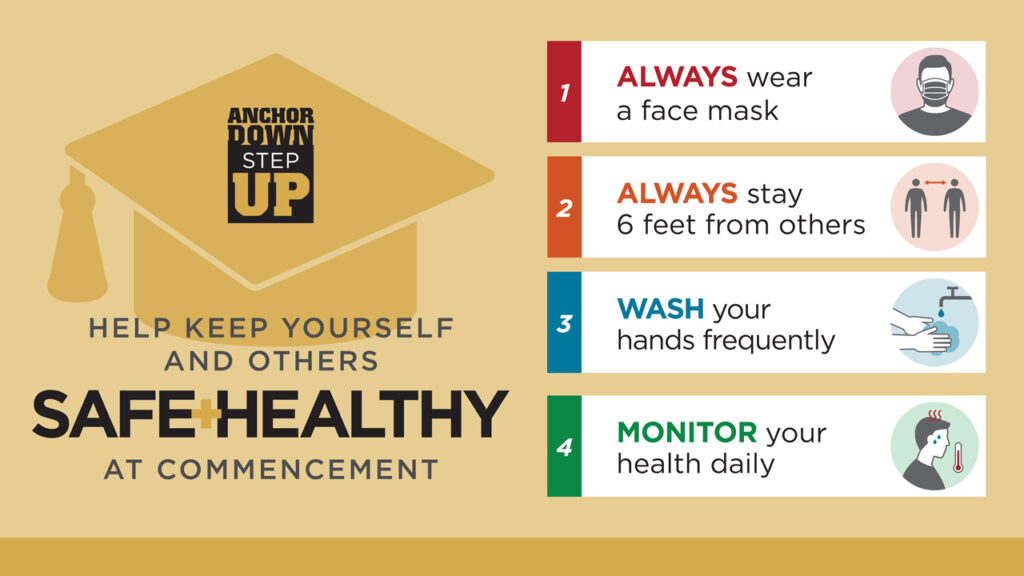 Masks
Face masks/coverings (e.g., disposable masks or cloth face coverings) must be worn by all individuals on campus at all times in public indoor settings and outdoor settings.
Vanderbilt PHAs will be in attendance to provide face coverings to any person who may not have one. PHAs in attendance will be VUPS community service officers, Guest Services employees and CSC employees. These PHAs are trained to help create a safe working and learning environment for all within the Vanderbilt University community.
Anyone not adhering to the face covering policy will be asked to comply or leave.
Information about appropriate use of face masks can be found on the Return to Campus website.
Physical Distancing
Physical distancing at a minimum of 6 feet must be maintained at all times, whether indoors or outdoors. Face masks/coverings must be worn at all times when indoors or outdoors, with the exception of actively engaging in eating/drinking outdoors, so long as physical distancing is maintained.
The two guests of each graduate will sit together in "pod" style seating during Commencement ceremonies but must keep their masks on and maintain physical distance from other guests. If two guests sitting in a pod together live separately, we encourage them to quarantine leading up to the event.
Gatherings
All official Commencement ceremonies will be held outdoors in alignment with public health best practices.
No indoor gatherings will be held for official Commencement ceremonies, nor are they allowed for other events during Commencement weekends.
Campus building access will be restricted to current students, faculty and staff as part of our campus health and safety protocols. Restroom facilities for guests will be provided near Commencement event locations.
Outside of the university's Commencement ceremonies, gatherings of more than eight people are not allowed on campus. Additionally, failure to comply with the city's public health emergency orders can result in criminal penalties and ineligibility to participate in Commencement ceremonies. We encourage you to review the city's orders on gathering sizes.
Graduates and guests attending Commencement must also adhere to the university's clear bag policy. Lockers will be provided at each ceremony location. If guests forget to bring a clear bag, they can check their bag at one of the lockers on-site free of charge.
OTHER HEALTH AND SAFETY
Vanderbilt stadium has enhanced facilities to include touchless fixtures in restrooms.
Touchless sinks, toilets and urinals are available to guests and graduates in all restrooms. Restroom door entry will be touchless, and the external doors will remain open at all times.
Water fountains have been deactivated, and canned water is being provided to guests at no cost.
Vanderbilt Stadium has implemented enhanced cleaning protocols, to include:
More than 50 hand sanitizing stations will be strategically located throughout the stadium.
Event personnel and housekeeping staff will clean and disinfect in accordance with CDC guidelines.

Increased cleaning of restrooms several times throughout Commencement.
Increased disinfection of high-touch areas, such as handrails and bathroom stalls.