Academic Strategic Planning
Download the Academic Strategic Plan Executive Summary
Read FAQ's from the Feb. 27, March 11 and March 24, 2014, Faculty Town Hall meetings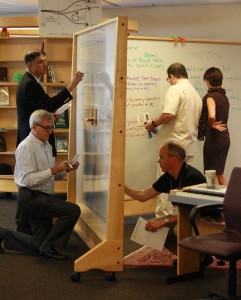 Vanderbilt's leadership role extends beyond the classrooms, laboratories and residence halls and into the daily lives of everyday people who look to us to help them explore ideas, solve problems, serve others, and be well. We must leverage our unique strengths as a research university to demand even higher levels of resources and human capital to address the complex issues of our time.
We are now engaged in a comprehensive strategic planning process that will set the course for the next decade at Vanderbilt. This process began in the summer of 2013 and will involve all members of the Vanderbilt community. By focusing on these four areas that define the heart of our mission and future strategy, we will develop and invest in new intersections and nourish and build on existing successes.
Trans-Institutional Programs
In recent years, Vanderbilt has successfully leveraged its expertise in traditional fields of study by establishing interdisciplinary centers and programs designed to bring talented faculty and students from a variety of fields together to achieve meaningful results. We must invest in new and exciting trans-institutional ideas that will flourish in Vanderbilt's research-intensive learning environment and bring about creative solutions to complex problems.
Undergraduate Residential Experience
Vanderbilt exists to develop the leaders of tomorrow by educating the whole person with regard to emotional, cultural and intellectual growth.  Our undergraduates, graduate students and faculty benefit each day from the combined values of a liberal arts education nested within a Research I university on a singular, compact campus.
The initial phases of Vanderbilt's residential college system, beginning with The Martha Rivers Ingram Commons (2008) and College Halls at Kissam (2014), will further define the impact of an engaged and supportive learning community.  As new residential colleges are established in the coming years, this system will ensure that intellectual exchange, friendship and leadership are fostered in all areas of collegiate life.
Education Technologies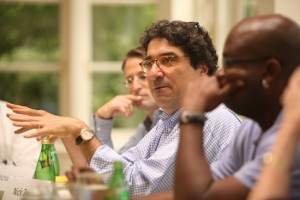 The pace of research discovery in education technology and development provides significant opportunities for Vanderbilt, where faculty in its #1 ranked school of education collaborate campus-wide with scholars in science, medicine, engineering and the humanities.  Emerging online learning concepts and social media have become integral tools to living in today's world and are rich sources of creativity and innovation for faculty and students who are passionate about harnessing the potential of new technologies.  Vanderbilt's culture of engaged scholarship and creativity is a strategic advantage as we aspire to lead in this emerging and multi-faceted field.
Health Care Solutions
The faculty, staff and students at Vanderbilt University Medical Center, School of Medicine and School of Nursing are on the front lines of our healthcare system every day.  They teach, learn and lead, constantly refining best practices and ideas on how best to improve the quality of care for all patients.  As pioneers of health professions curriculum reform and innovators in healthcare delivery systems, Vanderbilt's medical center enterprise attracts the very best students and faculty to shape heath care policy on the local, regional and national levels.  We must develop new ways for them to collaborate with other Vanderbilt faculty in engineering, science, law, economics and anthropology in order to harness the kinds of expertise required to solve our nation's health care problem.