October 2021 Updates to Brightspace
There are several highlights from the most recent Brightspace update, and today we want to focus on four things that will be most helpful to Brightspace users. A link to the full release notes is available at the end of this post.
Preview Activity in Evaluation mode for Assignments
Previously, users who did not have edit permissions for assignments could not preview assignments. As a result, not all evaluator types could see assignment information such as assignment instructions, start date, or due dates.
Now, on the Assignment Evaluation screen, there is a Preview Activity option in the Assignment context menu to see a preview of the assignment.

Figure: The Preview Activity option appears on the context menu for the assignment.
Copy/Paste Images
Users can now drag/drop and copy/paste images in the following areas that contain no user-specific data:

Content Module/Topic Descriptions

Quiz/Survey/Self-Assessment – Description, Header. Footer

Grades – Description

Content Course Overview descriptions

Discussion Forum/Topic descriptions
This should simplify the process of adding images to these areas instead of having to upload an image manually each time.
Note: Similar to current functionality, image files added to these areas are saved in the Manage Files area of the course the user is currently in.
Add Print Button to PDF file types
This feature adds the option to print PDF file types to Content. The Print button is now visible when viewing a PDF topic or the Course Overview as a PDF.
Figure: PDF view in Brightspace Classic Learning Environment – Content prior to this release, highlighting the absence of a print functionality.

Figure: PDF view in Brightspace Classic Learning Environment – Content highlighting the location of the Print button.
View Course Import history
Users can now view the history of course import attempts for courses in a specific course. From the Import/Export/Copy tool in Course Admin, users can view the Course Import History page, which includes the following information for each course import attempt:
the original package name

status of the import

user who created the import job

the timestamp for the import attempt
The content is sorted by Start Time (Descending) by default, but users can change this sort setting as required. After users have viewed the page, they can return to the Import/Export/Copy Components landing page in the Course Admin or click View Import Log to see a more detailed log. The log opens at the last line for the conversion you are viewing.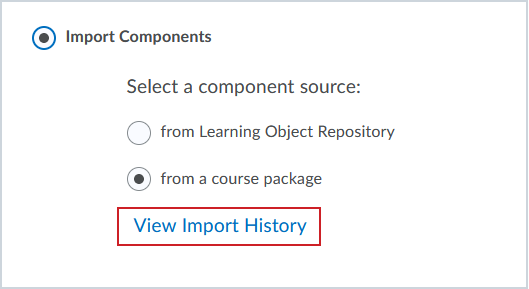 Figure: The View Import History link is available from the Import/Export/Copy Components tool in the Course Administration area of their course.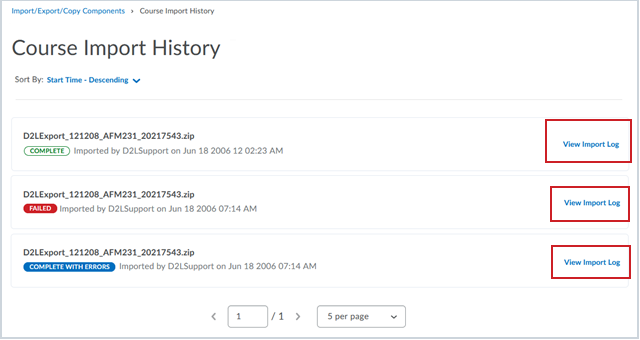 Figure: On the Course Import History page, you can view the import log for more information about the import attempt.
For more information about these updates, and the others we didn't have space to mention, you can find the full release notes linked below.