Vanderbilt Intentional Diversity Experience (VIDE)
What is VIDE?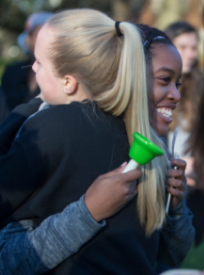 Live your life with Intent!
The Vanderbilt Intentional Diversity Experience (VIDE) is an initiative spearheaded by the Bishop Joseph Johnson Black Cultural Center. The initiative is intended to create structured and informal opportunities for students at Vanderbilt University to engage in meaningful conversations and meaningful experiences with individuals outside of the typical demographics of their friendship circles. The primary objective is to foster the development of diverse networks across campus.
How does VIDE Work?
Interested students must complete the VIDE application to participate. The questions on the application are intended to 1) gather basic demographic and interest information to assist in the matching process, and 2) provide baseline diversity comfort indicators to measure individual growth in future assessments.
After completing the application, individuals will be placed into groups of two based on measures of similarity but more importantly measures of difference found within their application. These pairs are referred to as VIDE Partners (VPs)
Requirements
1 – Meaningful Engagements
The VPs are then required to engage in six VIDE events, and one VIDE excursion per semester.
VIDE Activities – Individual one-on-one interactions decided on by the VPs. Each member in the pair will choose three events from their respective Vanderbilt circles/interests in which they will invite their VP to attend as their guest. Activities can be programs planned by various student organizations and clubs on campus, or one-on-one interactions built around the common interest of the VPs, i.e. working out together at the recreation center.
VIDE Events – Campus events coordinated by student organizations and clubs or departments/offices intended to bring a relatively large number of VPs together to receive the program content or experience. VIDE Events must take place on campus and open exclusively to VPs.
VIDE Excursions – Off-campus excursions sponsored by student organizations and clubs or department/offices designed to take VPs together into the Nashville community for program content or experiences. Excursions can focus on (but are not limited to) community service, social bonding, education, etc. VIDE excursions are open exclusively to VPs.
2 – Reporting Obligation
Following each activity, event, or excursion, VIDE partners are required to complete a VIDE Activity Report. This helps partners to qualify for special exclusive VIDE opportunities and prizes.