Black Women's Empowerment Week
To the Queens of Vanderbilt and the people who love them, it's time for our Black Women's Empowerment Week called, "Queen Your Crown is Adjusted." Please consider supporting these events! The Black Cultural Center is proud to present a comprehensive list of events to celebrate Black women that combine both virtual and in-person opportunities for the community to participate in. Below, you will find the descriptions and flyers for each event.  All times listed are in Central Standard Time (CST).
BLACK women's empowerment week EVentS 2022
MONDAY, MARCH 21
Black Women's Mixer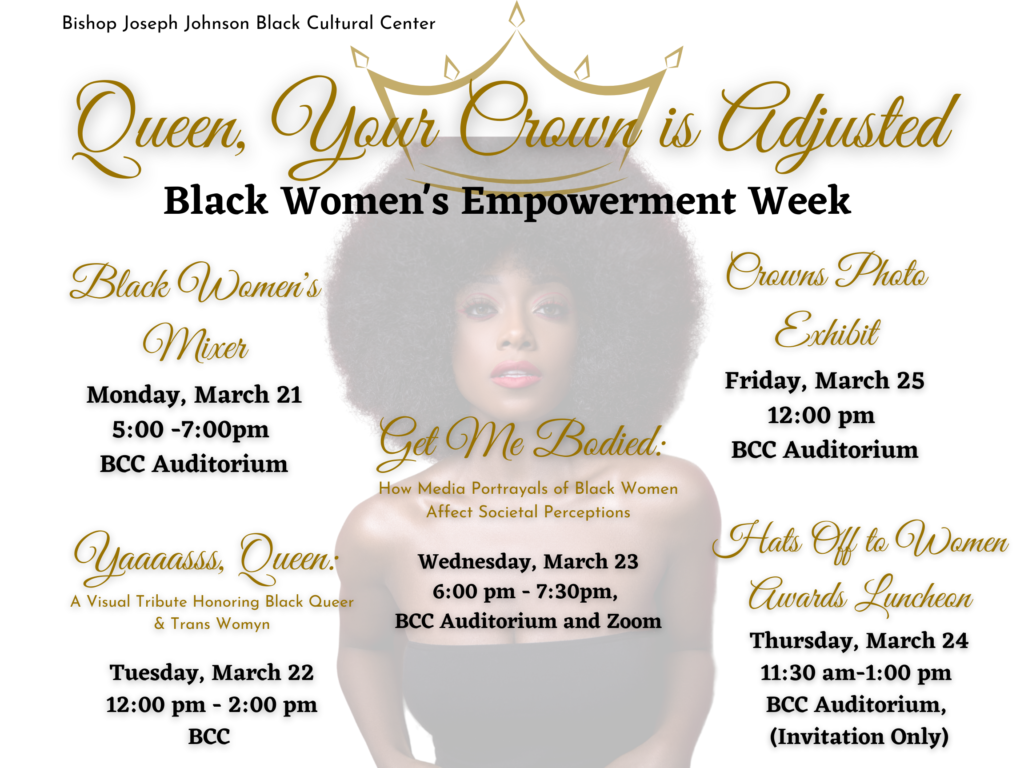 Hey Queen! Join us at the BCC as we celebrate ourselves! With music, food, and fellowship, this is guaranteed to be the type of affirming evening needed to get you through the week!
Monday, March 21 from 5:00 to 7:00 p.m.
To attend this event, please sign up here! 
TUESDAY, MARCH 22 
Yaaaass, Queen: A Visual Honoring of Black Queer & Trans Womyn
12:00 to 2:00 p.m.
Come to the BCC for an interactive, self-paced tribute that seeks to educate and bring visibility to powerful and inspiring womyn of the Queer and Trans community. Pictures of these womyn will be displayed throughout the BCC and participants will be able to name the womyn using a QR code on each picture with facts about their accomplishments. Guess all the names correctly and you could win swag! The display will remain up at the BCC for the duration of the week.
WEDNESDAY, MARCH 23 
Get Me Bodied: How current media portrayals of Black Women Affect Societal Perceptions
6:00 to 7:30 p.m. (Hybrid: Bcc Auditorium and on Zoom)
Since the 1800s, Black women have been unjustly scrutinized and fantasized about their appearance. Come explore the history of Sara Baartman as we dive into how perceptions of black women have shaped our reality. Learn how society turns this fascination into a multi-million dollar industry. This presentation will be facilitated by Associate Director, Vee Byrd.
Help us "tip our hats" to some amazing women of the Vanderbilt and Nashville communities! This year's honorees are Dr. Candace Story Lee, Dr. Tracy Sharpley-Whiting, Dr. Ebony McGee, Dr. Ivana Thompson, Ashley Best, Sandra Uti, Dr/ Alesha Harmon, Danait Isaac, Chidiogo Nwakoby, and Haley Bishop.
To watch the ceremony virtually, please use this link: https://vanderbilt.zoom.us/meeting/register/tJ0pdOyrqTktEt0KLCjCRC-1-S1sh9_009pY
FRIDAY, MARCH 25 
Crowns Photo Exhibit Opening
12:00 a.m. to 2:00 p.m. (BCC Auditorium) 
Vanderbilt has some of the most beautiful and intelligent Black womyn on the planet! And the BCC is proud to put their photos on display! Come to the BCC for our photo exhibit, Crowns, where the featured models are all from the Vanderbilt community! Light refreshments will be available.