Devin T. Adams
United States Army
J.D. Candidate, Class of 2022
Law School
"Thank you for the opportunity to help others and extend my service beyond uniform!"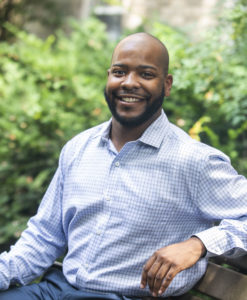 Tell us about your military service. What did you do? Where did you serve? What do you value the most about your military service?
I served as an Enlisted Combat Infantryman at Fort Bragg, North Carolina and Afghanistan; an Airborne Ranger Field Artillery Officer in Vicenza, Italy; and a member of the Staff and Faculty at The United States Military Academy at West Point over eight years of active duty service.
My military service gave me an opportunity to learn about my fellow Americans. I served with men and women from all fifty states, ethnic and socioeconomic backgrounds, educational experience, and religious practices. We were united around a common goal to accomplish our mission. It was an amazing way to spend my formative years and learn how to lead diverse units.
What are your thoughts on mentoring other students while at Vanderbilt? As a role model, what values do you want to share?
I'm extremely excited to mentor students! As a faculty member at West Point, I looked forward to every opportunity I had to mentor and develop the young leaders. Albeit a different atmosphere, I am looking forward to getting to know and helping the students at Vanderbilt.
I hope to share the importance of "Building the Bridge." Every goal can be accomplished but not without PLANNING and EXECUTION. Don't have "Dreams" – have "Destinations." Often people hold themselves back by telling themselves they "don't know how/what to do," so I try to help them make plans by simplifying large goals into smaller, manageable goals.
While at Vanderbilt, what will be the focus of your studies and how do you plan to use this knowledge in your future career?
While at Vanderbilt pursing my J.D., I am focused on Land Use and Development and Intellectual Property law as a means to find technological solutions for increasing investment opportunities for small real estate deals.
I am also planning to pursue a Master in Public Policy (M.P.P.) from the Peabody College of Education and Human Development with a focus on K-12 policy.
What would you tell other veterans about the Bass Military Scholars Program?
The Bass Military Scholars Program is an excellent opportunity to attend an amazing, collegial university in one of the most vibrant cities in America! The program provides meaningful mentorship and development opportunities, institutional support and a family away from home!