Craig Kuphall
United States Army
MBA Candidate, Class of 2021
Owen Graduate School of Management
"Thank you for the providing an opportunity to relate my military experience to the Vanderbilt community. I think this program will go a long way to bridge the civil-military divide, and I am very proud to be a part of it."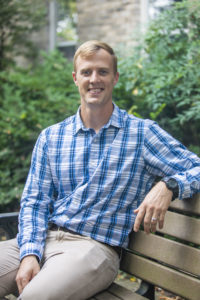 Tell us about your military service. What did you do? Where did you serve? What do you value the most about your military service?
I was an Army Aviator that deployed multiple times to the Middle East in both conventional and special operations roles. In 12 years of active duty service, I was stationed multiple places in between El Paso, TX and Savannah, GA. The responsibility of leading Soldiers in combat has been the most challenging and rewarding experience of my service.
What are your thoughts on mentoring other students while at Vanderbilt? As a role model, what values do you want to share?
I eagerly look forward to mentoring other students at Vanderbilt. I want to show that values like courage, service, and integrity are not just reserved for the military. Rather, they are equally as important in being a good citizen and community member.
While at Vanderbilt, what will be the focus of your studies and how do you plan to use this knowledge in your future career?
Within the Masters in Business Administration Program, I hope to pursue a concentration in management strategy and leadership.
What would you tell other veterans about the Bass Military Scholars Program?
The Bass Military Scholars Program creates the opportunity for veterans to receive a great education and share their experience with the Vanderbilt community. I have found that continuing to serve and lead in this way is extremely rewarding.