Alyssa Hartley
United States Navy
J.D. Candidate, Class of 2022
Law School
"Thank you for the opportunity to find a meaningful way of continuing my service and to be a driver of change."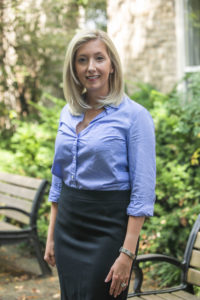 Tell us about your military service. What did you do? Where did you serve? What do you value the most about your military service?
Serving as a Naval Aviator based out of Coronado, California for 10 years, I was able to see many different parts of the United States as well as the world. I appreciated every minute of my service as I have always had a deep desire to give back to my country and community.
What are your thoughts on mentoring other students while at Vanderbilt? As a role model, what values do you want to share?
I was fortunate enough to serve as a mentor for female aviators in my squadrons and those in the Naval Helicopter Association. I look forward to the opportunity to share my life experiences and time with the students at Vanderbilt. I hope to inspire the desire to serve in others as well as teach them how to lead.
While at Vanderbilt, what will be the focus of your studies and how do you plan to use this knowledge in your future career?
While I am at Vanderbilt pursing my J.D., I hope to focus on international law, building on my undergraduate education in international relations.
What would you tell other veterans about the Bass Military Scholars Program?
The Bass Military Scholars Program provides veterans with the opportunity to focus on gaining a world-class education at a top-tier school. It is a wonderful complement to our Veteran educational benefits, providing us the stability to serve the Vanderbilt community while learning.