March 30th Autistics' Roundtable Webinar will address autism on screen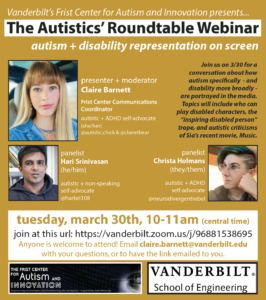 The next Autistics' Roundtable Webinar will be all about autism and disability in entertainment media! It will take place at 10am central time on Tuesday, 3/30. Anyone and everyone is invited to join, using this Zoom link at 10am (CST) on Tuesday.
Attendees will have the opportunity to hear from three autistic adults, including Frist Center Communications Coordinator Claire Barnett, UC Berkley student Hari Srinivasan, and @NeurodivergentRebel Christa Holmans.
Barnett will present the history of disability I n the media, then moderate a panel discussion. She will pose several questions, then take questions from the audience. You do not need to register in advance for this webinar – just join us at 10am CT/11am EST on Tuesday, March 30th using the zoom link provided above. You can also manually type the url provided on the flyer.
This webinar will be recorded and made available on the Frist Center YouTube channel. You can previous Frist Center webinars by clicking here.