Interest session for neurodivergent Vanderbilt employees, or employees with neurodivergent family/friends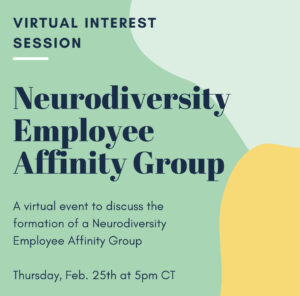 On Thursday February 25th at 5 p.m. CT, Vanderbilt's Office for Equity, Diversity and Inclusion will be hosting a virtual interest session to propose starting a Neurodiversity Employee Affinity Group at Vanderbilt.
Individuals who identify as neurodivergent, parents of neurodivergent individuals and anyone else who is interested in or impacted by this topic are welcome to join. This event will allow attendees to discuss and ask questions about the benefits of forming this group.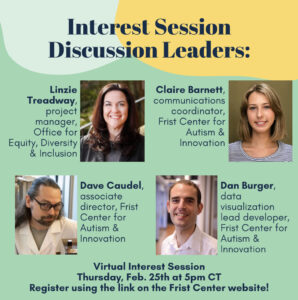 Three Frist Center employees will be moderating the discussion: associate director Dr. Dave Caudel, communications coordinator Claire Barnett, and lead developer Dan Burger. For more information on the event check out this newsletter posted by Vanderbilt University: https://news.vanderbilt.edu/2021/02/17/interest-session-for-new-neurodiversity-employee-affinity-group-is-feb-25/