Tennessean op-ed on ableism in media, Sia's "Music," written by autistic advocate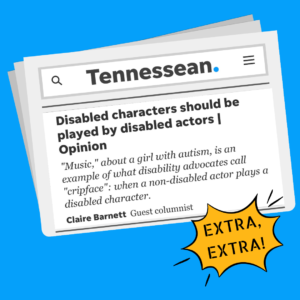 The Tennessean, a USA Today network newspaper, recently published an opinion article written by Frist Center communications coordinator Claire Barnett. The piece, titled "Disabled characters should be played by disabled actors | Opinion," explains into the importance of disabled people having a first-person voice in their own media representation.
Barnett, who is autistic and ADHD, was prompted to pen the article by outrage in the disability community over Sia's new musical. The movie, "Music," features an non-speaking autistic character played by a neurotypical Dance Moms alum. This casting tops the list of several critiques of the movie, including: the use of prone restraint during a meltdown, mocking portrayal of autistic body movements, and use of an autistic character as a plot device to develop other characters. It is called cripface when a non-disabled person portrays a disabled person for the entertainment of others.
Despite Sia's admission that her movie may be ableist, it garnered two Golden Globe nominations, and the conversation about disabled voices in the media is ongoing. The Frist Center hopes to see more #actuallyautistic and disabled voices being featured in the future.
Follow this link to read the full text of Barnett's op-ed.