Register for December 16th webinar on Neurodiversity & mental health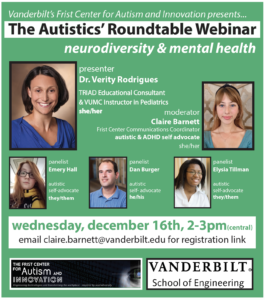 We are excited to announce that the December Autistics' Roundtable webinar will focus on neurodiversity and mental health! Tune in on Wednesday, December 16th at 2pm (CT) to hear from an expert clinician and four self-advocates about their experiences with the unique mental health challenges faced by autistic adults.
Our main speaker will be Dr. Verity Rodrigues. Panelists will be undergraduate students Emery Hall and Elysia Tillman and Frist Center for Autism and Innovation staff member Dan Burger.
As usual, the panel will be moderated by Frist Center Communications Coordinator Claire Barnett. She will pose several questions, then take questions from the audience for the panel to answer. To register in advance for this webinar, click this link! We hope you'll join us at 2pm CT/3pm EST on Wednesday, December 16th.
This webinar will be recorded and made available on the Frist Center YouTube channel. You can watch past Autistics' Roundtable webinars by clicking here.