Olivia Forrester – Everything I Never Said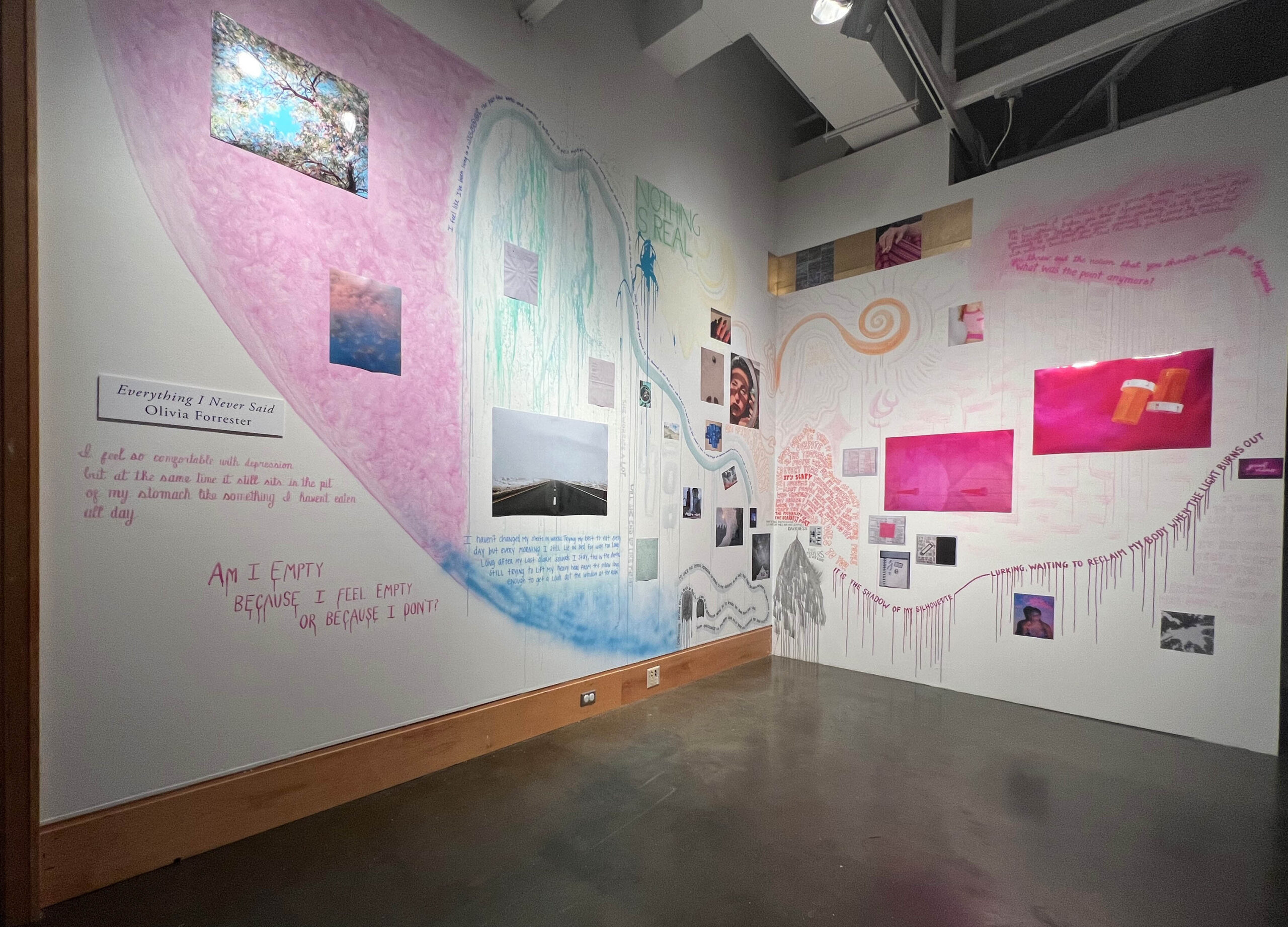 Statement
My exhibition contains a combination of texts and images that I created over the past few years that center around my experience suffering from mental illness. In everyday life, I experience a stark differentiation between how I feel internally and how I present myself to other people and this work depicts this contrast.
Despite the significant progress made in recent years to decrease the stigma surrounding mental illness, it is difficult to remain authentic and honest about my feelings with others when in actuality my answer to "how are you doing?" is dark, heavy, and scary. Thus, I write it down instead. The text in this exhibition has been extracted from my own journals and notebooks. While I present myself as outgoing, bubbly, positive, and optimistic, the future I see for myself is far from hopeful. The loss of multiple people in my life to suicide has led me to question the point at which an individual's mental illness takes over completely. My work hopes to visually convey the way that depression has impacted my view of the world and myself.
In my writing and photography, I am interested in exploring the evolution of self over time, specifically in relation to personal identity, worldview, family, the body, and mental illness. By addressing themes of mental illness in my work, I hope to chip away at the stigma surrounding it and encourage a dialogue. I actively work against the widely misconceived notion that mental illness is less real (meaning less serious, less tangible) than other physical illnesses. The other themes I explore include individual, collective, and generational trauma, and the evolution of the self —which are all inextricably linked with the passage of time.
The photographic and performative works of the artists Sophie Calle, Andy Warhol, Wolfgang Tillmans, Anna Maria Maiolino, Caroline Allison, Damien Hirst, Hans-Peter Feldmann, Jean Michel Basquiat, and Felix Gonzales-Torres have all served as sources of inspiration and guidance for my own artistic exploration. Their themes and visual renderings have informed my own practice. Particularly, the artists' abilities to create visually enticing work that addresses weighty, often taboo topics. Separate from these artists, there are a few individuals in my life whose teachings and encouragements have significantly altered my worldview and without whom I would not be where I am today. To Jana Harper, Maria Magdalena Campos-Pons, Ellen Louise Ray, Paige Blumer, and Alesandra Zsiba: thank you for your kindness, encouragement, patience, insight, academic and emotional support, and belief in me.
---
Biography
Born and raised in Washington, DC, Olivia Forrester is a photographer and multimedia artist, whose works combine elements of photography, painting, and text. In her practice, Olivia focuses on the visual representation of mental illness in relation to individual identity and worldview. After developing a passion for photography in her freshman year of high school, Olivia began shooting exclusively in manual photographic mode, building a strong foundation for creative control behind the lens. After attending Davidson College for her freshman year and working as a photographer for the school paper, Olivia transferred to Vanderbilt University to formally pursue studies in the arts. She will graduate from Vanderbilt in May 2022 with a bachelors of arts degree in Studio Art. Olivia currently works as a fashion photographer for Strike Magazine Vanderbilt, where she works with other creative teams to develop a bi-annual editorial publication.
---
Exhibition