NCAA – Statement

Statement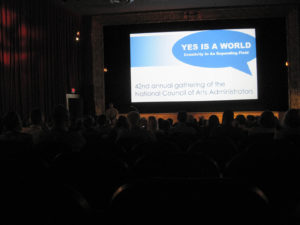 Vanderbilt University, Department of Art is proud to host the 42nd annual conference of the National Council of Arts Administrators. We, along with the city of Nashville, welcome you with open arms. 
This conference, "Yes is a World, Creativity in An Expanding Field," navigates questions arising from new energy and thought about art in the 21st century. As educators, we must ask the question: how do we engage the dynamic force that responds to art as a socially transformative experience?
"And in this world of yes (skillfully curled) live all worlds." It is Cumming's words, skillfully curled, that my interest is most captured. It is as if there exists potential energy held in check, but like a coil or spring ready to let go at any minute. It is this potential – this curling, if you will – that the world of art and creativity finds itself at this moment.
Can we, as leaders of institutions, engage in the teaching of art and creativity, adjust our 20th century programs for 21st century attitudes? And if we can, what would that look like? At this conference, we will at once explore the wide variety of creative processes that embrace the academy now while gazing beyond, into all worlds!
I close by echoing Joseph Seipel and Richard Roth's words from last year, "we look forward to sharing with colleagues and friends, several days of camaraderie, dialogue and a shared sense of purpose."
Thank you for joining us!
Clear skies,
Mel Ziegler
Professor of Art
Chair, Department of Art
Vanderbilt University