Liv Donofrio – bloom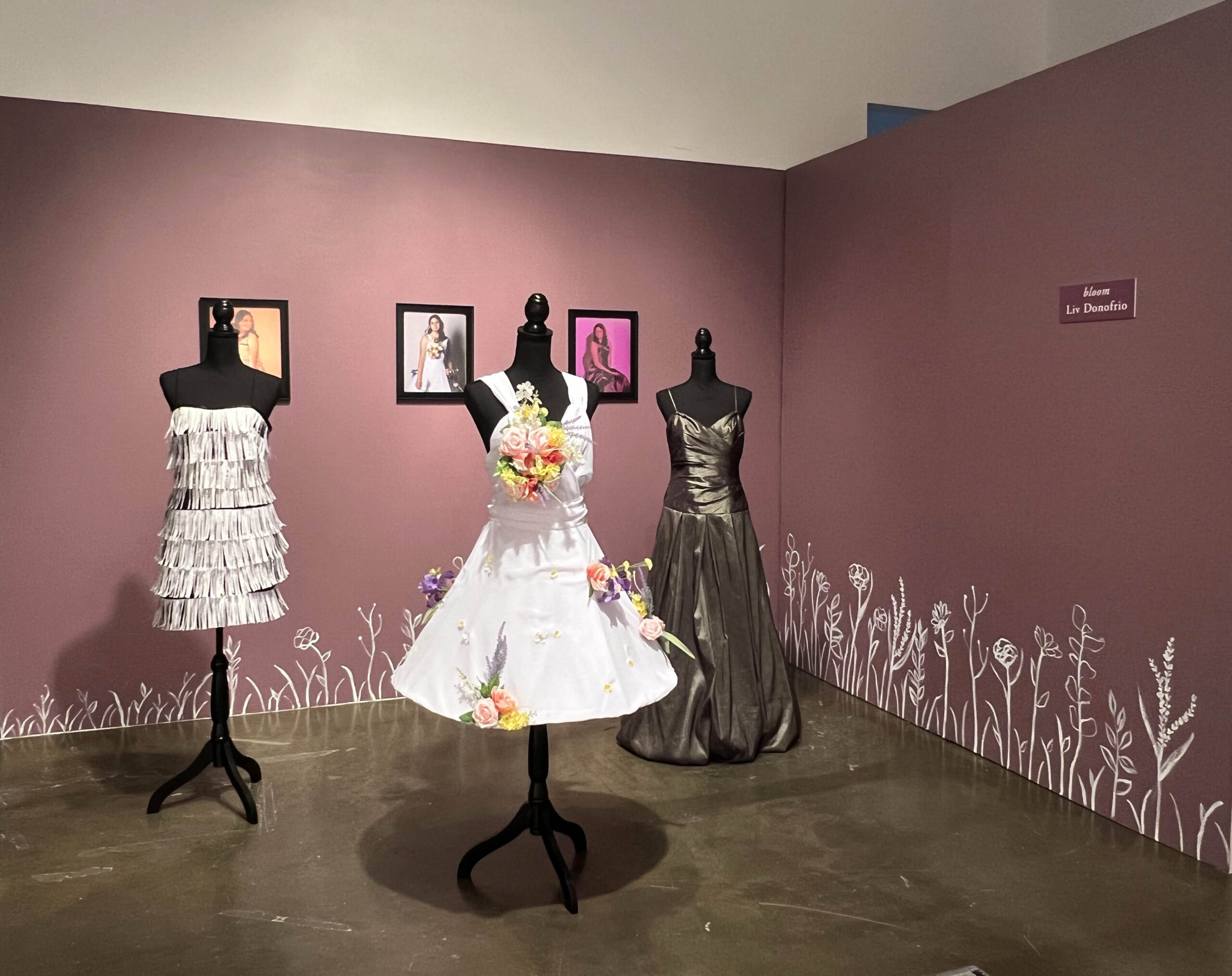 Statement
This exhibition pursues an interest in the intersection between the art of the stage and the art of a gallery. Over my time involved with theatre, I have developed a distinct process for reading and costuming a script: begin with the characteristics explicitly notated by the playwright, then observations made by other characters, and finally note actions taken by the character themselves. Consider movement, color, style, and relation to other characters and the work as a whole. When considering this visual language, I became interested in applying this idea to my own experience. What if I were the character being clothed, and my lived experience was the script? How do I show the parts of myself that are not verbally expressed– the "stage notes" of my psyche? This line of thinking provides the basis for my proposed exhibition.
The three garments shown indicate three emotional dimensions of the self, expressed on the body in the form of dresses. Each dress has a distinct connection to my past struggles with my mental health, incorporating hospital documents and common cognitive distortions in an attempt to understand and express my emotional journey over the past 22 years. The use of textile in the work also provides an important connection to my familial roots. My mother is a seamstress, as was her mother before her. Most of the needlework used in the preparation of this exhibition is done by hand– one of the first skills taught to me by my mother when I was young. Therefore, it feels only appropriate to use this triad– three dresses– to connect three generations of women and makers. The traditionally feminine silhouette of a dress serves to cement this connection, as well as express my own desire to connect to and reclaim femininity. Ultimately, these dresses are made both as standalone artworks and expressive garments– they reveal a great deal on their own but are infused with further meaning as layers of expressive armor as the artist wears them out into the world. I hope to capture this second facet of the work through the use of photography and video, documenting my experience as a wearer of these garments.
---
Biography
Olivia Donofrio was born in Schaumburg, IL, a suburb of Chicago. She currently works primarily in Nashville, TN, but will be relocating back to Chicago in August of 2022 to teach preschool. Her interest in art began at a young age through various crafts and creative projects supported by her mother. At the age of ten she began performing regularly in local musical theatre productions, continuing through the present day. Over her life she has been trained in dance, including tap, jazz, ballet, and modern, she has had three years of classical voice training and six years of choral experience. She has spent three years working in the Vanderbilt University Theatre Costume Shop, where she has acquired basic sewing, alteration, and pattern-making skills as well as a background in costume design. She began formal visual art training in her sophomore year of college, beginning with drawing before developing an interest in oil painting. Over time, her practice has expanded to include printmaking, installation, and textile arts– the latter heavily influenced by her experiences in the theatre.
She will be graduating Summa Cum Laude from Vanderbilt in May with a dual degree in Studio Art and Child Studies. In her time at Vanderbilt, she has held numerous leadership positions, including serving President of the Vanderbilt Performing Arts Community for two years. She has also served many roles for Vanderbilt's Original Cast, including President for two semesters, Director for one semester, and Musical Director for three semesters. Additionally, she has been teaching since she was 15 years old and holds a wealth of experience educating and caring for young children.
---
Exhibition