Erica J. Jeshow Skidmore – Shadows on the Wall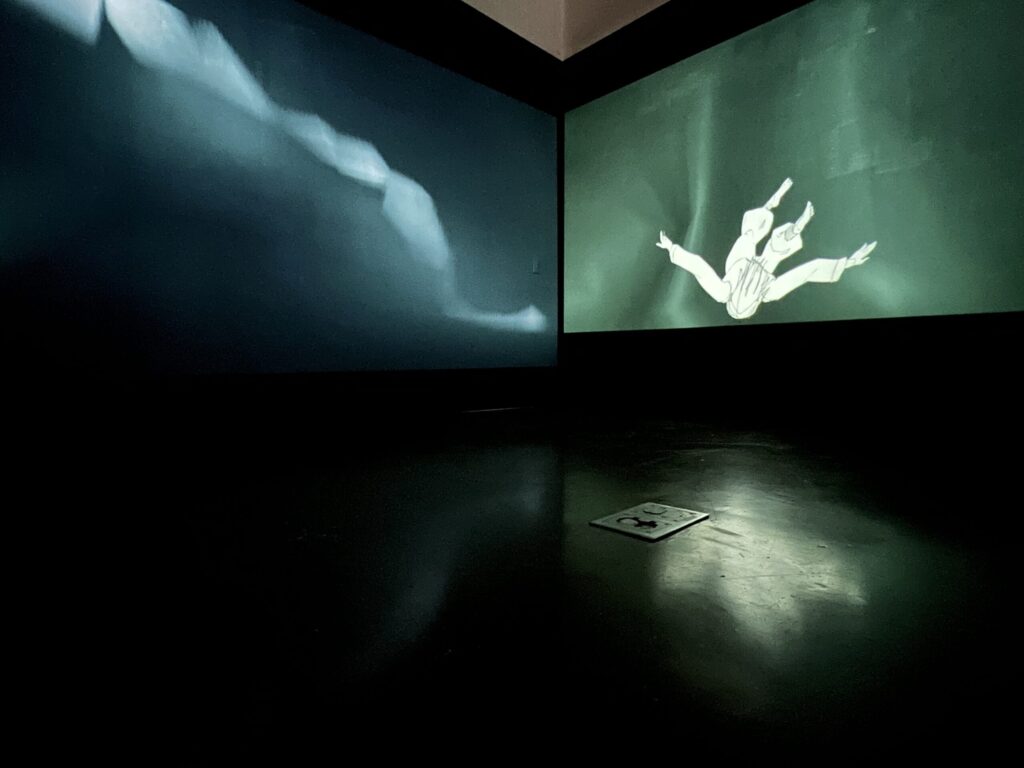 Statement
Shadows on the Wall is an immersive video on four walls. The video surrounds the viewer with a moving background, as an animated figure tumbles though space. The work explores one method of communicating a story (through hand-drawn animation), and experiments with viewer experience. By animating the environment itself, I intend to soften the line between the viewer's experience, and that of the animated character.
The installation continues themes of identity, healing, and dream-like landscapes found in my earlier works. However, my recent work applies them within the context of storytelling. I illustrate, and re- illustrate characters, I visualize scenes, and I explore gesture and emotion. In fact, my installation portrays only one scene of my larger story.
I chose animation as my medium because it is a ubiquitous source of culture in the U.S. I believe it has the potential to connect with wide audiences. In my experience, widespread animation lacks diversity in its narratives. Finding oneself absent or misrepresented in nearly every story that they otherwise love, at best, feels disappointing. At worst, it is frightening and oppressive. I hope to use the conventions and appeal of animation in my works to portray the less-told stories of life. My goal is that my work comforts people who feel unseen, misunderstood, or misrepresented, and gives them an avenue for hope.
Read the story that inspired this work: THE STORY
---
Biography
Erica Skidmore is an artist from Alabama, who is interested in storytelling, illustration, and graphic novels as a medium for social change. Diverse representation is media is an important goal in her work, and she often looks to independently published stories, comics, and other works for inspiration.
She is a mathematics major, in addition to an Art major, and frequently combines the philosophies of both in creating art and meaning. Mathematics is a hardy framework for exploring and organizing ideas, and also facilitates her use of technology.
This summer, she worked at Anylitical Ai, doing annotation work, and 3D prototyping for a covid smell test. She hopes to enter a more creative line of work in the future, and to expand her work on personal art projects. She is currently writing a story (a scene of which appears in the exhibition) with the intention of converting it into a graphic novel or animated video.
Erica has drawn since an early age, and, to an extent, has always produced art. As a child, she was never without a sketchbook. Childhood make-believe was often the subject of her childhood doodles, and that fanciful storytelling evolved into the art she does today.
Erica's most current works center on themes of identity, emotion, connection, and healing. This art is deeply personal, but presented through the veneer of fiction. Her writing and art draws on conventions of the hero's journey, and uses the metaphor to pick-apart her own experiences with gender, alienation, and depression.
---
Exhibition
To view the Shadows on the Wall four channels in a side-by-side playback
visit the following link: youtu.be/dS4vn5xxnTQ

Screenshots