Studio VU Lecture Series welcomes Josephine Halvorson, one of the 2021 Guggenheim Fellowship recipient
The Studio VU Lecture Series will welcomes Josephine Halvorson, a recipient of a 2021 Fellowship from the John Simon Guggenheim Memorial Foundation. Halvorson will present an artist lecture on Wednesday, January 18, 2023 at 4:10PM in Room 220 of the E. Bronson Ingram Studio Arts Center at Vanderbilt University.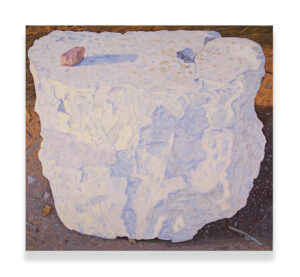 Josephine Halvorson (she/her) makes art that foregrounds firsthand experience and takes the form of painting, sculpture, and printmaking. Born in Brewster, Massachusetts, she studied at The Cooper Union (BFA 2003), Yale Norfolk (2002), and Columbia University (MFA 2007). In 2021, she was awarded a John Simon Guggenheim Fellowship. Halvorson is the recipient of major international residencies and fellowships: The US Fulbright to Vienna, Austria (2003-4), the Harriet Hale Woolley at the Fondation des États-Unis in Paris, France (2007-8), and was the first American pensionnaire at the French Academy in Rome at the Villa Medici (2014-15). She is Professor of Art and Chair of Graduate Studies in Painting at Boston University and lives in western Massachusetts. This fall she was selected as the University Lecturer, the first visual artist to deliver this annual lecture since 1967.
The Studio VU Lecture Series began in 2007 and the Vanderbilt University Department of Art annually invites national and international voices in creative, curatorial and critical-thought fields to the Vanderbilt campus through the Studio VU Lecture Series. Each invited visiting lecturer has a recognized career in visual arts, performance art, art criticism and/or a combination of several. In addition to presenting a lecture, the Studio VU speaker conducts one-on-one critiques with the Vanderbilt University Department of Art senior major students.
The Department of Art would like to thank all collaborators, cosponsors, and community (past and present) for their continued support for the Studio VU program.
All lectures are free and open to the public, unless otherwise noted on promotional materials.
Please contact The Vanderbilt University Department of Art for more information at artdept@vanderbilt.edu.