International OPEN CALL to Iranian Artists for Virtual Exhibition
Announcing an International Open Call to Iranian artists for a virtual ceramic exhibition with the support of The National Council on Education for the Ceramic Arts (NCECA), Artaxis and the Middle Eastern Program in the Department of Art at Vanderbilt University.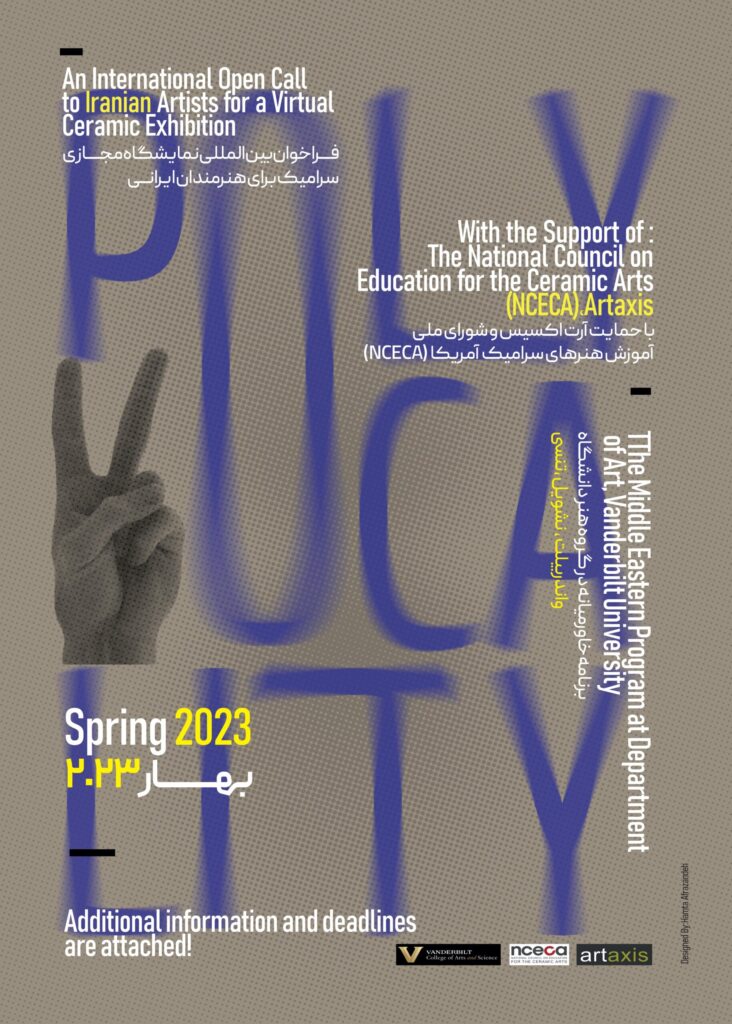 Polyvocality: Solidarity in the Time of Political Rupture
Spring 2023
In times of social and political upheaval, art can stimulate ideas and create spaces for multiple perspectives to collide and interact. Artmaking has the power to raise questions, evoke responses and stand as evidence and artifact of a historical period or event. It can also foster solidarity among people and become a collective for a common purpose. Clay has always been a fundamental medium in art. From the words impressed in the Cylinder of Cyrus, the Great, to the pots of Grayson Perry, ceramic objects have been platforms for social criticism, mutual understanding, human connectivity, and divine inspiration.  Polyvocality: Solidarity in the Time of Political Rupture is built on such fundamental roles and is intended to bring together the voices of Iranian contemporary artists and the diaspora.  Clay can express contemplation on the current uprising and be an agent for change insisting on human rights, social justice and freedom and acknowledge the contribution of Iranian ceramic art throughout history. 
This international open call will encourage and consider artworks in different mediums such as a multimedia installation, performance, sculpture, etc. as long as clay is central to the work. Originality, creativity, skill and conceptualization of the exhibition's theme of social justice and activism in Iran are the requisite factors for the work to be considered for inclusion.  The exhibition is virtual; therefore, submission of high-quality images or video is extremely important for the jurying process. 
This virtual exhibition will have many phases in 2023 and travel to different locations in the United States. Each event consists of two sections, one featuring works from invited ceramic artists, and the other from artists selected through this open call.