Department of Art welcomes El Mahaba Center with Live-Streamed events; part of the curated Middle Eastern Gallery Program
Currently on view in Space 204, The Water-Carrier Died – an exhibition from three members of the Nashville Coptic Egyptian community,  fills the gallery space with imagery, video, and sound.  The works of Keira Nashed, Bassam Habib, and Mohsen Ramsis bring forward a community perspective that is underrepresented in the city and has been working diligently to build their lives and foster a positive growth among their members.
In collaboration with The Elmahaba Center, the non-profit organization founded in June 2019 to serve the Arabic-speaking immigrant communities in Nashville, two live-streamed events were hosted on July 3 and July 17, 2022. These two events were led by Elmahaba Center Director, Lydia Yousief, and the conversations with the exhibiting artists and guests covered the Coptic experience in Nashville, hopes and concerns regarding the Coptic Community, engagement with the community, and insight into the work included in the exhibition.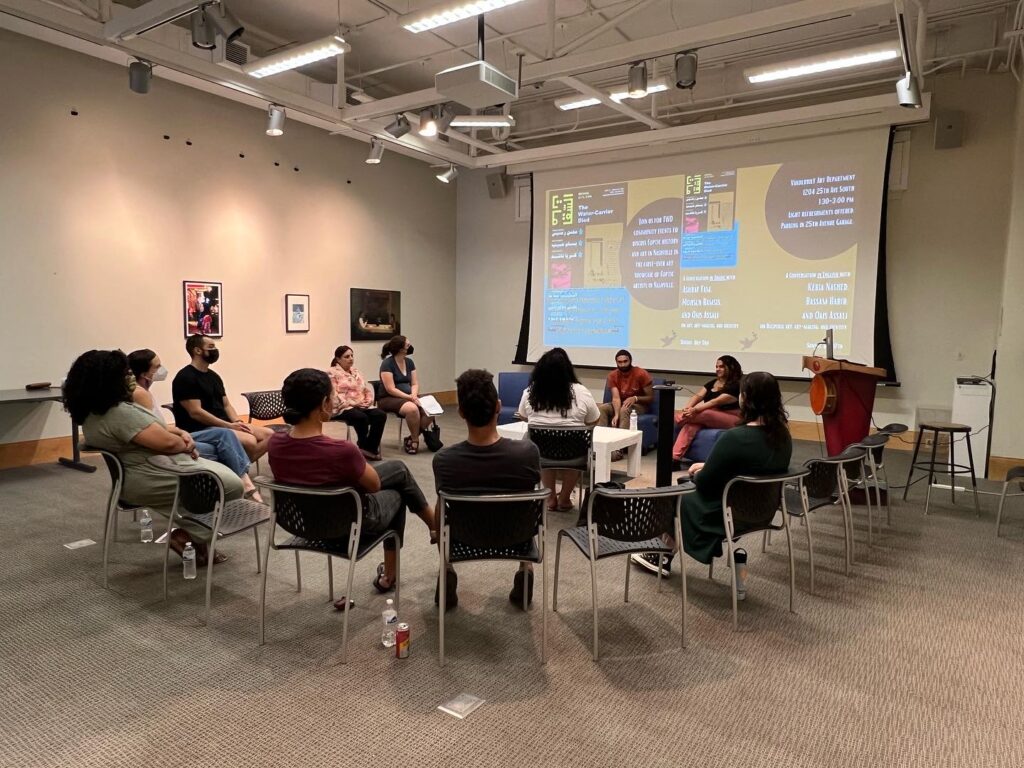 The Water-Carrier Died exhibition in part of the Space 204 exhibition calendar program and part of the "Vanderbilt, Arts, and the Middle East: Building Bridges to the Global and the Local" 2022-2023 initiative – a curated program focusing on Middle Eastern themes and issues. This initiative is curated by the Space 204 exhibition committee: Raheleh Filsoofi, Jonathan Rattner, and Qais Assali.
The Elmahaba Center, founded in June 2019, was incorporated as a 501(c) non-profit and its mission is to strengthen community – prioritizing the Arabic-speaking communities of Nashville, through collective care, cultural awareness, and knowledge towards liberation and social justice.
The Water-Carrier Died is currently on view in Space 204, located on the 2nd floor of the E. Bronson Ingram Studio Arts Center (Vanderbilt University).  Space 204 Gallery hours are Mondays thru Thursdays from 10am to 4:30pm.
For more information, please email The Vanderbilt University Department of Art at artdept@vanderbilt.edu or visit the Vanderbilt University Department of Art website.