'A Letter to a Friend' (Emily Jacir) – Film Screening Event
The Deparment of Art at Vanderbilt University presents a screening of A Letter to a Friend, a film by current exhibiting Space 204 artist, Emily Jacir. 
This event is scheduled for Wednesday, March 23, 2022 at 2:30PM (CST) in Room 220 of the E. Bronson Ingram Studio Arts Center at Vanderbilt University.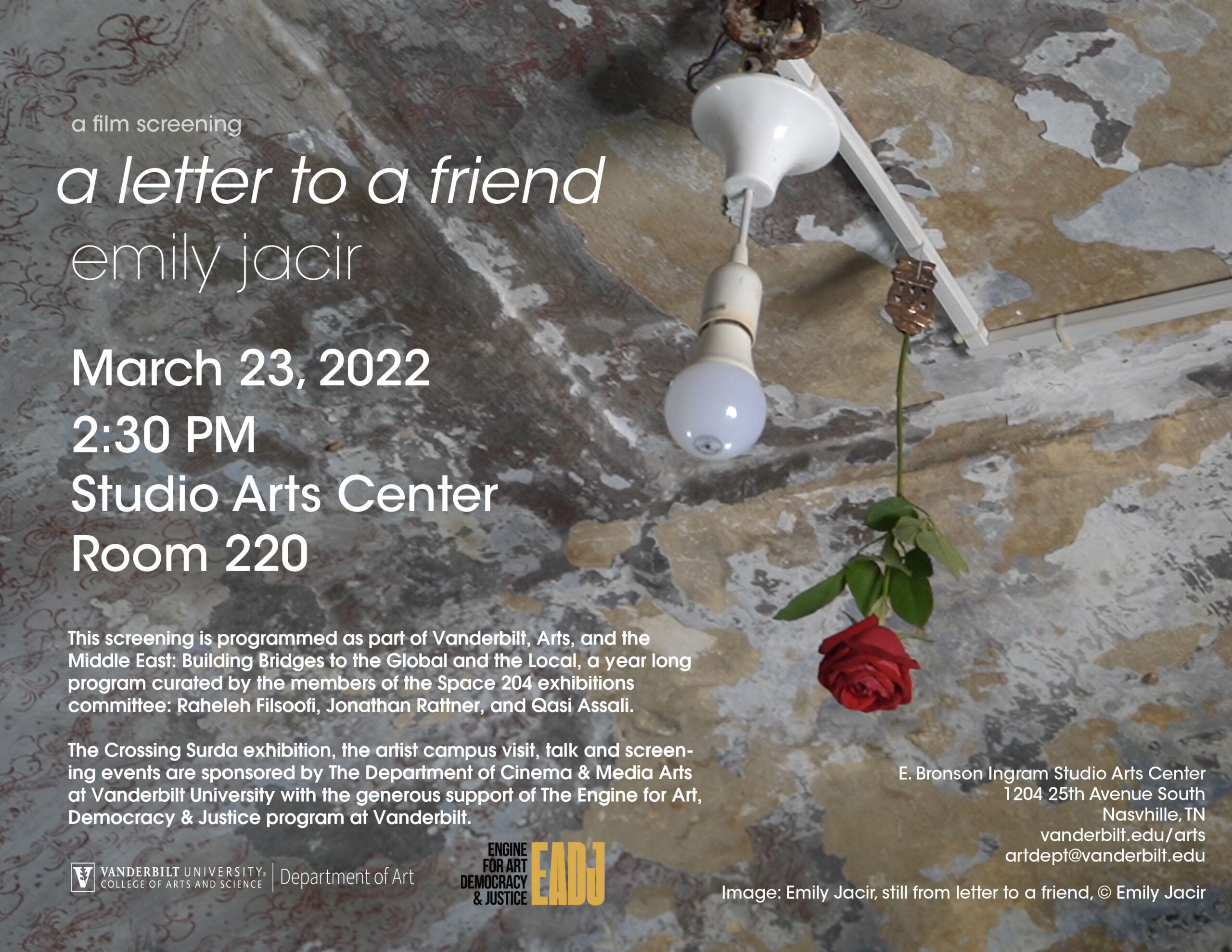 Description:
A close friend is asked to start an investigation before an inevitable act occurs. Interlacing images, textures, movements, traces, and sounds from over a century, letter to a friend recounts in minute detail a home and street in Bethlehem.
The Filmmaker/Artist:
Emily Jacir, born in 1972 in Bethlehem, West Bank, is an artist and filmmaker who is primarily concerned with transformation, questions of translation, resistance, and silenced historical narratives. Her work investigates personal and collective movement through public space and its implications on the physical and social experience of trans-Mediterranean space and time. She is the recipient of several awards. Her works have been shown all over the world in solo and group exhibitions. She is the Founding Director of Dar Yusuf Nasri Jacir for Art and Research in Bethlehem. She is based between Ramallah and Rome.
Filmography:
1999 15 Palestinian Minutes in Palistine; 15 min. 2002 from Texas with love; 60 min. · Crossing Surda (a record of going to and from work);; 132 min. · Annual Israeli Day Parade, New York City May 5; 3 min. 2003 a sketch in the Egyptian Museum, April 24, 2003; 1 min. · ENTRY DENIED (a concert in Jerusalem);; 105 min. · Nothing Will Happen (eight normal Saturdays in Linz); 20 min. 2004 Ramallah/New York; 38 min. 2009 Lydda Airport; 5 min. 2014 Tal al Zaatar; 60 min. 2017 Notes for a Cannon; 17 min. 2019 letter to a friend; 43 min.
This exhibition is programmed as part of "Vanderbilt, Arts, and the Middle East: Building Bridges to the Global and the Local," a program curated by Raheleh Filsoofi, Jonathan Rattner, and Qasi Assali – the members of the Space 204 exhibitions committee. The "Crossing Surda" exhibition, the artist campus visit, talk and screening events are co-sponsored by The Department of Art at Vanderbilt University, The department of Cinema & Media Arts at Vanderbilt , and with the generous support of the
Engine for Art, Democracy & Justice
.
View the trailer