Installation Students activate Central Library with creative interventions
Continuing a collaboration started by Professor Mel Ziegler, almost 15 years ago, the students in ARTS 1502: Installation Art worked with the Librarians of the Jean and Alexander Heard Library for their site specific installations art project in the Central Library.  Overthink | Understand opened on November 10, 2021 with student presentations explains their conceptual ideas behind their work. Installed on the different levels, the community is invited to explore the library and search for the nine installation projects.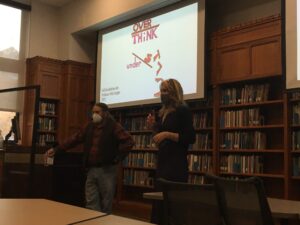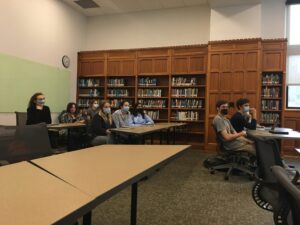 The students and the Department of Art would like to extend our thanks and appreciation to Central Library faculty for collaborating and hosting this exhibition.  Thank you to Celia Walker, Yvonne Boyer, and Ramona Romero.
Visit the exhibition page to see the student works and read about their conceptual ideas behind their projects here: Exhibition Page
The Instructor:
Mel Ziegler
Professor of Art
Paul E. Schwab Chair of Fine Arts
The Artists:
Sophia Zimmerman '22; Shannon Felder '25; Sarah Siman '25
Julia Shehadi '22; Jiwon Park '22; Erica Skidmore '22
Eliza Boyle '25; Colin Walsh '22; Christian Loop '22