Space 204 welcomes Kristi Hargrove exhibition, "Don't Slam the Door" June 13 to August 29, 2019
The Department of Art at Vanderbilt University and Space 204 welcomes a new exhibition from artist and educator, Kristi Hargrove, titled, Don't Slam the Door. The exhibition opens on June 13, 2019 and closes on August 29, 2019.  A closing reception is scheduled for August 29, 2019 from 4pm to 6pm in Space 204.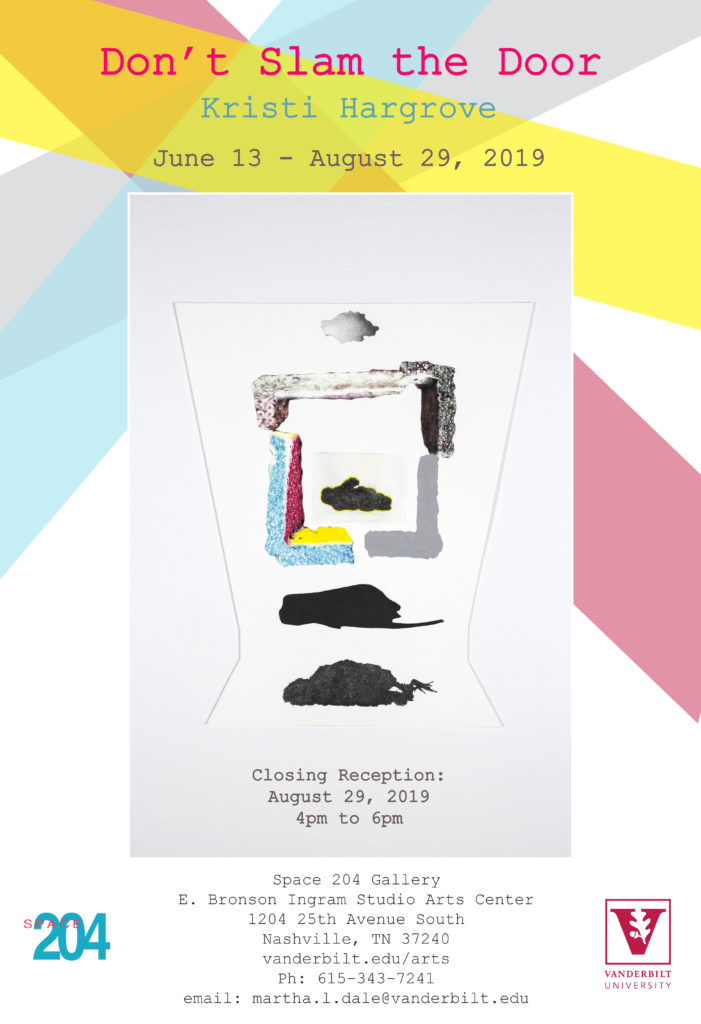 Hargrove describes the work in Don't Slam the Door as "a few paces ahead of intention." In her studio the flow of rearranging, repetition, cutting, and layering has maintained a movement while she works.
She elaborates in her exhibition statement, "There is a dragging interest in observation, an impulse to producing work that states, 'I saw this.' When I back into the intention, it's about processing the concept of the trace. A trace is a mark (here and now) of something else (not-here and not-now). Its whole meaning is to be the result of something else, to point beyond itself, to have its origin elsewhere. With a trace, one is at least reminded of a track, a previous mark. The trace is an *irreducibly complex structure of presence and absence."
*(Derrida term)
"I inherited my 2nd cousin's scrapbook. It has long horizontal black pages where she gathered and arranged pictures as images by cutting them in awkward, yet specific, shapes on the pages," Hargrove explains the prompt which led to her current work and studio practice.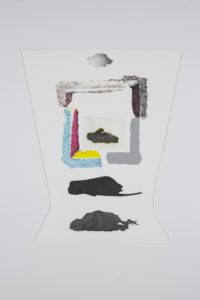 Kristi Hargrove has been teaching at the collegiate level for over 20 years.  She is currently Chair and Associate Professor of Fine Art at Watkins College of Art. She received her BA from Vanderbilt University and her MFA from Vermont College of Fine Art.
With an interest in philosophy and literature, Ms. Hargrove's work considers the physical and psychological places of seepage—between language, bodies, and relationships. She is a founding member of the artist collective Coop, a curatorial group made up of artists, curators, thinkers and professors who are committed to expanding Nashville's dialogue with contemporary art. Her work has been shown in numerous juried shows and invitational exhibitions nationally and internationally.
To see more of her work, please visit Kristi Hargrove.
About Space 204:
Space 204 is the contemporary gallery space housed in the Department of Art at Vanderbilt University. Located on the second floor of the E. Bronson Ingram Studio Arts Center (1204 25th Avenue South, Room 204), Space 204 features exhibitions year round from national and international artists and acts as a central hub of contemporary art conversation in the curriculum of the Department of Art.
All exhibitions and receptions are free and open to the public.
For more information contact the Vanderbilt University Department of Art:
615.343.7241 or email Martha.l.dale@vanderbilt.edu
Please stay tuned for any updates by checking in at vanderbilt.edu/arts or follow the Department of Art on Facebook and/or Instagram
Press materials: