Studio VU welcomes acclaimed artist, John Gerrard to Vanderbilt; Central Library International Conference, October 4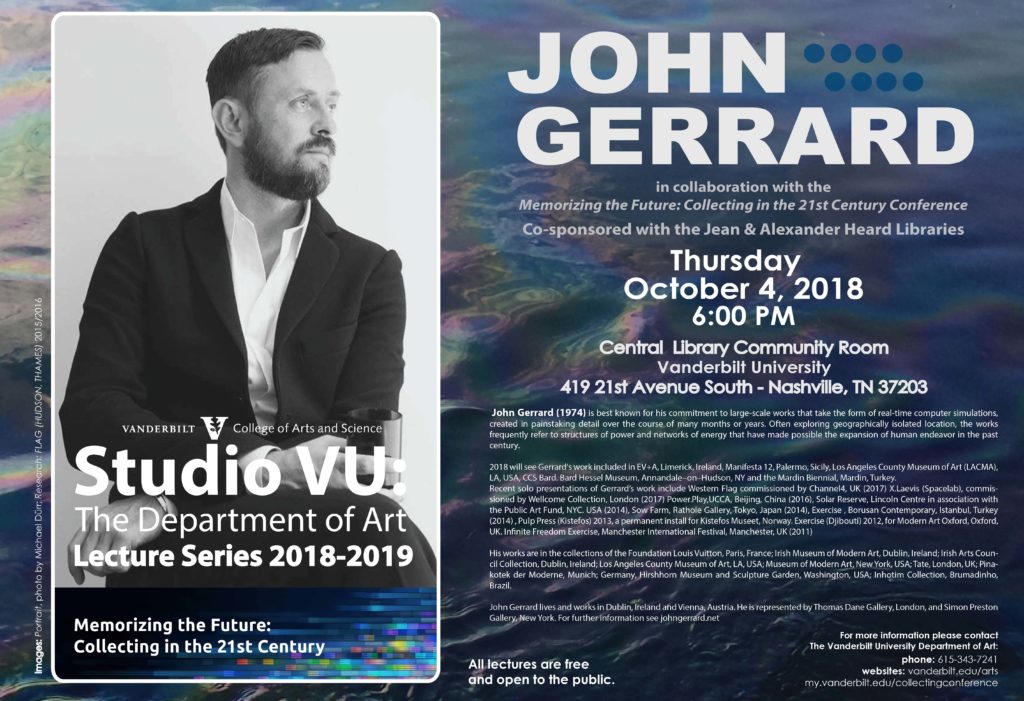 The Studio VU Lecture Series and the Department of Art at Vanderbilt, in collaboration with the Memorizing the Future: Collecting in the 21st Century Conference and co-sponsored with the Jean & Alexander Heard Libraries, present acclaimed artist, John Gerrard on October 4, 2018 with a lecture beginning at 6:00pm in the Central Library Community Room on the Vanderbilt campus.  The lecture will be followed by a discussion/interview moderated by Lutz Koepnick, Gertrude Conaway Vanderbilt Professor of German, Cinema and Media Arts; Chair, Department of German, Russian and East European Studies.
John Gerrard (1974) is best known for his commitment to large-scale works that take the form of real-time computer simulations, created in painstaking detail over the course of many months or years. Often exploring geographically isolated location, the works frequently refer to structures of power and networks of energy that have made possible the expansion of human endeavor in the past century.
2018 will see Gerrard's work included in EV+A, Limerick, Ireland, Manifesta 12, Palermo, Sicily, Los Angeles County Museum of Art (LACMA), LA, USA, CCS Bard. Bard Hessel Museum, Annandale–on–Hudson, NY and the Mardin Biennial, Mardin, Turkey.
Recent solo presentations of Gerrard's work include Western Flag commissioned by Channel4, UK (2017) X.Laevis (Spacelab), commissioned by Wellcome Collection, London (2017) Power.Play,UCCA, Beijing, China (2016), Solar Reserve, Lincoln Centre in association with the Public Art Fund, NYC. USA (2014), Sow Farm, Rathole Gallery, Tokyo, Japan (2014), Exercise , Borusan Contemporary, Istanbul, Turkey (2014) , Pulp Press (Kistefos) 2013, a permanent install for Kistefos Museet, Norway. Exercise (Djibouti) 2012, for Modern Art Oxford, Oxford, UK. Infinite Freedom Exercise, Manchester International Festival, Manchester, UK (2011)
His works are in the collections of the Foundation Louis Vuitton, Paris, France; Irish Museum of Modern Art, Dublin, Ireland; Irish Arts Council Collection, Dublin, Ireland; Los Angeles County Museum of Art, LA, USA; Museum of Modern Art, New York, USA; Tate, London, UK; Pinakotek der Moderne, Munich; Germany, Hirshhorn Museum and Sculpture Garden, Washington, USA; Inhotim Collection, Brumadinho, Brazil.
John Gerrard lives and works in Dublin, Ireland and Vienna, Austria. He is represented by Thomas Dane Gallery, London, and Simon Preston Gallery, New York. For further information see johngerrard.net
Download:
Lecture poster
For more information on the related conference please visit:
https://my.vanderbilt.edu/collectingconference/

John Gerrard's lecture and the conference are cosponsored by the following institutions, programs, centers, and departments:
Organizations & Galleries
Deutscher Akademischer Austauschdienst/German Academic Exchange Service (DAAD)
University of California, Riverside
The Carl Van Vechten Gallery, Fisk University
Fine Art Gallery, Vanderbilt University
Centers and Programs
College of Arts & Science, Vanderbilt University
Jean & Alexander Heard Libraries, Vanderbilt University
Center for Digital Humanities, Vanderbilt University
The Wond'ry – Center for Innovation & Entrepreneurship, Vanderbilt University
Max Kade Center for European & German Studies, Vanderbilt University
The Curb Center for Art, Enterprise, and Public Policy, Vanderbilt University
Departments
Department of German, Russian & East European Studies
Department of History of Art
Department of Art
Studio VU Lecture Series