Space 204 welcomes "Fish Hotel", a two person exhibition from Sarah Smith and Douglas Degges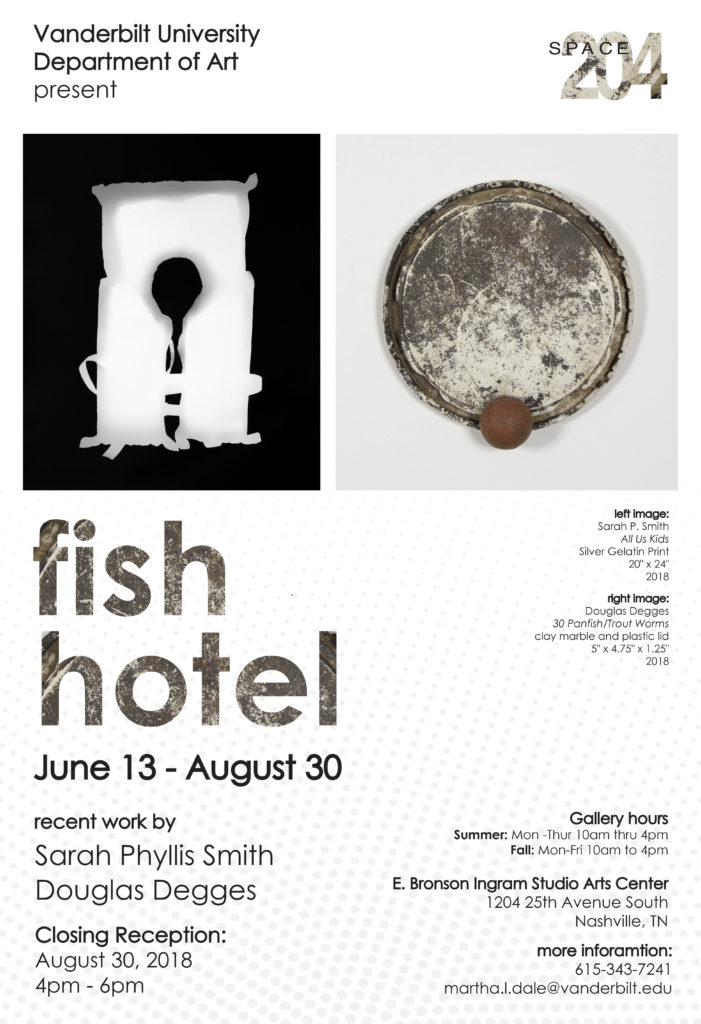 The Vanderbilt University Department of Art and Space 204 announces the summer exhibition for June 13 -August 30, 2018 from Sarah Smith and Douglas Degges.
Fish Hotel is a two-person exhibition of recent video, photographic, and sculptural work by Douglas Degges and Sarah Phyllis Smith. Both artists explore the space between idea and feeling, where creative processes move between being verbal and non-verbal. This space is the ground upon which invention, storytelling, and identity building take place. Here, image-making is approached as a physical thinking process and objects become vehicles for memory and containers of place. For this exhibition, both Sarah and Douglas are working with materials and processes not typically found in their studio practices. For Sarah, whose photographs remain rooted in autobiographical narratives, this work is a move toward abstraction. Images, objects, and sounds are broken down into their simplest forms. Douglas's work, which typically engages painting and abstraction, embraces representational imagery and storytelling. Looking to the landscape of Northern Louisiana for subject matter and inspiration, Douglas welcomes play, material exploration, and the use of found objects into his studio practice for the first time.
Fish Hotel will open on June 13, 2018 will close with a reception on August 30, 2018 (4pm-6pm) in Space 204 located in the E. Bronson Ingram Studio Arts Center on the Vanderbilt Campus. Please contact the Department of Art for more information at 615-343-7241 or email jerry.b.phillips@vanderbilt.edu or  martha.l.dale@vanderbilt.edu.
The Artists: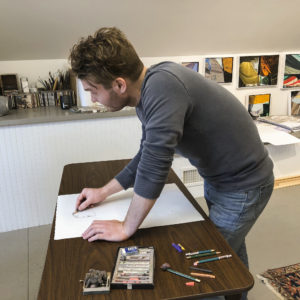 Originally from Shreveport, Louisiana, Douglas Degges graduated with a BA from Rhodes College in 2009 and a MFA from the University of Iowa in 2012. His work has been exhibited in various group and solo exhibitions throughout the United States. Most recently his work was exhibited at Zeitgeist Gallery in Nashville, TN, Fluorescent Gallery in Knoxville, TN, The Factory in Seattle, WA, Terrault Contemporary in Baltimore, MD, the Atlanta Contemporary in Atlanta, GA, and The Yellow Door Gallery in Des Moines, IA. Douglas currently teaches at North Central College in Naperville, IL and has upcoming exhibitions at Night Light Gallery in Chicago, IL and VERSA in Chattanooga, TN.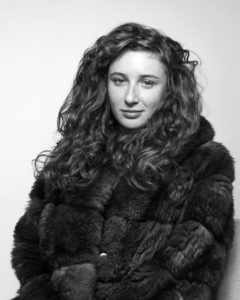 Sarah Phyllis Smith (b. 1986 Middletown, NY) is a photographer currently based in Chicago where she teaches at Chicago State University. Recent solo and two-person exhibitions include Where the Great Lakes Leap to the Sea at The Shed Space in Brooklyn, NY and Sharpless at Fluorescent Gallery in Knoxville, TN. Her work was also recently shown at The University of the Arts, University of Nebraska-Lincoln, and The Midwest Center for Photography. This summer she will be included in Only Poetry, a group show curated by The Fuel and Lumber Company, at Whitespace Gallery in Atlanta. Her work has recently been featured by several online publications including Don't Take Pictures Magazine, Light Leaked, AINT-BAD Magazine, Vulgaris Magazine, and Photo-Emphasis. Sarah currently serves as the Assistant Artistic Director of the New York State Summer School of the Arts: Media Arts program.