Space 204 welcomes "Vanishing Points" – Michael Sherwin Exhibition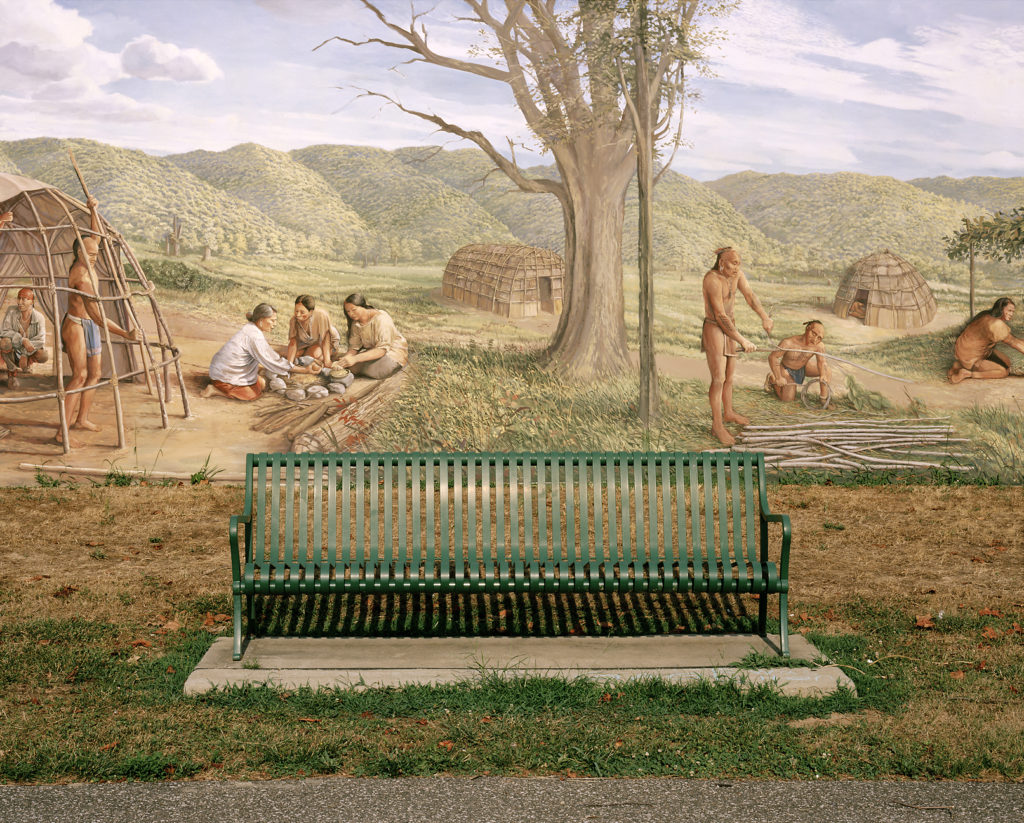 The Vanderbilt University Department of Art presents Vanishing Points, a photography exhibition from Michael Sherwin, Associate Professor of Art at West Virginia University. Vanishing Points is an ongoing project started in 2011 and combines extensive research of historical archives, maps and contemporary satellite imagery, as well as direct collaboration with archaeologists, historians and scholars. The project explores the South Central Ohio area and neighboring states of West Virginia, Kentucky and Indiana and their sacred status to its indigenous people. The sites Sherwin chose to visit and photograph are literal and metaphorical vanishing points. They are places in the landscape where two lines, or cultures, converge. His work reflects on the monuments our modern culture will leave behind and what the archaeological evidence of our modern civilization reveals about our time on Earth.
Michael Sherwin is an artist currently based in the Appalachian Mountains of northern West Virginia. From an early age, he found inspiration in the phenomena of the physical world and has spent most of this life exploring and seeking wild places, including nine years in the American West. Using the mediums of photography, video and installation, his work explores scientific, cultural and historical interpretations of the natural world. He has won numerous grants and awards for his work and has exhibited and lectured widely. Select images from his Vanishing Points project have been featured in exhibitions at the Atlanta Contemporary Arts Center, Morris Museum of Art, Huntington Museum of Art, and the Center for Fine Art Photography among others. The project has also been publicized widely, including essays, reviews and features in Don't Take Pictures magazine, Aint-Bad Magazine, Light Leaked, Fototazo, Oxford American's Eyes on the South, Prism magazine, Looking at Appalachia, Humble Arts Foundation, Medium's Vantage and on National Public Radio. The project was also recently chosen as a Finalist in the 2015 Critical Mass competition. Sherwin earned an MFA from the University of Oregon in 2004, and a BFA from The Ohio State University in 1999. Currently, he is an Associate Professor of Art in the School of Art and Design at West Virginia University.  He is also an active and participating member of the Society for Photographic Education and the lead instructor for WVU's Jackson Hole Photography Workshop. 
Find out more about Michael Sherwin and see more of his work at michaelsherwin.com.
Vanishing Points will be on view in the Department of Art's Space 204 gallery from August 24 through September 27, 2017.  A closing reception is scheduled for September 27, 2017 from 4pm to 6pm, with the artist in attendance. Please contact the Department of Art office at ph: 615.343.7241 or email: martha.l.dale@vanderbilt.edu.